Playwright Lisa D'Amour's 'Detroit' In Chelsea, 'Airline Highway' On Broadway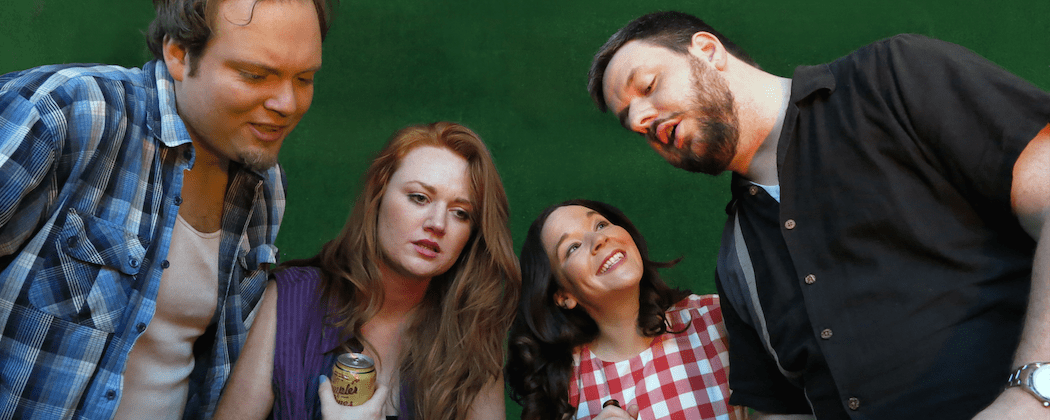 This article is more than 6 years old.
Lisa D'Amour's play "Detroit" isn't actually set in the Motor City. That peculiar fact, says the playwright, sometimes provokes consternation and sparks debates in post-show talk-backs from audiences wondering about the seeming disconnect between the play's title and its suburban backyard milieu. It's meant to be mythic, D'Amour says.
"It's really about what the title evokes in the larger American consciousness," she says in a recent phone interview. "Often when you hear the name Detroit, you think of the collapse of the auto industry, white flight, economic insecurity, the death of the American dream. I think it evokes an anxiety and maybe kind of a disappointment in what's happened to American industry and many parts of America in general."
The dark comedy, which won the 2013 Obie Award and was a finalist for the Pulitzer Prize, receives its Boston area debut from Apollinaire Theatre Company, April 10 through May 9 at Chelsea Theatre Works. It centers on two suburban couples, from different strata of a squeezed middle class, living alongside each other on the outskirts of an unnamed mid-sized American city.
While Mary and Ben are the more stable duo, their financial foundation has started to crack. Ben has been laid off from his job and is struggling to start his own business, while Mary tosses back glasses of red wine. Their neighbors, Sharon and Kenny, are former addicts attempting to get their lives back on track — not the kind of couple with whom Mary and Ben would usually keep company. But the foursome, who bond in a series of backyard barbecues, find themselves uneasily bumping up against each other, fellow travelers on a road pockmarked with despair, anger and anxiety about an uncertain economic future.
In his New York Times review, Charles Isherwood called the play, "a sharp X-ray of the embattled American psyche as well as a smart, tart critique of the country's fraying social fabric."
"The characters' sense of security is crumbling. They realize it was an illusion. And when that security is taken away, they have to really question who they are, what they want and the path they've gone down in their lives. You go to college, you get a job, you buy a house in the suburbs, that's what you're supposed to do," D'Amour says. "But 'Detroit' is a play that's about what happens when you start questioning a lot of those assumptions. By the end, Mary and Ben have a chance to really imagine what their life can now be outside of any stale set of conventions."
While "Detroit" was deemed a departure for D'Amour because of her background in experimental, devised-theater, she insists the play is less naturalistic than it's been described. "It's more of a fable or a fever dream," she says.
Danielle Fauteux Jacques, Apollinaire's artistic director, says the play's technical demands, particularly an event that happens near the end, have proven to be a challenge for their small company.
"At first, I felt there was no way on our budget that we could do the play. It's probably one of the most technically complex plays we've ever taken on. There's a lot of moving pieces," Jacques says. "So we tried to look at solutions for [some set changes and special effects] that would be very evocative and yet still realistic."
With D'Amour's new play, "Airline Highway," which is in previews on Broadway and opens April 23, she very much wanted to pay homage to a specific place, New Orleans, that she holds near and dear to her heart. A fifth generation New Orleanian, D'Amour grew up in the Crescent City, has lived there on and off for many years, and owns a home with her husband in the Broadmoor neighborhood. Her parents' house is a block away, and both of her brothers also live in the city.
Despite her personal connection, D'Amour resisted writing a play about New Orleans for a long time. "It's a spontaneous, completely alive city that's filled with nuance and idiosyncrasy and inside jokes. Part of what's amazing about New Orleans is that you can't really capture it. But I think I've managed to capture a sliver of it."
The action in "Airline Highway" unfolds at a fleabag motel located on a notorious strip of roadway that gives the play its title.
"When I was in high school growing up, it was lined with all of these 'no-tell motels' where politicians and preachers would get caught with hookers," D'Amour says. "I knew that there were a lot of people that lived in them and rented rooms by the week, many of whom worked in the [French] Quarter in occupations legal and illegal. So I was very curious about what kind of community might grow in one of these motels among a group of people who maybe don't have a lot of strong family connections. So they have to be each other's family."
The world she imagined revolves around a group of idiosyncratic outcasts and small-time hustlers — among them a sad-eyed stripper, a flamboyant cross-dresser, a charismatic poet-philosopher and a drug-addicted prostitute — living together at the ramshackle Hummingbird Motel. When the play begins, they're planning a "living funeral" celebration for the bedridden, near-death Miss Ruby, a former burlesque dancer who serves as the ragtag bunch's lodestar and de facto matriarch.
The playwright wanted to write a large ensemble play for Steppenwolf Theatre Company in Chicago, where "Airline Highway" premiered in December (Manhattan Theatre Club is presenting the play on Broadway). She first envisioned it as a homage to Lanford Wilson's 1975 play "The Hot l Baltimore," set in a decaying Charm City hotel where its residents are faced with eviction when the property is condemned.
"Right now, New Orleans is dealing with a huge shift in terms of gentrification," she says, "and the city is trying to figure out how to hold onto its local color and its local rituals."
Landing on Broadway marks a watershed moment for D'Amour after years of toiling in the experimental and fringe theater scenes in New York, Austin, Minneapolis and New Orleans.
"It's definitely strange," D'Amour says of her Main Stem debut. "But my first show is a play about New Orleans, and I'm sort of the expert in the room. So it's not really intimidating because I have so much to say about the play and how it should go."
It helps to have familiar faces around. D'Amour's brother, Todd, who she says is busy making a pot of gumbo for the actors before heading off to rehearsal, is in the play's 16-person cast. And several of its characters are inspired by real-life New Orleanians, including D'Amour's longtime friend, poet Danny Kerwick, and Bourbon Street burlesque impresario Chris Owens, the inspiration for Miss Ruby.
Despite her Broadway detour, D'Amour hasn't abandoned her experimental roots. She and longtime collaborator Katie Pearl, who create interdisciplinary works under the moniker PearlDamour, are busy prepping "Milton," a project for which they visited five different American towns with the same name, including Milton, Massachusetts. In their travels, they interviewed residents about life in their towns and have crafted the stories into a still-evolving play. D'Amour says they're hoping to perform the finished piece in the Bay State in the fall of 2016 as part of the Celebrate Milton festival.
As for "Airline Highway," it may not feel like your typical Broadway fare. But with a vivid, eye-popping set and a dramatically-imagined world populated with colorful characters, D'Amour wonders if it's maybe just what the doctor ordered.
"Most of the straight [non-musical] plays that are done on Broadway are like rich white people dinner party plays," she says. "Whereas there's something epic about the feel of this. It's definitely busting out of the theater in a way that not a lot of Broadway shows do."
D'Amour observes that "Airline Highway" also shares a number of close connections with "Detroit." Both plays climax in primal celebrations of bacchanalian abandon — something intimately familiar to a playwright who grew up in the Big Easy and learned early on how to let loose.
"There's a sense of an ecstatic self that wants to burst out of you that doesn't make a lot of sense, that's hard to put into words, but that you have to sort of suppress in order to get through the day and play by the rules of polite, civilized society."
"How do you grapple with these two sides of yourself — the civilized self and the self that has all sorts of inner-cravings and yearnings, whether those be sexual or a desire to be wild? So that idea is now coming out in two of my plays."
Christopher Wallenberg is a freelance arts and entertainment reporter and a regular contributor to the Boston Globe, the New York Times and American Theatre magazine. You can email him at chriswallenberg@gmail.com and follow him on Twitter at @chriswallenberg.