Israeli Stage's 'Ulysses On Bottles' Masterfully Navigates Politics And Metaphor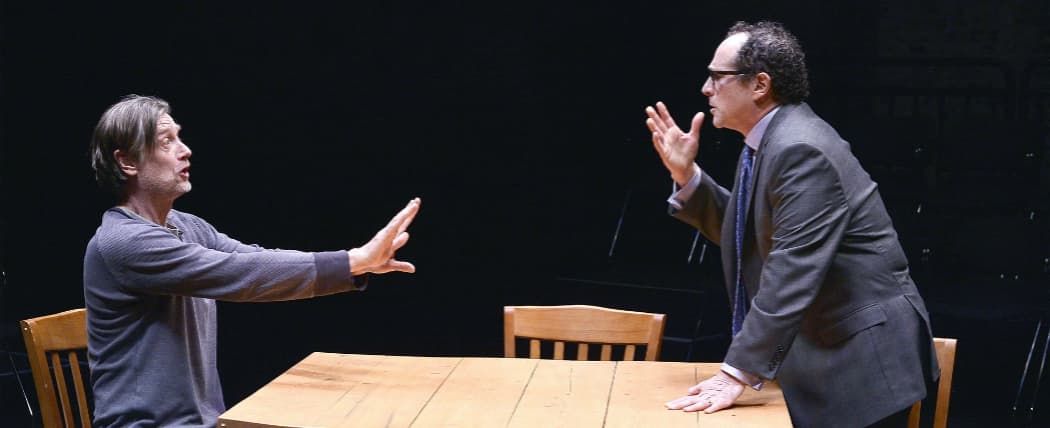 This article is more than 6 years old.
Like the original Ulysses, the title character of "Ulysses on Bottles" steers a complicated course: At first no one can figure out where he's going (though he's in considerable trouble for where he's been). But unlike its central figure, Gilad Evron's evenhanded play, in its North American premiere by Israeli Stage (co-produced by ArtsEmerson at the Jackie Liebergott Black Box, Paramount Center, through April 25), navigates a steady course between politics and metaphor, comedy, tragedy and conundrum, hitting home faster than the hero of "The Odyssey" did.
Winner of the 2012 Israel Theater Prize for Best Original Play, Evron's "Ulysses" (in a vivid translation by Evan Fallenberg) is both a tense topical juggernaut and an allegoric meditation on freedom and art. Helmed here by 25-year-old Israeli Stage artistic director Guy Ben-Aharon, it is both compellingly themed and masterfully acted. As the company's first full production (previous presentations have been staged readings), it bodes well for Israeli Stage's future — in both astute choice of material and first-rate if bare-bones execution.
The imprisoned Ulysses is so-nicknamed because he was caught attempting to sail into the blockaded Gaza Strip on a raft of plastic bottles. But he was not carrying military or even medical supplies to the cut-off Gazans. His cargo was Russian literature, "a breeze," the Israeli-Arab teacher maintains, "that rises higher than the kites [the Gazans] fly on the shore." As quixotic a mission as that may seem, neither Ulysses' lawyer, Saul Izakov, nor Seinfeld, a representative of the Israeli defense ministry, can persuade him to renounce it — or at least promise not to try it again.
But Ulysses is hardly a political prisoner: He appears to have no anti-Israel or pro-Hamas agenda. Neither, apparently, does the playwright. The inspiration for "Ulysses" (which was penned in 2010, before that year's Gaza Freedom Flotilla raid) was his son's imprisonment for refusing, while in the Israeli army, to serve in the occupied territories. The elder Evron wrote a series of letters to his son's captors trying to convince them to allow him books, claiming the kid needed literature, specifically Russian literature, to endure. Here the contents of those missives are put into the mouth of Ulysses, who is more passionate about Nabokov, Dostoyevsky and Bulgakov (in particular, "The Master and Margarita," with its devil promenading through an ostensibly godless Soviet Union) than he is about Middle East politics.
Ah, but they will intrude, will they not? At the same time that Izakov is trying to persuade Ulysses to declare his crusade a "whim" so he can get out of jail, he is advising Seinfeld regarding the ongoing blockade of the Hamas-controlled Gaza and its strict adherence to the law. The defense ministry honcho, admitting that his department controls everything going into Gaza (from food and medicine to toys and condoms) and that the 120 trucks a day are not enough, wants to make sure that no one under his command can be prosecuted for crimes against humanity. Izakov is not "unduly" troubled by the legal issue — though he is by the ethics the law can skirt, whether Seinfeld is starving the Gazans or the lawyer's bluntly opportunistic junior partner, Horesh, is jubilantly defending killers without regard for their guilt.
But if Izakov is more moral than materialistic, he definitely dwells, unlike Ulysses, on the comfortable side of Israeli privilege. There is a subplot that puts him in conflict with his wife, Eden, who wants him to don a dress and headline a charity event she is organizing to benefit disabled children. Where she got this idea and why she feels so strongly about it are murky. But Izakov's eventual capitulation does provide comic relief when, amid all the allegory and politicking, Jeremiah Kissel climbs atop a table in an elongated pink tutu and gauzy hair bow to warble "Que Sera Sera" with appropriately awkward little leg kicks. I didn't see why Izakov needed either humanizing or humiliating, but it was fun.
Far less controversial than the situation in Gaza, of course, is whether Kissel and his thespian colleagues are any good. Newsflash: They are excellent. Ben-Aharon's staging is simple, ornamented by little more than plain tables and chairs and eerily blue-lit plastic bottles hanging from the ceiling on the four sides of the playing space (though there is an effectively rumbling sound design by Dave Remedios). Kissel brings to Izakov a bristling, troubled bonhomie not unlike that he brought to the far snakier Bernard Madoff in "Imagining Madoff." As Eden, Karen MacDonald is aptly elegant, flirtatious and just a bit brittle. And Daniel Berger-Jones imbues Horash's unashamed amorality with a brash charm.
Will Lyman brings a cold intensity and his narrator's eloquence to Seinfeld's descriptions of the densely populated Gaza as "one human porridge" destined to overflow its bowl but which must nonetheless be contained. And as Ulysses, Ken Cheeseman proves a creditable jumble of physical neediness and intellectual passion. Whether screaming into a jailhouse void that his own overflowing waste bucket revolts him, delivering a horny if ironic paean to "Lolita," or declaring reading to be as essential as eating (Russian food for thought preferred), his Ulysses is a voyager touchingly caught between the siren calls of comfort and purpose.
Carolyn Clay was for many years the theater editor and chief drama critic for the Boston Phoenix. She is a past winner of the George Jean Nathan Award for Dramatic Criticism.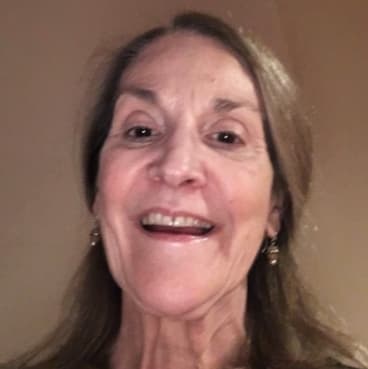 Carolyn Clay Theater Critic
Carolyn Clay, a theater critic for The ARTery, was for many years theater editor and chief drama critic for the Boston Phoenix.