The Upper Crust Talk Like The 1 Percent, But Rock Like AC/DC. Is It All A Joke?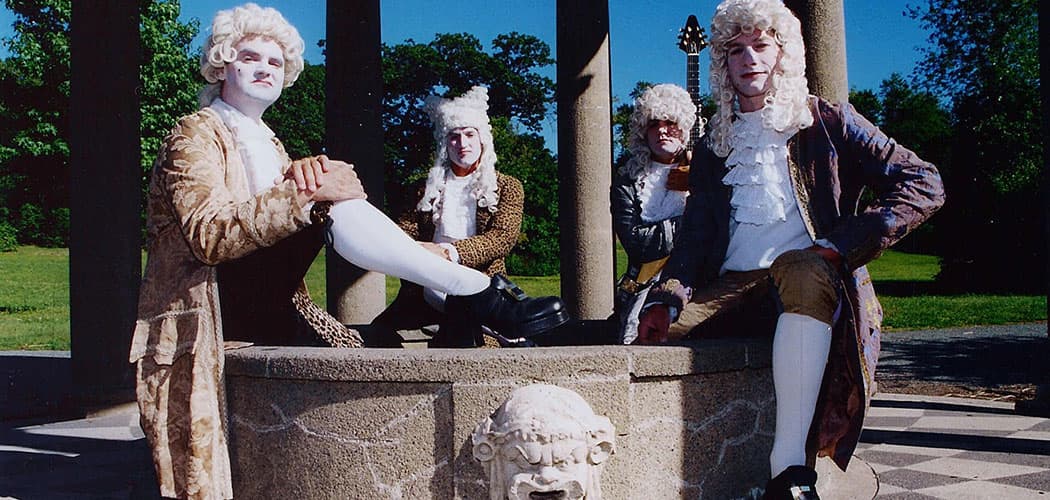 This article is more than 6 years old.
Let's be blunt about it, shall we: Why should the lower classes listen to and enjoy the rock 'n' roll played by The Upper Crust?
"Well, the point is very, very clear and simple," says Lord Bendover, lead singer and rhythm guitarist for the illustrious, Boston-based rock band. "It's that we as the aristocracy naturally do everything better than the lower classes. We feel that we're doing them a great service by permitting them to hear our music.
"It never had occurred to me that these people would be at a loss to comprehend the things that we sing about. I've always felt that naturally that they should be concerned about us and our lives and the terms in which we express ourselves are quite naturally rather, if I may say so, self-centered."
For 20-plus years, The Upper Crust have stepped onto stages across the land, dressed as 18th century French noblemen with powdered wigs and white face powder, to play agitated, AC/DC-esque rock.
So is the Upper Crust a joke band, a bastard son of Spinal Tap?
"It's tempting to call us a 'joke' band or a comedy act, but actually we are a real rock band that happens to feature costumes and witty stage banter, anchored by good songs," drummer Jim Janota says. "If the songs sucked, it wouldn't work."
On Friday, April 24, Crust members—Jackie Kickassis (Janota), singer-guitarist Lord Bendover (Nat Freedberg), lead guitarist Duc D'isortion (Dave Fredette) and bassist Count Bassie (Chris Cote)—will rock you at Cuisine en Locale in Somerville. All Crust members play or have played in numerous Boston area bands—the Flies, Titanics, Seks Bomba, Giant Kings, Rockbottom, the Bags and the Lyres, among them.
How did The Upper Crust come to be? Two answers:
"Well, it was all rather something of an accident," says Lord Bendover, his British accent sometimes wavering toward New Zealand. "We were listening, quite properly to chamber music as youngsters. And then we began to play around the idea of amplifying instruments with steam-powered amplified equipment. The sounds that emerged were what we like to call rocque and roll—with a 'qu' – and it was so different than the chamber music that we were accustomed to that we felt it deserved its own place in the culture, shall we say. We're vaguely of our own oeuvre."
Janota gives a slightly different account. Before The Upper Crust, there was the Clamdiggers. "In its original incarnation," he says, "we were dressed as yuppies, with pink sweaters tied around our necks and pants with whale and anchor prints. And those brown leather boat shoes. The yacht club look. Why? We thought a yuppie hard rock band was an idea so atrocious, so stupid, that we had better explore it to its fullest. But it wasn't long before we went for the 18th century look."
"The premise is that we are these 18th century noblemen who look at life from that perspective, but we've been shot through time to today," adds Cote.
Fredette: "We like writing songs about chicks and alcohol and all that normal rock 'n' roll stuff, but from the perspective of rich noblemen. The Upper Crust has a '70s hard rock vibe—1770s, that is."
"It was a natural rock and roll idea from the start," says Ted Widmer, who played rhythm guitar from 1993 to 1997 under the name Lord Rockingham. "There were a lot of dour bands skulking around, singing depressing songs about break-ups, and it only got worse with all those Pacific Northwest guys in their flannel shirts and wool hats. We needed to restore the spirit of rock and roll. Boston was a great place to take some time and figure it out. There were so many brilliant people, ready to try something new. It was an amazing time."
Their first album was called "Let Them Eat Rock," the title song a Marie Antoinette-like response to what they might bestow upon lower class rock fans. Sang Lord Bendover: "They say there's people starving, dropping down dead in the streets/The lazy slobs, they ain't got a job, they say they ain't got enough to eat ….Let them eat rock!"
Other songs include "Little Rickshaw Boy," "Old Money," "Heirloom" "Concubine," "Come Hither Fair Youth," "Friend of a Friend of the Working Class" and "Rock 'n' Roll Butler" and "I've Got My Ascot 'n' My Dickie." They're working on new material, some of which they may unveil at the upcoming show: "I'll Be Wintering Elsewhere," "Fopped Up" and "Noblesse Oblige."
There's this theory that the Crust write about the topics real rock stars would write about—gaining wealth and maintaining status—if only they dared to sing about their real concerns.
"We definitely give voice to the concerns of that class of people," Cote says, "and if they were more honest with themselves they would approach it the way we do."
Does Lord Bendover have any regard for those of less fortunate circumstance? Does he in fact like those people at all? "At a proper distance, they're fine," he says. "They blend in nicely with the background of the city streets and the architecture."
The Upper Crust have five albums to their credit: "Let Them Eat Rock" (1995), "The Decline and Fall of The Upper Crust" (1997), "Entitled" (2000), "Once More Into the Breeches" (2002) and "Revenge for Imagined Slights" (2009). They recorded "Runnin' Wild," the theme song for "American Daredevils," which was on the History channel from 2013 to 2014. Songs for a new album are in the works.
Has The Upper Crust been influenced by AC/DC? Two answers again:
"I know my guitar sound is inspired by [AC/DC's] Angus Young," says Fredette. "He's always been my favorite guitarist. 'Powerage' is the album I put on whenever I'm feeling down. It never fails to pick me up."
"Not for a second," Lord Bendover snorts. "We have heard them and we trust they have heard us. We believe that perhaps they've been influenced by us."
What has worked in the Crust's favor has been the explosion of celebrity and royalty culture.
"Yes," says Lord Bendover, "the celebrity culture of today, with the fascination the hoi polloi have with their betters—celebrities, royalty, aristocracy—we feel that perhaps it has reflected rather well upon our own career and advanced our own concerns."
Has that led to a groupie problem? "Oh, yes," sighs Lord Bendover. "We have hired people specifically to sort out the groupies and make sure that the less desirable ones get nowhere near us."
Over the years, two of the Upper Crust's original noblemen have left the fold. Lord Rockingham (Widmer) departed in 1997. Marquis Marque aka Marquis de Roque (bassist Marc Mazzarelli) left in 1996.
Widmer had a rather profound career shift after leaving the Crust. "I had some interesting things going on," he says, "with writing and history, and eventually they became more serious, and a job offer took me away in 1997. I was a speechwriter and senior adviser to Bill Clinton from 1997 to 2001. I was a historical consultant, but not a ghostwriter, to him when he wrote 'My Life,' and then again to Hillary Clinton when she wrote 'Hard Choices' last year. I was director of the John Carter Brown Library, but am now assistant to the president for special projects at Brown University."
The Upper Crust may seem like a one-trick pony, but one-trick ponies don't last 20-plus years or get invited to play last October's mega-music and comedy "Festival Supreme" in Los Angeles, put on by Tenacious D's Jack Black and Kyle Gass. Says Fredette: "We went on early, but there was already a large enthusiastic crowd. They were chanting our name as we left the stage."
"I can't say enough good things about Jack Black," adds Janota. "He is the coolest dude ever. Very down to earth and a lot of fun to hang with."
Shtick is shtick, but Fredette says, "I've always thought that we've benefited from having a lot of different 'hooks' for people to grab on to—the humor, lyrics, loud guitars, pounding drums, costumes, stage banter and props. But it wouldn't hold anyone's attention if the songs weren't any good. I think it's a deer-in-the-headlights effect. They don't know what to expect but they stop and listen. As far as our longevity goes, it helps that we get along with each other. Four friends getting together to play the rocque and drink the beer."
To what does Lord Bendover attribute the band's endurance? "The fact that none of us have died. That counts for the longevity of the group. We intend to continue playing as long as we can stand and hold our instruments."
Widmer looks at his former mates' perseverance this way: "More power to them. That might even be a good album title. They have kept it going without losing a step. Basically, with wigs and make-up there's no reason not to play forever."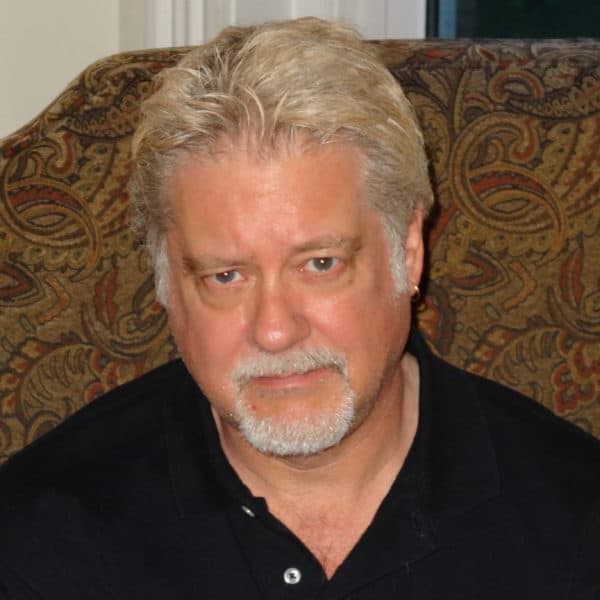 Jim Sullivan Music Writer
Jim Sullivan writes about rock 'n' roll and other music for The ARTery.