Some Very Tipsy Shakespeare On Tap In Davis Square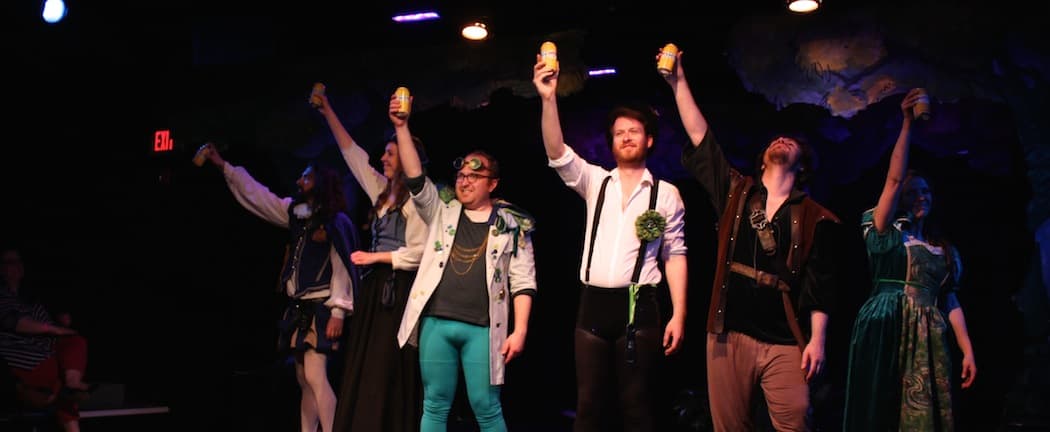 This article is more than 6 years old.
No matter what your own nightlife proclivities may be, it's not that difficult on any given night to encounter a drunk person in Greater Boston. If all else fails, just try riding the Green Line inbound right after a game at Fenway Park.
So what, exactly, is so funny about watching a drunk actor stumble her way through some of the most beautiful poetry written in the English language, while occasionally taking a moment to chew—literally—on the scenery?
It's a question you'll have to answer for yourself if you venture out for "S***-Faced Shakespeare," a fringe-festival hit from across the pond that's now making its North American debut at the Davis Square Theatre. The conceit is simple, if baffling. A troupe of six actors presents a play by Shakespeare, while one of the actors is drunk. Very drunk. As judged by the evidence on display at opening night on Wednesday, the title of the show is definitely accurate.
The play in question is "A Midsummer Night's Dream," trimmed to about an hour to fit the dictates of fringe-festival protocol. That means we focus on the two pairs of lovers, plus the mischief of Puck. All the business at court in Athens, the Rude Mechanicals and the Oberon/Titania soap opera in the woods are cut.
The actors, a troupe known as Magnificent Bastard, rotate through the roles for different performances, and we're told the drinking duties are assigned at random. On the sold-out press night, Stacey Norris was a drunken Helena. Lewis Ironside, the director of the show, was a top-hat-wearing emcee known as The Compare; his job was to explain the concept and appear from the wings from time to time, to reign in Norris if she got a little too touchy with the audience—she sat in one woman's lap and gave her a very affectionate kiss on the cheek—or needed a not-so-subtle prompt to get offstage.
Norris frequently fussed with her compatriots over blocking, repeatedly addressed actor John Mitton by his own name rather than that of his character (Demetrius) and at one point crawled across the stage on all fours and appeared to take a generous bite from the spare, woodland set. "That's just a forest cow," explained actor Saul Marron downstage, in-character (sort of) as Lysander.
Not to be overlooked is Mac Young's terrific Puck. Physically nimble and appropriately bawdy, he also showed very good facility with text. This abridged cut of the play gave him some of Oberon's lines, and the "Since once I sat upon a promontory…" speech, even if dotted with casual asides ("I'll skip right to the exposition"), was delivered with craft and care.
But given the luck of the draw, you may encounter different casting on a different night. The U.K. troupe is in town through the rest of the month, and after that a group of U.S. actors will take over and play until the end of May.
What, you may wonder, is the point? The short answer is, the folks behind "S***-Faced Shakespeare" seem to be aiming for the sort of hip, risque vibe that has made "The Donkey Show" a hit at American Repertory Theater for the past six years.
Of course, folks who've seen a few great Shakespeare productions already know that the material is lively, bawdy, funny and bracing as written. But those whose knowledge of The Bard consists only of dim memories from un-enlightening high school English classes are, alas, accustomed to thinking of the work as stiff and inaccessible.
The show is successful as a gag. If you round up some friends and give it a whirl, you're sure to have a few laughs and something to talk about afterward. (When a handful of audience members joined the sleeping lovers on the ground near the end of the play, it was a fittingly interactive end to an immersive experience.) But if it has any artistic merit, it's from the unexpected juxtaposition of all this off-color behavior and the dusty, sober environs expected by the Shakespeare newbie.
When Norris started racing through text after learning that time was running out, she may as well have been reciting her food-shopping list; but when her drunken swagger inspired her to flip the bird at Beth-Louise Priestley's Hermia during their confrontation, it reinforced the spirit of the words as well as any practiced acting technique could.
Fun was apparently had by all, onstage and off. But in the end, it's not clear if this production is laughing with Shakespeare or at him. And for me, this made it harder to swallow.
Jeremy D. Goodwin contributes regularly to the Boston Globe. Among other venues, his work has been heard on New England Public Radio and WBUR and read in American Theatre. Follow him on Twitter @jeremydgoodwin. Check out his website, with links to lots of other work, here.