Celebrity Series Debuts 'Solid Soul' Tour And Goes Behind The Scenes Of 'Serial'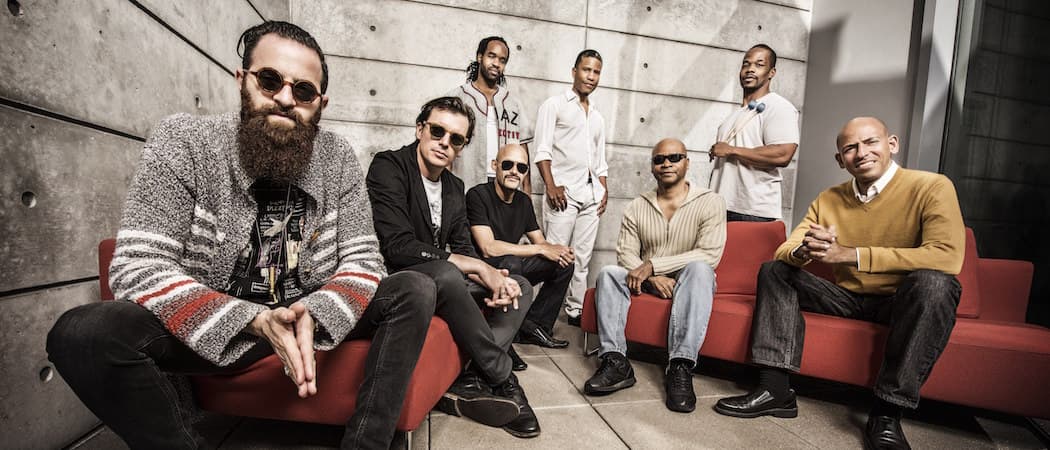 This article is more than 6 years old.
If you missed Alvin Ailey's stunning performance of "Revelations," a signature Ailey work, or really want to know how the creators of the hit podcast "Serial" kept the audience wondering, "Did Adnan murder his ex-girlfriend or not?" or if you missed the Celebrity Series' new Stave Sessions this year, you will be able to see some of these performances again. The Celebrity Series of Boston's 77th season features more than 20 performances of pianists, violinists, jazz ensembles and speaker events—one by NPR humorist David Sedaris, who opens the season on Oct. 14 at Symphony Hall.
In addition to the return of some Celebrity Series favorites like Yo-Yo Ma, Dawn Upshaw and Lang Lang, there are a few series debuts and performances to look out for in the coming season. Here are some:
Mavis Staples and Joan Osborne "Solid Soul," Nov. 7, 2015, 8 p.m. at Berklee Performance Center
President Obama's White House Memphis Soul tribute last year, when Mavis Staples performed alongside Justin Timberlake, may have been a powerful union of voices, but Staples' collaboration with Joan Osborne will be a powerhouse "Solid Soul" tour. Staples, a leader in American music known for her soul anthems such as "Respect Yourself" and "I'll Take You There," released a new EP in April titled "Your Good Fortune," joining the 14 other albums she has released since 1969. This will be Staples' first tour with seven-time-Grammy-nominated singer-songwriter Joan Osborne, who will bring her country mixed with R&B and soul background to the collaboration.
Billy Collins and Aimee Mann "An Evening of Poetry, Acoustic, Music & Conversation," Nov. 21, 2015, 8 p.m. at Sanders Theatre
For "An Evening of Poetry, Acoustic, Music and Conversation," Billy Collins and Aimee Mann have you covered. The duo met at the White House in 2011 for the first time during the salon tribute to American Poetry. Mann, a Berklee alum, may be known for her music career these days, but you may remember her from a cameo she made in "The Big Lebowski" as a nine-toed German girl. Collins, a former U.S. Poet Laureate, will bring his humorous, bittersweet poetry, complemented by Mann's indie, angtsy lyrics to the stage.
Brooklyn Rider and Gabriel Kahane, Feb. 5, 2016, 8 p.m. at Sanders Theatre
String quartet Brooklyn Rider, which just celebrated its 10th anniversary, will collaborate with singer-songwriter Gabriel Kahane to perform pieces from Brooklyn Rider's latest album, "Almanac," and Kahane's "The Ambassador" and "Bradbury Studies." No strangers to each other, they performed "Come On All You Ghosts," a three-part song cycle featuring Matthew Zapruder's poem verses as lyrics, together at Kahane's first solo showcase at Carnegie Hall back in 2012. They were also featured in the Celebrity Series' Stave Sessions in March. The Celebrity Series will be continuing with the Stave Sessions next year, with the dates and lineup announced later.
Ana Gasteyer in Concert, Feb. 6, 2016, 8 p.m. at Sanders Theatre
Ana Gasteyer's humor and Broadway voice will makes their first appearance in the Celebrity Series this season. The SNL alum released her jazz album "I'm Hip" in September. The hit record off the album, "One Mint Julep" (as shown in a hilarious black-and-white music video), is "a cautionary tale about drinking a mint julep and getting stuck with six kids and a bad husband," says Gasteyer in an interview with Entertainment Weekly.
Avi Avital "Between Worlds Tour," March 11, 2016, 8 p.m. at NEC's Jordan Hall
Grammy-nominated mandolinist Avi Avital will have you taken aback with his performance of classical pieces, strumming the mandolin with precision, grace and passion. Avital's "Between Worlds Tour" with accordionist Ksenija Sidorova and percussionist Itamar Doari will explore the borders between folk and classical music, including works by Fritz Kreisler, J.S. Bach, Villa-Lobos, Bartók and traditional Turkish and Israeli music.
Sarah Koenig and Julie Snyder "Binge-Worthy Journalism: Backstage with the Creators of 'Serial,'" March 30, 2016, 8 p.m., Symphony Hall
If you missed Sarah Koenig at the "The Power of Narrative" conference in March hosted by BU, you will have another chance to see the face behind the audio waves. "Serial" podcast creators Sarah Koenig and Julie Snyder will be bringing their new show "Binge-Worthy Journalism: Backstage with the Creators of Serial" to the Celebrity Series. Koenig and Snyder will be taking the audience behind the scenes in creating "Serial," the fastest podcast in iTunes history to reach five million downloads. The audience will be able to see how Koenig and Snyder constructed each episode as they revisited the murder of Hae Min Lee.
SF JAZZ Collective "The Music of Michael Jackson and Original Compositions," April 26, 2016, 7 p.m. at Berklee Performance Center
The "King of Pop's" hit songs will be coming to Boston courtesy of the SF JAZZ Collective, an internationally diverse eight-person jazz ensemble hailing from New York, Puerto Rico, Venezuela, Philadelphia, Israel and New Zealand. The ensemble will perform instrumental reworks of some of Michael Jackson's famous tunes. SF JAZZ featured arrangements of songs by music legend Stevie Wonder in their first album, "Wonder: The Songs of Stevie Wonder," with arrangements such songs as "Superstition" and "Visions."
For the full schedule go to celebrityseries.org.
Katherine Lam is an editorial intern at The ARTery. She is currently a fourth year undergraduate at Boston University studying International Relations and Journalism. Read more of her work at katherinelam.co