Meet The Barbazons—Formerly Surf Rock Showgirls, 'Now We're Just Weirdos'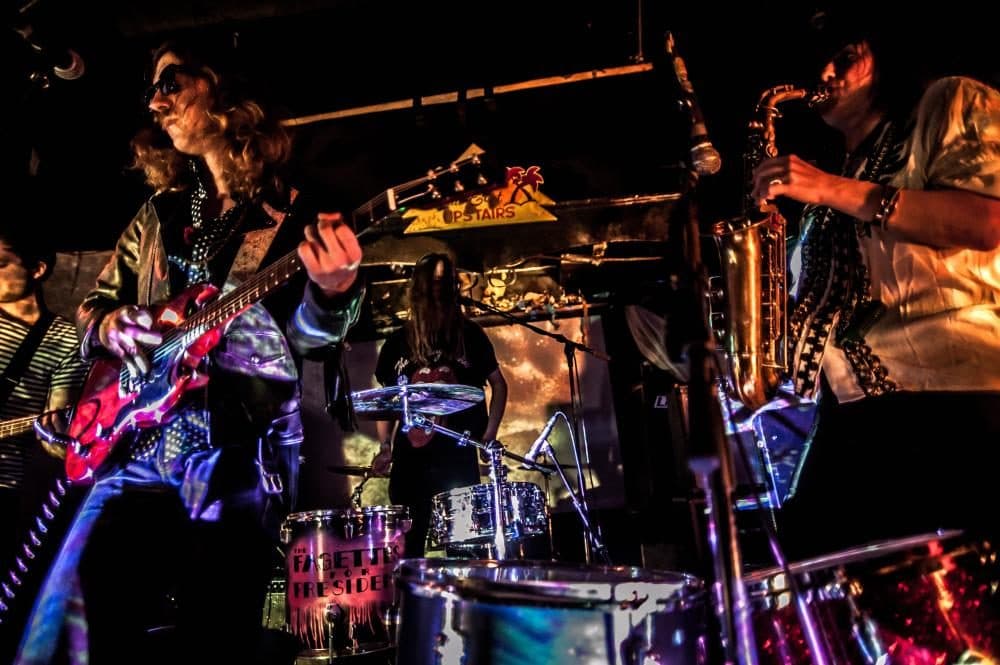 This article is more than 6 years old.
In "Gonna Die Out Here," the second track off of The Barbazons' upcoming album "Avec Plaisir" ("With Pleasure"), frontman Ryan Major drawls, "I put tea in my whiskey and whiskey in my tea/ When you kiss his lips do you think about me?" It's a classic line from a band that specializes in rhymey, depressive ruminations set to perky beats.
"When I look at it, and I listen to it, I feel like there is an underlying theme of the fun that can be had in an uncertain and painful world," says Major. (The Barbazons celebrate the release of "Avec Plaisir" on April 24 at the Middle East Upstairs in Cambridge.)
At some point you can't talk about The Barbazons, an endearing '60s-esque garage rock outfit from Boston, without talking about how they used to be called The Fagettes. The name came to frontwoman Melanie Bernier in a flash, at sunset, while she was vacationing in Maine, the feverish projection of a restless art school kid whose feminist doo-wop group had broken up before it had the chance to blossom into whatever obscure, transcendent thing she had originally envisioned. A form of protest, a means of release.
"We wore wigs, and we wore outrageous outfits, and it was very much me and four girl background singers who—you know, we had varying levels of vocal talent, but we just put it all out there," says Bernier of that first band. "And when I thought of the name ['The Fagettes'] it was this real embodiment of what that had been for me, which was four women essentially dressing in drag to play women in these hyper-feminine roles, and singing about hyper-feminine roles: 'Patriarchy, it ain't as cool as matriarchy,' bullshit like that. It was just a fun way to play with ideas about gender."
When Bernier and Major (who share frontperson duties in The Barbazons) decided to start a band in 2010, Bernier says, the name "seemed to embody a lot of the ideas I had about where I wanted that [first] band to go but hadn't fully achieved. "
Naturally, the name provoked some controversy, which Bernier and Major expected, but it didn't spark the conversation they had hoped. "See, I'm on board with the pushing of buttons," says Major, "but I grew gradually increasingly frustrated by the fact that the conversation was rarely about the music or even the live act. It usually began and ended with the name and whether or not it was offensive."
Rarely did the discussion delve into what was really at stake. Was 'The Fagettes'—a pun on a homophobic slur with a feminine suffix—an effective reclamation of a hurtful word? Did Bernier, a marriage equality activist and an out bisexual, have a right to reclaim a derogatory term usually reserved for gay men? Was it subversive, smart—or merely provocative?
"My reasoning for it was, I want to take a nasty word and make it okay," Bernier explains. "That was it. It was simple as that. A reclamation of a word that was really nasty, and really shitty, and putting a spin on it that makes it a little playful. And we're about that: playfulness, but also, taking the sting out of something was important to me. And I think it's worthwhile, and I think it's a good thing to do, but I don't know that we were effective."
Every once in a while, the name would strike a raw, unintended chord with someone. "There would be times where I would be speaking with a gay man, who was in his 50s, and he has a different association with this name," says Bernier. "He was alive in a time that was a lot less tolerant of LGBTQ rights. So there's also an empathy there of why an older gay person might see this name as offensive."
The rollout of the group's new album, "Avec Plaisir," seemed like the ideal time to adopt a new mantle. "The Barbazons" is a mash-up of "barbarian" and "Amazon:" a gleeful appropriation of an insult often aimed at outcasts combined with a powerful feminist mythology. It also has a familial quality, reminiscent of the shaggy siblinghood of The Ramones.
Squashed close around a corner table at a bar in Cambridge's Central Square on a recent Sunday afternoon, half-drunk pints of Guinness arranged like Tetris pieces between plates of french fries, the five Barbazons have the close rapport of a clan.
"I remember thinking, 'These guys look hella weird,'" says bassist Jake Gilbertson of the first time he saw the band, then The Fagettes, in a basement at Emerson College. (Gilbertson and guitarist Matt Garlick, both of the Boston band Nice Guys, are two recent additions to The Barbazons, who have gone through many lineup changes.) When they first started out, Bernier always performed in flamboyant costumes: there was the sequined loincloth, the giant Afro wig, the leopard-print onesie with a merkin-like design woven onto the crotch.
"I used to wear a lot of short shorts. Crop tops," says the band's drummer, Peaches Goodrich, a mild-mannered guy with spectacles and a silky mane of hair that falls to his shoulder blades. "You wore an amazing outfit at the last show," Major points out. He has a slightly mannered way of speaking, laced always with an undercurrent of barely-repressed amusement, which seems in line with his thin, scruffy moustache. "These crazy pants, but with a really nice tank top tucked into it."
"Oh no, that was a jumpsuit!" replies Goodrich. Major is astonished. "That was a jumpsuit? Are you wearing a jumpsuit right now?" Goodrich is, indeed, wearing a jumpsuit—though with a flannel thrown on top, you can hardly tell that his pants and shirt exist on a single continuum.
Like an unassuming jumpsuit (as unlikely a thing as that sounds), The Barbazons wear their peculiarity more subtly these days. Gone are the bouffant wigs and the fringe-covered hot pants. "I guess we've moved away from glammy and theatrical," says Major. "We're less showgirls, now we're just weirdos."
"I guess it was easier in the beginning to be a person onstage, when I was really nervous, dressed as something else," explains Bernier, who these days generally sports her natural hair, shiny and ordinary and brown, instead of an enormous wig. "It was fun, and a very much a part of what our identity was in the beginning. But as I've become way more comfortable playing live, it's become less necessary to have that barrier."
The band's evolution is equally apparent on "Avec Plaisir." Their first two EPs, both from 2011 ("The Fagettes" Vol. 1 and 2) are charmingly rough around the edges, suffused in fuzz and enamored with punch lines. "I prayed the Lord to save me, but what good would it do/ For a Catholic riff-raff who's a lesbian, too," sings Bernier on "Catholic Riffraff and the Allston Amazon." And even though her voice doesn't always sync up with Goodrich's drumming, there is a frank, inviting quality to her delivery. On "Avec Plaisir" things have been tightened up a few notches. The songs are more detailed, though they display the same groovy vibes and surfy rhythms as their predecessors. Playful guitar licks punctuate the mini-dialogue that often arises between Bernier and Ryan. And that melancholy-yet-amused irreverence is ever-present, in lines like "The AA took my baby away/ His name was Jimmy Beam."
As proud as they are of "Avec Plaisir," The Barbazons still feel most at home onstage. The name change aside, that's the place where they've done most of their growing.
"There's nothing like it," says Major. "It is unparalleled, the level of—I think exhilaration is the word—when people are delighted by some song that we wrote in a basement somewhere."