'Scenes From An Adultery' Focuses On Collateral Damage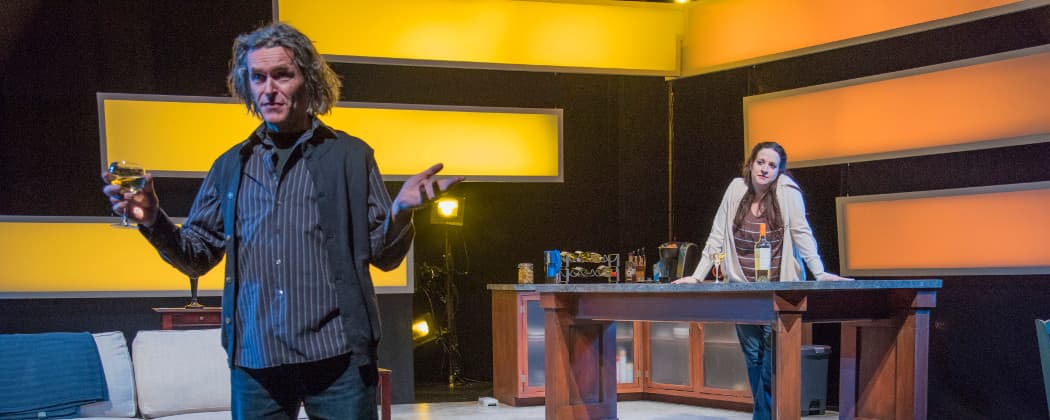 This article is more than 6 years old.
If I were turning Ronan Noone's "Scenes from an Adultery" into a joke, it might begin, "John Updike walked into a bar…" But the bard of infidelity would have had to be on vacation. Reportedly, "Scenes" was originally set in Boston, but since the three-person cast of New Repertory Theatre's world-premiere production (at the Arsenal Center for the Arts through May 17) hails from Ireland, Scotland and Wales respectively, the scene has floated (as do the accents) to an unspecified spot in the United Kingdom. There, a game of Gossip, or Telegraph, or whatever that childhood game of passed rumor was called in your neighborhood, has escalating repercussions — because the titular adultery does not directly involve the trio on stage. It's infidelity once removed, as with cousins.
The trouble (though not the play) starts when two men in a pub exchange guy-centric tidbits regarding the possible extramarital activities of an absent pal's wife. What starts with single skirt-chaser Gasper leaning over the froth of a beer to tell married pal Tony about seeing their chum Dean's wife, Corinne, in what looked like a compromising situation with another man grows into a tangle of voyeurism, suspicion, evasion and very bad secret-keeping that envelops both men and Tony's wife (and Corinne's friend), Lisa. By the play's end, some 11 weeks and a tight 80 minutes in, the battlefields of both love and friendship look like Gettysburg.
Irish-born-and-bred, Boston-based Noone is nothing if not versatile and prolific. This season alone has seen two world premieres by the talented and engaging writer: "The Second Girl," unveiled by the Huntington Theatre Company in January, and now "Scenes from an Adultery," developed through New Rep's New Voices fellowship program. "The Second Girl," ingeniously set in the Tyrone kitchen while "Long Day's Journey into Night" is taking place elsewhere in Monte Cristo Cottage, is the more ambitious work, if too muted. Here, inspired by "Private Lives" and "Betrayal," among other comedies of sexual manners, Noone turns on a dime to something more trivial — and less poignant — than thwarted immigrant dreams. But if the play is thin gruel compared to "The Second Girl's" onstage sizzling bacon, Noone pushes his game of see-and-tell to the brink of the Absurd with considerable cleverness, pausing his characters along the way to deliver a couple bravura arias of prurient self-justification or touchingly bullish insecurity.
But if "Scenes'" acknowledged spurs include Noel Coward and Harold Pinter, there is more than a whiff of early David Mamet here as well. As portrayed in Bridget Kathleen O'Leary's crisply comic production for New Rep, Noone's men are convincingly callow if less vicious than Mamet's. And though they fall into traps of their own unintentional making, in some ways they deserve what they get.
So it is to the credit of Ciaran Crawford, as Gasper, and Peter Stray, as Tony, that these middle-aged, self-conscious, slightly smarmy guys are a little ridiculous without becoming unlikeable. Crawford's Gasper, with his lank grey mane, braggart's swagger, and sexual tall tales, is amusingly glib, given to mischief-making and offense. And Stray's straighter-laced, sadder-sack Tony, whether fuming or falling apart in falsetto, is both hapless and humorous. Leda Uberbacher's prim, pot-stirring Lisa, whether she's being oversensitive or underhanded or is in the midst of a simmering slow burn, is both believable and a bit more sympathetic (though Noone, by his own admission, is on the would-be-loyal guys' side).
I love it when new works are well and slickly presented, as this one is, featuring an AC/DC contemporary setting by Janie E. Howland and a sound design by David Remedios that aptly mixes relevant rock with war drums. That way, as Shakespeare says, the play's the thing — in this case a small thing but keenly observed and skillfully exaggerated, with bright, thin veneers of both social commentary and schadenfreude.
Carolyn Clay was for many years the theater editor and chief drama critic for the Boston Phoenix. She is a past winner of the George Jean Nathan Award for Dramatic Criticism.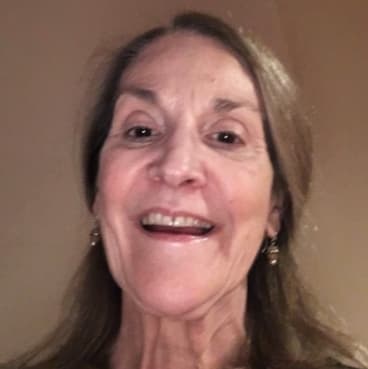 Carolyn Clay Theater Critic
Carolyn Clay, a theater critic for The ARTery, was for many years theater editor and chief drama critic for the Boston Phoenix.