'The Last Two People On Earth' Combats Despair With Song, Dance And Shenanigans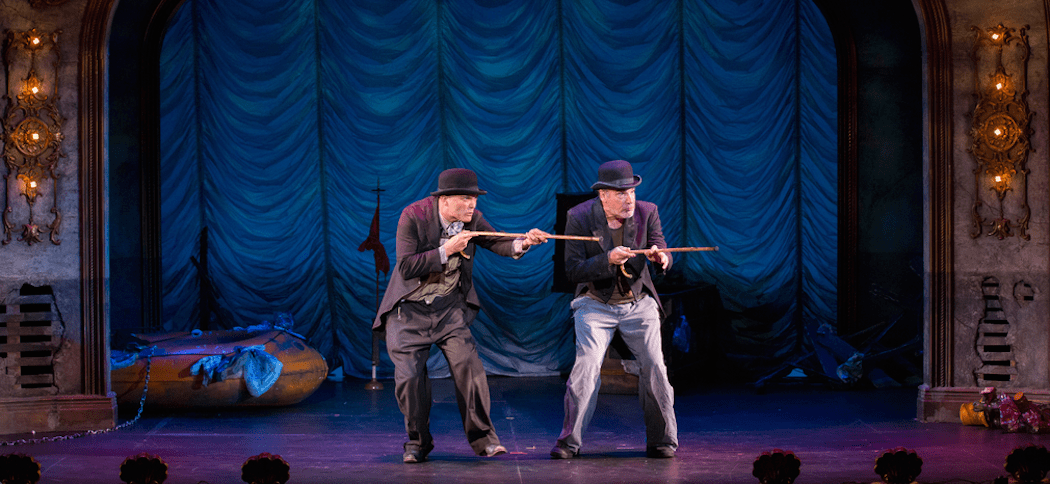 This article is more than 5 years old.
Imagine it's the not-too-distant future and the most dire predictions made by environmentalists concerning climate change have come true. You're adrift on a flooded planet, all alone, when by chance you meet up with one other survivor of the now-vanished human race. Where do you find common ground? How do you spend your time?
For Taylor Mac and Mandy Patinkin, the answer is obvious: You mount your own jukebox musical complete with song, dance and time-honored gags (seltzer bottles, pies in the face, humor both farcical and physical). If you had an audience, they'd probably go bananas over it.
Lucky us: We are the audience for the American Repertory Theater's production of Patinkin and Mac's show, which is titled "The Last Two People on Earth: An Apocalyptic Vaudeville," and which continues through May 31 at the Loeb Drama Center near Harvard Square.
This is a show without much in the way of story or characterization, but it does hearken back to Tin Pan Alley entertainment by way of a set list that wryly reflects the theme and setting. The songs Patinkin and Mac have woven into the evening range from R.E.M's "It's the End of the World as We Know It" to Stephen Sondheim's "Another National Anthem." They have also worked in maritime traditionals "The Song of the Volga Boatmen" and "Row, Row, Row Your Boat."
The set, by Beowulf Boritt, resembles a derelict theater. This might be a flooded city or maybe we're meant to think of the location as a speck of land in an endless sea. Mac's Stan Laurel-like character arrives in a lifeboat and, shortly afterwards, discovers Patinkin's character sheltering in a wooden chest. Patinkin's character seems to have just about given up; fortunately, Mac's character proves fortuitously adept as a dance coach; even better, he has a spare set of tux tails with which to dress up his new pal, slipping the rumpled jacket over Patinkin's ragged attire. (Mac keeps the bowler hat for himself.)
There are no introductions between the two and no backstories. We don't need them. This isn't a tale about men so much as the things that drive men: regret and redemption, existential horror and lovely, irrational hope. As time passes and seasons change, the two men make desultory efforts at observing a now-defunct calendar form (at least, for the Holiday season), bonding around a disparate clutch of songs (hello, "Snow" by Randy Newman, the Pogues' "Fairytale of New York" and "The Twelve Days of Christmas").
The show may wield a broad brush, narratively speaking, but it's for a reason. When contemplating the racial foolishness of human beings and the inundation of the planet, only generalities will do; specifics have sunk to the bottom, and nationalities, ideologies and institutional loyalties of all sorts are left in ruins. This is a time to deal in archetypes, rather than individuals, and the tattered formalism of William Ivey Long's costuming lends a grotty modern zing to the traditional duo played by the rubber-faced Mac and the despondent Patinkin. Mac's character is chipper, and maybe a little dim-witted; Patinkin's is smart enough to understand that there's little reason left for optimism. Still, when the world's been erased by water, what's the point of adding your tears to the deluge? If you've found your way to a dry patch and a sunny interim between super-storms, you might as well have a little fun.
The practical aspects of survival crop up here and there amidst the soft shoe and the clowning. There's nothing to eat and the guys are terrible fishermen; worst of all, there are no girls, a hardship that's addressed by several musical numbers, including a voluptuous reading of Cy Coleman and Carolyn Leigh's "Real Live Girl" and a cheerily desolate version of a song from another musical made famous by Al Jolson, "Where Did Robinson Crusoe Go with Friday on Saturday Night?" A feverish, desperate spark of the sort commonly held to exist among all-male seafaring crews creeps into the show as Mac and Patinkin deliver Tom Waits' "If You Ain't Got Nobody." It's a madcap moment but, like every other moment in the show, it's lit up with a sympathetic vibration of despair.
Patinkin and Mac share a wonderful chemistry. They're like chalk and cheese, their differences in demeanor and energy contrasting nicely and bringing out the best in one another. The program notes tell us that Patinkin and Mac came up with the show when they realized they liked a lot of the same music. They created "The Last Two People on Earth" in collaboration with Paul Ford and Susan Stroman, the former of whom undertakes the musical direction (and gives the songs nuance and flair), while the latter oversees direction and choreography, navigating carefully between the tonal extremes of lunatic crack-up and embittered rage.
There are some sweet moments scattered throughout this less-than-90-minute production, which is presented without intermission. The sweetest of all may be a poignant rendition of Paul Simon's "American Tune," which is itself a wistful ode to life's low points. As Simon's lyric reminds us, "It's all right, it's all right. You can't be forever blessed." That seems a comparatively healthy attitude to take when the chips, so to speak, are drowned.
Kilian Melloy has reviewed film and theater for a number of publications, including EDGE Boston and the Cambridge Chronicle. He is a member of the Boston Theater Critics Association and the Boston Online Film Critics Association.
Kilian Melloy Theater Critic
Kilian Melloy is a contributor to WBUR's The ARTery.