'The Full Monty': Boston Early Music Festival Stages 3 Monteverdi Operas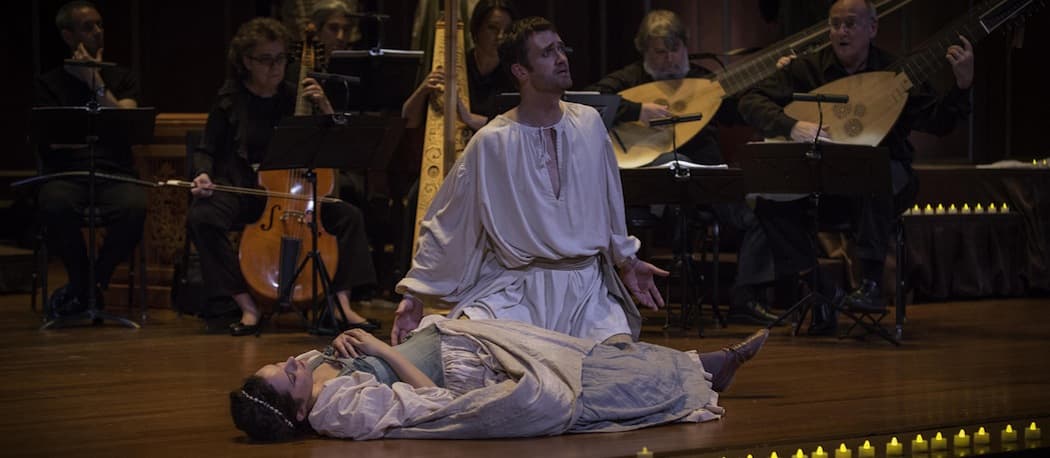 This article is more than 5 years old.
Three of the earliest operas to survive from the 17th century remain three of the best: Monteverdi's "Orfeo" (Orpheus), "Il Ritorno d'Ulisse in Patria" (The Return of Ulysses to His Homeland) and (best known) "L'incoronazione di Poppea" (The Coronation of Poppea). A fourth Monteverdi opera, "L'Arianna," survives only as a magnificent fragment. As with all of these, the surviving scores and original orchestrations are so minimal, musicians and scholars have had to flesh them out to make them performable. Over the years there have been wonderful and even notorious productions (a nude scene, for example, in at least one "Poppea"). Getting the chance to see all three operas together, however, remains a rarity. And so this year's staged versions of what some wags are calling "The Full Monty" (though probably without any nudity) should be a real treat for early music aficionados and opera lovers in general.
The biennial Boston Early Music Festival has been in operation since 1981 (its first opera was "Poppea"), and besides operas, there are also vocal, instrumental and orchestral concerts and exhibitions in venues all over town. Visitors pour into Boston from around the world. Still, the opera production has consistently been the major attraction. The music co-directors, celebrated lutenists Paul O'Dette and Stephen Stubbs, and their remarkable players, provide the highest level of musical sophistication. My quibble is that too often living, breathing, human drama has taken a back seat to the elaborate sets, gorgeous costumes and supposedly "authentic" textbook poses. But stage director Gilbert Blin's last two productions, Agostino Steffani's obscure "Niobe" with the extraordinary countertenor Philippe Jaroussky and the delightful Boston soprano Amanda Forsythe (which has just been released on CD) and Handel's very first opera, the rarely-produced "Almira," have managed to combine beautiful images with compelling staging.
Here is Jaroussky as King Anfione in "Niobe" praising the harmony of the spheres in what might be the most sublime passage in any BEMF production:
Even the "authentic" dances (which I've mainly found an irritating distraction) have started to be incorporated into the larger action. Some of the shorter works that Blin has staged during the year have fallen into cutesy, elbow-in-the-ribs farce (he seems not to have learned that characters are funnier when they take themselves seriously). But I'm more hopeful about the Monteverdi.
Or at least some of it. My major reservation is that "Orfeo" (Jordan Hall, June 13; Mahaiwe Performing Arts Center, Great Barrington, June 21) is an "encore" of the 2012 production, for which I admired the singing (especially tenor Aaron Sheehan as Orpheus and sopranos Mireille Asselin as Euridice and Shannon Mercer as the messenger narrating the Euridice's death) and the playing. But I found Blin's gimmicky direction at almost every turn a distraction from the splendor of the music. For the moving "Ulisse" (Boston University Theatre, June 7, 10 and 12), we're promised an entirely new production, with Canadian lyric tenor Colin Balzer returning to BEMF as Ulisse, and Canadian-Greek mezzo-soprano Mary-Ellen Nesi as the equally wily and long-suffering Penelope (Sheehan, Forsythe and Asselin are also in this cast).
"Poppea" (BU Theatre, June 9 and 14), Monteverdi's last opera, is one of the great masterpieces of Western music, a rich amalgamation of passion and cynicism and tenderness. Its climactic love duet between Nero and Poppea and the lullaby sung by Poppea's nurse are among the most ravishing vocal pieces in all of opera. The brilliant Australian countertenor David Hansen and the dazzling Amanda Forsythe play the complicit, illicit lovers (the same characters they just played for Boston Baroque in Handel's "Agrippina"), while Mercer will sing the betrayed Ottavia, and Brazilian countertenor José Lemos follows the tradition of a male singer for the Nurse (is there a more gorgeous recording of the Lullaby than Met bass and star of "South Pacific" Ezio Pinza?). This production is another revival — BEMF did it before under Blin's direction in 2009. Perhaps with the help of assistant director and BEMF veteran Ellen Hargis, the production itself will have acquired a new refinement worthy of the singers and musicians.
And as an additional bonus, Stephen Stubbs will lead the Dark Horse Consort in Monteverdi's most ambitious non-operatic work, the magnificent "Vespers of 1610" (Jordan Hall, June 11).
The BEMF runs June 7-14. Visit their website for more information.
Lloyd Schwartz is a music critic for NPR's Fresh Air and Senior Editor of Classical Music for New York Arts. Longtime Classical Music Editor of The Boston Phoenix, he was awarded the Pulitzer Prize for criticism in 1994. He is the Frederick S. Troy Professor of English at the University of Massachusetts Boston. Follow him on Twitter at @LloydSchwartz.