Lighthearted Spectacles Mix With Darker Nominees At Sunday's Tony Awards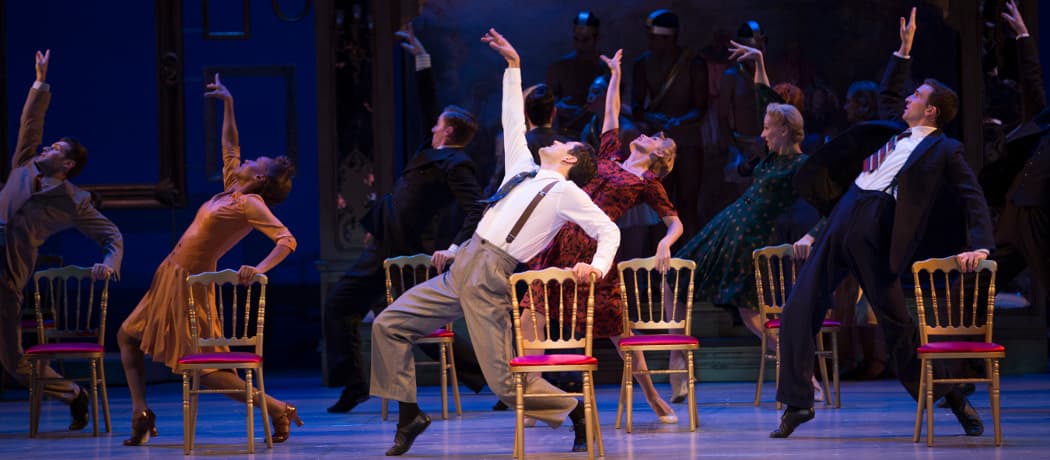 This article is more than 5 years old.
When times are tough, movie and theatergoers tend to retreat into escapist fare for their entertainment options. If you want to see tragedy unfold or hear about the sagging economy, you can just flip on the evening news or scan the day's headlines. But who wants to be reminded of the tumultuous, troubled world we live in when you're trying to enjoy yourself?
Although comedy seems to rule the roost on Broadway these days, darker undercurrents that echo the fraught state of our country and planet can also be detected lurking inside many of the opulent theaters along the Great White Way. Of course, you'll see more of the former in evidence during the 69th annual Tony Awards on Sunday night — in the form of splashy set pieces and exuberant song and dance numbers — because awards ceremonies are supposed to be fun. The Tony Awards, Broadway's biggest night, airs at 8/7c on CBS, hosted by veritable industry royalty Alan Cumming and Kristin Chenoweth — both of whom could be seen flaunting their wares on Broadway this past year.
This year, buoyant musicals, song-and-dance spectacles and celebrity-laden comedies dominated the nominations.
One of the biggest surprise hits of the season was a revival of Terrence McNally's 1980s showbiz-skewering laugh riot "It's Only a Play," updated for our selfie-snapping, pop culture-obsessed times. The play only received a single Tony nomination, for newcomer Micah Scott as Featured Actor in a Play. But it was headlined by a raft of theater and television stars, from Stockard Channing and Megan Mullally to that sure-fire Broadway comedy team of Nathan Lane and Matthew Broderick (who turned "The Producers" into Tony gold back in 2001). The show tossed off Broadway and pop culture in-jokes and flayed Hollywood and theater celebs with the acid-tongued vigor of vintage Joan Rivers, as laughed-starved audiences lapped up the copious celebrity name-dropping and topical references like howling hyenas.
"Something Rotten!," one of the most relentlessly laugh-inducing shows of the season, was nominated for 10 Tony Awards and could play spoiler in the Best Musical race, where frontrunner "An American in Paris" and underdog "Fun Home" are battling it out. A knowing, anachronistic parody of Broadway shows and Shakespearean conventions, the musical features Brian d'Arcy James (Best Actor in a Musical nominee) as a struggling Elizabethan-era playwright squaring off against Christian Borle's Bard, an idea-stealing egomaniac dressed as a Freddie Mercury-esque glam rock star. The double-entendre and pun-laden musical boasts copious phallic humor, several show-stopping numbers and has audiences practically falling out of their seats in the first act. But the gags and theatrical in-jokes start to feel worn out by Act 2 when the whole thing collapses into a pile of tedious absurdity.
Two shows that are also iconic Gene Kelly movie-musicals, "An American in Paris" and "On the Town," have been celebrated for their exuberant, fleet-footed dance numbers. Though not exactly empty-headed comedies, their concerns are more centered on the ecstatic highs of romance and the wonders — and pain — of falling in love. "On the Town," a retread of the 1944 musical by Leonard Bernstein, Betty Comden and Adolph Green, has been nominated for Best Revival of a Musical and three other awards. It focuses on the romantic escapades of three sailors on 24-hour shore leave in New York. While the lighthearted show drags a bit in Act 2, several of its comedic numbers and dance sequences are instantly memorable.
Meanwhile, "An American in Paris," inspired by the 1951 Vincente Minnelli movie-musical, is one of the two leading contenders (along with "Fun Home") competing for Best Musical ("The Visit" and "Something Rotten!" are also in the race). "Paris," which garnered 12 total nominations, features the indelible music of George Gershwin (including "I've Got Rhythm" and "S'Wonderful"), eye-popping set and costume designs, and richly detailed lead performances. It also boasts a star-is-born turn from Best Actor in a Musical nominee Robert Fairchild (his female costar Leanne Cope also earned a Best Actress nod). But the standout element is the breathtaking choreography, especially the ravishing final ballet, by dance world wunderkind Christopher Wheeldon, a first-time Broadway director.
Another Comden and Green show, "On the Twentieth Century," this one written with composer Cy Coleman in 1978, has a bubble-headed storyline and wild plot shifts, but remains fizzy fun nonetheless, thanks to a tuneful score and the zesty comic chemistry of Lead Actress in a Musical nominee Kristin Chenoweth and costar Peter Gallagher. The ex-lovers and narcissistic showbiz types — she's a major screen star, he's a washed-up producer — battle wits and egos on a luxury train car bound from Chicago to New York. Despite the silliness of the whole enterprise, the show, a nominee for Best Musical Revival, boasts an exuberant comic urgency that's as shiny and brisk as its Art Deco locomotive.
Meanwhile, "The King and I," that 1951 Rodgers and Hammerstein classic about East-meets-West culture clashing, stands as the Best Revival of a Musical frontrunner. However, the show, nominated for 9 Tonys, isn't just pure spectacle. Sure, there's Lincoln Center's 50-member cast, 29-piece orchestra, opulent sets and costumes, not to mention a breathtaking curtain-riser featuring the prow of a ship gliding into port. But as helmed by ace director Bartlett Sher, "King" mines the fiery combativeness — and undercurrent of fierce attraction — between its nominated leads Kelli O'Hara, as headstrong English schoolteacher Anna Leonowens, and Ken Watanabe, tackling the King of Siam role that Yul Brynner was forever identified with. This production may not be as revelatory as Lincoln Center's 2008 revival of "South Pacific," which smartly foregrounded that musical's themes of bigotry and racism. But there's enough heft in "The King and I," from its exploration of clashing cultures to its less-developed themes of racism and gender roles, to give it a gravitas that other Tony-nominated shows this season strive to match.
But it's not all song and dance. A number of this year's Tony contending plays and musicals reveal their darker underbellies and brooding hearts.
The haunting family drama "Fun Home," based on Vermont resident Alison Bechdel's graphic novel memoir of her closeted gay father and her own coming out as a lesbian, explores the slippery nature of identity and the gulf between the persona we project to the world and our true self. With a Tony-nominated score by Jeanine Tesori and Lisa Kron (who also wrote the Tony-nominated book), the Best Musical contender is the underdog favorite of many in the Broadway community. The show, which captured 12 nominations in all, centers on a female cartoonist mining her own memories of growing up in a funeral home run by a father who restores old houses, collects antiques and is obsessed with appearances. As Alison leaves for college and embraces her newfound sexuality, she struggles to connect with the father she so greatly admires. Despite the facade of perfection he seeks to maintain, under the surface lurks a troubled man torn between his family, his primal desires and his yearning for a life he can't have.
The frontrunner to capture Best Play, "The Curious Incident of the Dog in the Night-Time," also has family and identity as its central focus. Inspired by the bestselling 2003 novel by Mark Haddon and adapted by the playwright Simon Stephens, "Curious Incident" chronicles the story of an adolescent boy, somewhere on the autistic spectrum, who tries to find out what happened to a canine that was killed in his neighborhood. As he sets out on his whodunnit quest, Christopher (played by Alex Sharp, nominated for Lead Actor in a Play ) discovers family secrets along the way that threaten to send his fragile, well-ordered mind spiraling into a short-circuited frenzy. Nominated for six Tony Awards in all, the play is a visually dazzling sensory feast, using lighting, sound, projections and propulsive movement, that attempts to give form to — and a glimpse at — the inner workings of a mathematically gifted mind for whom empathy and emotion remain something of a mystery.
Portraits of society's haves-and-have-nots are also flourishing on Broadway this season. David Hare's 1995 drama "Skylight," the leader in the race for Best Revival of a Play and nominated for seven awards, stars Tony nominees Carey Mulligan and Bill Nighy as a young schoolteacher and an older restauranteur who were former lovers. The timely play, though, is no simple recriminatory portrait of a severed relationship. Instead, it's an acute consideration of the yawning gap between rich and poor and its roots in a Thatcher-ized England — and what questions that raises about the society we choose to create. In the wake of the financial crisis, the long recession that's followed and the chasm of income inequality that's grown ever wider, those questions are more relevant than ever.
In Kander and Ebb's Tony-nominated Best Musical "The Visit," the legendary team's final show produced on Broadway, questions of avarice and rich vs. poor are taken to the macabre extreme. In this dark fable, based on the 1956 play by Swiss writer Friedrich Dürrenmatt and directed by John Doyle, billionaire widow Claire Zachanassian returns to her hometown of Brachen to seek her pound of flesh from the townspeople who disgraced her in her youth. With much fanfare, Claire agrees to rescue the destitute town and its impoverished citizens in exchange for a devil's bargain — the life of her former lover, Anton Schell, the man who spurned and betrayed the lovestruck young gypsy girl decades before. As embodied by 82-year-old Broadway legend Chita Rivera, a nominee for Lead Actress in a Musical, the imperious Claire could be seen as a heroic figure in some ways, exposing the greed, superficiality and moral bankruptcy of the Brachen citizenry. But in other ways she's a spiteful titan of industry using her wealth and power to rain down vengeance on the less fortunate.
Returning to current times, Lisa D'Amour's "Airline Highway," set in post-Katrina New Orleans, puts the microscope on society's marginalized underclass, characters rarely seen on Broadway except in sentimentalized form. The show was nominated for four Tonys but overlooked for Best Play, even though it was praised by many critics. "Airline Highway's" group of idiosyncratic outcasts and small-time hustlers work in the French Quarter and live at a ramshackle motel on a notorious strip of roadway that gives the play its title. The strivers, loners and lost-souls who form a defacto family at the Hummingbird Motel include a sad-eyed stripper, a tough-talking drag queen (nominee K. Todd Freeman), a drug-addicted prostitute (fellow nominee Julie White) and the group's dying den mother, Miss Ruby. Like D'Amour's previous play, the Obie-winning "Detroit," "Airline Highway" implicitly tackles the increasingly newsworthy topic of income inequality through this portrait of our country's down-but-not-out have-nots.
"Airline Highway," climaxing in a celebration of bacchanalian abandon, also explores the primal human instincts we often strive to suppress. Robert Askins' "Hand to God," mines similarly visceral territory. The show, which captured a total of five Tony nods including Best Play, centers on a troubled teenager whose left arm appears to have become possessed by a foulmouthed, Satanic sock puppet. Jason and Margery, the grief-stricken mother and son at the center of the dark comedy, played by Tony nominees Steven Boyer and Geneva Carr, have endured the untimely death of the family patriarch and are acting out in different ways. Margery, who's running a Christian puppet group in a church basement, struggles to make ends meet, can't seem to connect with her increasingly volatile son, and is losing control of her own behavior. Meanwhile, Jason's hilariously demonic hand puppet, the embodiment of his sex and violence-obsessed id, wreaks escalating havoc on his life. Can the teenager reconcile the two sides of his personality before he spirals completely into darkness? And can the other characters in the play do the same?
As in "Hand to God" itself, this year's Tony Awards field embodies a similar dynamic, with comedy and drama, laughter and tragedy, sliding up against each other in supremely original ways.
Christopher Wallenberg is a freelance arts and entertainment reporter and a regular contributor to the Boston Globe, the New York Times and American Theatre magazine. You can email him at chriswallenberg@gmail.com and follow him on Twitter at @chriswallenberg.