Squeezebox Slam Music Fest Aims To Unleash 'Accordion Anarchy' On Somerville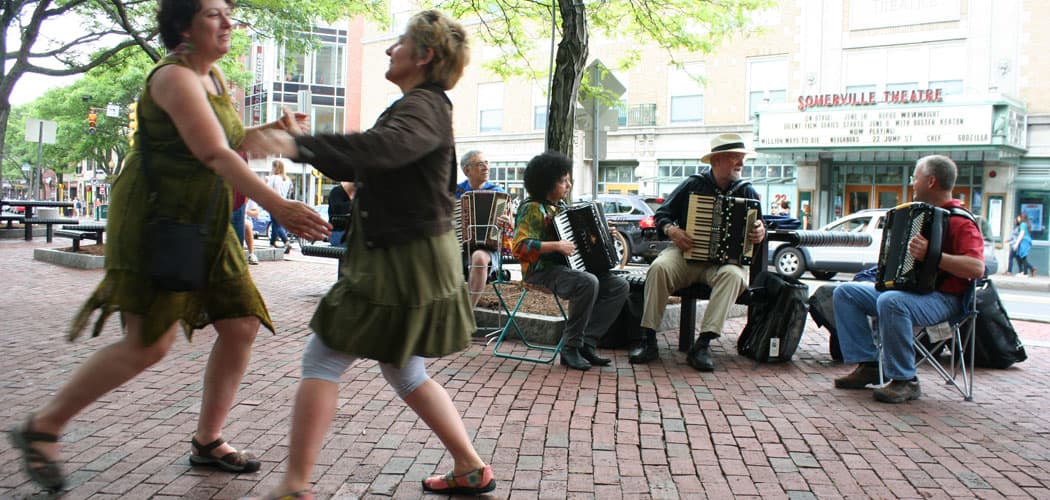 This article is more than 5 years old.
The Squeezebox Slam in Somerville began with a noble dream. Susan Berstler, director of Somerville's Nave Galleries and a creative force around these parts generally, "envisioned getting 1,000 accordion players and taking over Somerville," recalls musician Michael McLaughlin.
Berstler, McLaughlin and Somerville Arts Council Executive Director Gregory Jenkins launched the event in 2011. That first year, well, "we got about 50," McLaughlin says. But they haven't given up on achieving their dream … eventually. This Saturday, June 13, they offer their fourth accordion festival (they skipped 2012) in Somerville's Davis Square.
This year's edition opens with "Accordion Anarchy" from noon to 3 p.m. "We invite anyone who plays accordion to come and set up around Davis Square," McLaughlin says. Featured performers include The Ladies Accordion Orchestra, street performer accordionist and puppeteer Sophie Crafts and her Smokin' Squeezebox, and play-along leaders Sonia Lipson and Sari Kalin's Porch-i-okie.
Then from 3 to 6 p.m. the festival presents Lady Kielbasia ("voted Best Drag Queen with an Accordion in San Francisco, and was named Provincetown's Family Favorite"); Cajun tunes by Ralph Tufo and the Squeezebox Stompers, jazz by Sonny Barbato; Bulgarian, Serbian, Albanian and Romanian music by Balkan Fields; and Japanese street music chindon and jinta by the Tokyo-based band Jinta-la-Mvata.
The Squeezebox Slam itself is representative of a revival of interest in the accordion, once one of the most popular instruments in the United States.
The accordion seems to have been developed in Germany, Austria and Russia during the 1820s, then spread across Europe and to the United States. It became rooted in regional music around the world—French, Italian, Argentinian tango, Cajun, Tex-Mex, polka. It's a forceful instrument that doesn't demand electric amplification. In the right hands, it's a one-person party machine.
The accordion was a staple of American Vaudeville stages of the early 20th century and a centerpiece of the light, "champagne music" of Lawrence Welk's traveling big band of the 1930s and '40s and long-running television variety show that began airing in the 1950s.
"The young white audience of the '50s and '60, they're coming out of families that are more connected to Europe," McLaughlin says. "In their desire to revolt and move toward black American music, the accordion gets put away because it represents the stodgy old world of their parents and grandparents."
In other words, they dumped Lawrence Welk's accordions and plugged in the guitars of rock 'n' roll. So began the accordion's long exile in the realms of the uncool.
"I first started to see a renewed interest in the accordion in the '80s with They Might Be Giants," McLaughlin says. And "Weird Al" Yankovic. Such indie musicians "really helped bring attention back to the accordion again." Then the fall of the Berlin Wall opened up contact with Eastern European accordion music—and renewed interest in other regional traditions.
And the accordion slowly became cool again. Right?
"I think the accordion is still cool," McLaughlin says. But, ya know, "cool is defined by who is looking at it."
Greg Cook, co-founder of WBUR's ARTery, was raised on the bubbly tunes of Lawrence Welk. Follow him on Twitter @AestheticResear or on the Facebook.