Little Engines To Big Steam Shovels: Thinking Creatively In A Changing World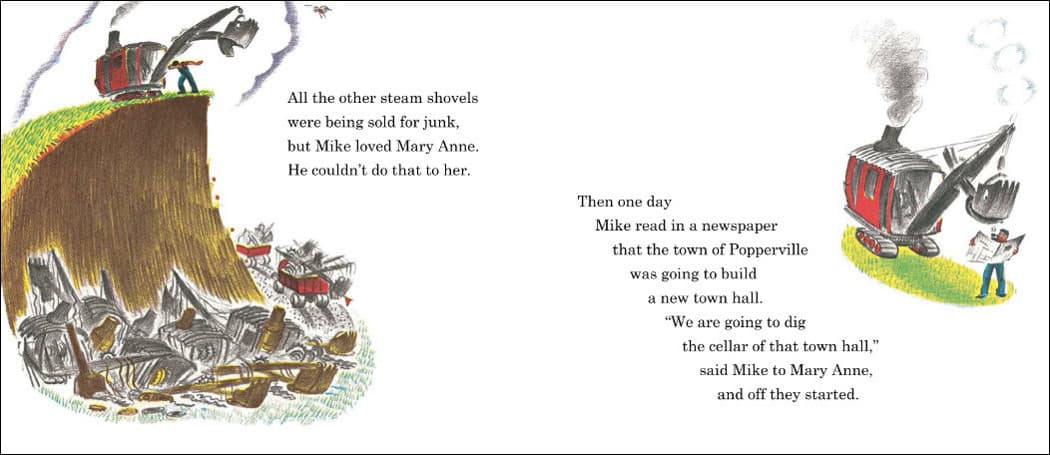 This article is more than 5 years old.
The 1930s are bookended by two classics of children's literature: Watty Piper's "The Little Engine That Could" (1930) and "Mike Mulligan and His Steam Shovel" (1939) by Newton Centre (Massachusetts) native Virginia Lee Burton. Each is an inspiring tale of a determined, compassionate hero who triumphs over incredible odds.
Yet it's the difference between these stories that reveal the degree to which the Great Depression transformed not just the American economy, but how Americans work. And now, for good or ill, the Great Recession is transforming work, again.
Hitting the shelves at the dawn of the Great Depression, "The Little Engine That Could" offered a basic but profound message: With stout resolve and an unflagging belief in yourself, you can achieve any goal.
The story opens on a dramatic note. A locomotive pulling cars filled with toys breaks down at the base of a mountain. Other locomotives roll by, but none care to help. How will the children on the other side of the mountain get their gifts? All seems lost until a Little Engine stops and offers to pull the train over the mountain.
The Little Engine is, well, little, with no experience pulling a long train on a risky journey. But she's got heart and pluck, and to conquer the toughest parts of the climb, she chants the wonderfully rhythmic, "I think I can, I think I can."
This was an inspiring tale for a nation trying to get to the other side of a mountain of troubles. But as one Depression year faded into the next, and as more families sank into desperate straits, it became brutally clear that determination alone would not replace lost jobs. When companies are not hiring, resolve alone will not open corporate doors.
The Great Depression was devastating not only because people couldn't find work, but because for many, their type of work no longer existed. The 1930s was a decade of massive technological disruption as the economy shifted from an industrial base to a consumer one. "Consumer" may seem wildly out of sync with "Great Depression," but it was during the 1930s that older, bedrock industries like railroads began to shrink, and the manufacture of new consumer-oriented merchandise began to emerge: stainless steel for canned goods and new kitchen tools; smaller, cheaper, plastic radios to replace large, expensive wood models; new easy-care fabrics like rayon.
Tech innovations have always remade the workplace, but the 1930s was the first modern decade in which the transformations were so widespread. A 1934 Fortune magazine article by Eric Hodgins, "On the Dole: 17 Million," highlighted the gap between a modern society's goal of, as Hodgins described it, "comfort and security for all" and the streamlined production methods that wiped out entire classes of workers. He noted, "It is within this gulf that the largest number of the unemployed are at present submerged."
Nearly 70 years later, a 2010 New York Times article by Catherine Rampell, "In Job Market Shift, Some Workers Are Left Behind," highlighted the same interplay of weak economy and strong innovation. The Great Recession provided "an opportunity for employers to do what they would have done anyway: Dismiss millions of people … who were displaced by technological advances."
An exceptionally sophisticated children's book, "Mike Mulligan and His Steam Shovel" illumines the inevitable, painful changes of workplace disruption. It also offers an inspired way to conquer them.
Mike Mulligan loves his job, and is very proud of his best friend Mary Anne, a coal-fired steam shovel whose entire reason for being is to break ground — to literally change the world. Mike and Mary Anne reflect the giant wave of early 20th century development. They "cut through the mountains so that trains could go through" and "dug the deep holes for the cellars of the tall skyscrapers in the big cities." During the Depression, steam shovels helped to build iconic structures like the Golden Gate Bridge and Rockefeller Center.
Mike always said Mary Anne "could dig as much in a day as a hundred men could dig in a week." Here is the double-edged sword of progress: One steam shovel can help to make an architectural dream a reality; one steam shovel can throw a hundred men out of work.
Of course, the world keeps changing. By the end of the 1930s, more powerful, more efficient diesel shovels made steam shovels obsolete. Mike and Mary Anne used to attract huge crowds to watch them work; now they cannot even find work. Every construction site displays a "No steam shovels wanted" sign; once-magnificent equipment is sold for junk. A dramatic illustration shows Mike and Mary Anne looking down at a junkyard of abandoned steam shovels. Mike covers his face with one arm and raises the other, as if he could hold back the future.
That junkyard could just as easily hold VCRs or antenna-TVs. Virginia Lee Burton's story resonates strongly today because disruptive technology — e-books, smartphones, streaming video — has become a regular feature of daily life.
Like the Little Engine, Mike and Mary Anne believe in themselves. But in this new world, it's not enough. They need to think creatively. They travel to a distant town, Popperville, which is planning a new town hall, hoping its selectmen won't mind a foundation dug with outdated equipment. (Local note: Burton modeled the Popperville scenes on the construction of the West Newbury, Massachusetts town hall, and key characters are based on real-life residents.)
To sweeten the deal, Mike proposes he'll complete the work in just one day. Mike and Mary Anne get the job and the impossible deadline. They work hard and fast, but as the sun gets lower, they're just halfway done. Energized by the growing crowd, they increase their already fevered pace, and by sundown — they're done!
But when the dust settles, the valiant heroes realize they haven't made a ramp out; they are stuck, in a very deep hole. Then a little boy, a voice of the future, suggests they convert Mary Anne into a steam furnace, build the town hall around her, and have Mike be the new janitor. The heroes gain a new life and new friends.
Virginia Lee Burton created a happy ending, but also a poignant one. To thrive, you may have to leave your old life behind. The mantra, "I think I can," may need to expand to "I think I can adapt."
With its sweep of history and a clear-eyed embrace of the future, "Mike Mulligan and His Steam Shovel" deserves a read in any era. But it's especially suited to our own hard times, which hold great challenge — and perhaps, as this book suggests, surprising promise.
Carol Iaciofano Aucoin Book Critic
Carol Iaciofano Aucoin has contributed book reviews, essays and poetry to publications including The ARTery, the Boston Globe and Calyx.