Malportado Kids: Anti-Colonial, Tropical, Electro Dance Punk From Providence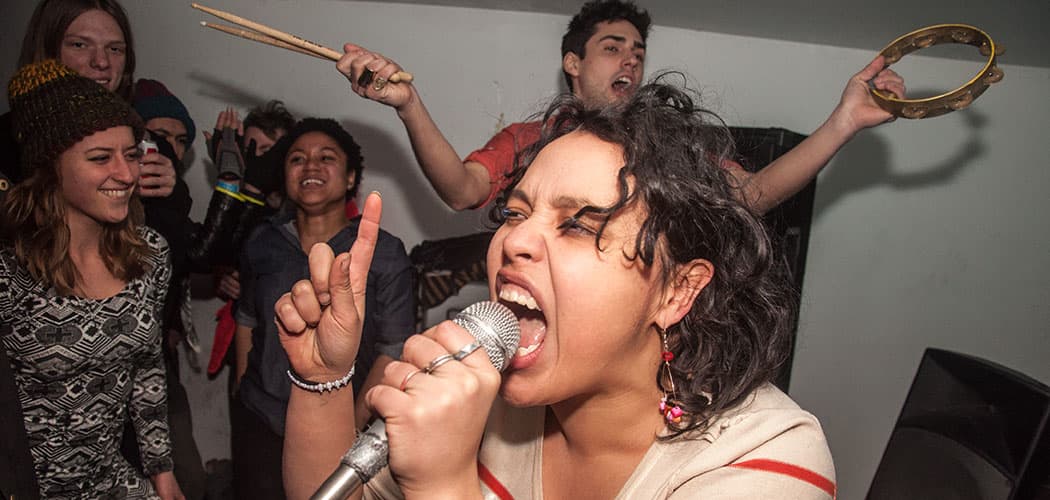 This article is more than 5 years old.
The song "1492 Overture," by the Providence-based electro-Latin-punk duo Malportado Kids, begins with a springy ascending bass line and an excitable electronic beat. Soon, a familiar melody enters: the "1812 Overture," rendered manic by the ping of a xylophone-like synth. The effect is at once irritating and catchy, the immensity of that stately orchestration shrunk to the pocket-sized proportions of a ringtone. Victoria Ruiz, the lead vocalist of Malportado Kids, shouts in the background, flinging insults and accusations, in both Spanish and English, at the song's target, Christopher Columbus. Never has the phrase "Oh capitan, mi capitan" (a play on Walt Whitman's elegy for President Lincoln) been twisted into an expression of such defiance.
"1492 Overture" is the third track on the new EP "Total Cultura," and it tells you almost everything you need to know about Malportado Kids, who play the Cambridge YMCA on June 21 as part of the Smash It Dead Fest, an annual event benefitting the Boston Area Rape Crisis Center.
The duo, which consists of Ruiz and DJ/producer/drummer Joey DeFrancesco, is a self-described "anti-colonial tropical dance punk" outfit. "1492 Overture" accomplishes their core mission in a single witty swipe: It not only subverts our sonic expectations of a revered classical composition, but re-appropriates a piece of music usually reserved for blustery shows of nationalism (think fireworks on the Fourth of July) with a raucous critique of imperialism. "1492 Overture" may contain an obvious, in-your-face message, but it is sly, too. There is something strangely soothing about the melody to the "1812 Overture" played at breakneck speed to a frenetic backbeat.
Ruiz and DeFrancesco are also members of Downtown Boys, a Providence-based activist punk band. Ruiz says the groups differ on more than just guitars versus electronics.
"[In Downtown Boys], the messages are a lot more directed at institutions of violence, like the police or the service industry or immigration," she says. "And I think Malportado Kids ... really try and get at the emotional labor that one has to do in order to survive within those institutions."
On "Soy La Pocha," Ruiz sings—or, more accurately, hollers—over a warped, urgent horn sample and a feverish beat. "Pocha" is a term sometimes leveled as an insult at Mexican-Americans whose Spanish is poor, a way of signaling disapproval at their assimilation to American culture. Ruiz, who grew up in a Mexican-American household in San Jose, reclaims the jibe with desperate fierceness. "Soy dual/ Soy crucial," she cries: "I am dual/ I am important." Her voice cracks, frays, but rises above the tumult.
Malportado Kids claim influences as diverse as punk, electro-cumbia and the music of Le Tigre and Bruce Springsteen. "There is absolutely no bill where we meet that band that we should totally be in tour with all the time, [who] have the same sound and the same message and the same genre [as we do]," says Ruiz. "We're always either too dirty or too punk or too raw or too gay." Their fans, she says, are unlike the punk-obsessed crowd at Downtown Boys concerts, and seem instead to connect especially with the chaotic, jubilant identity crisis at the heart of Malportado Kids songs. "They're people who love music and love the DIY scene," says Ruiz, "but they love Malportado Kids for some much, much more amplified and big reason."
Ruiz and DeFrancesco met when both were employed at the Renaissance Providence Hotel and became involved in workers' efforts to unionize; employees at that hotel are still calling for a boycott. (DeFrancesco famously quit his job in housekeeping by storming the hotel with the marching band What Cheer? Brigade, of which he is no longer a member.) Today both Ruiz and DeFrancesco are employed at the nonprofit Demand Progress. For them, music functions as an integral facet of activism. "It does help educate people politically, and then I think deep down it really gets people on an emotional level," says Ruiz. "In any good political campaign, and any good organizing campaign, it's all about relationships and relational building."
Listening to Malportado Kids, though, you get the feeling that it is more critical than that. Their music is exuberant but a little unhinged. Joy is made more meaningful by struggle. "Creating music and creating art, I think, for people who are doing it in a really intense way, it's not really much of an option," says DeFrancesco. "You're going to write, or you're going to make the music, or you're going to paint, or do whatever you need to do, to express that part of yourself that's being repressed by the larger society. It's not an option."