Generations Clash In A Riveting 'The How And The Why'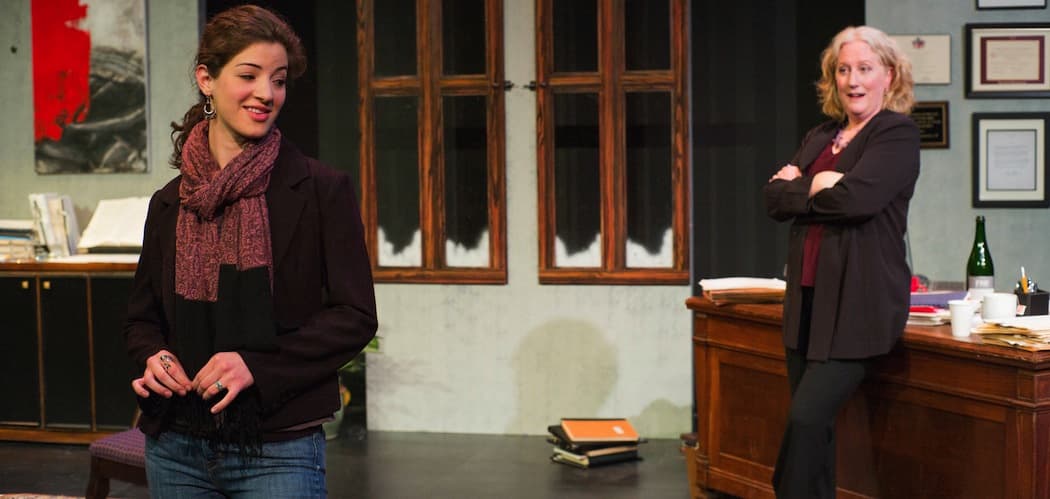 This article is more than 5 years old.
Joni Mitchell coined a term for a young artist's urge to reject the work of forebears who seem to be big influences—the "kill mommy" syndrome. It's somewhere between Freud's ideas about fathers and sons and the anxiety of influence, Harold Bloom's term for the poet's struggle to find a voice that is original even if necessarily inspired by favorite poets of the past.
Sarah Treem's 2011 two-hander "The How and the Why" sets up just such a generational schism, but one between two evolutionary biologists. Director Nicole Ricciardi's engrossing production onstage at Shakespeare & Company through July 26 asks whether there's room for a new generation to take its place alongside the older one, or if the ascent of the one must displace the other.
Longtime Shakespeare & Company favorite Tod Randolph is magnificent as Zelda Kahn, a scholar whose reputation (and tenured status) has long since been assured. Kahn has found a life partner, such as it is, in her work. Hands stuffed in pockets, she greets a visitor to her office with a mixture of awkwardness and earnest hospitality, clearly unpracticed at welcoming outsiders into her nest. Randolph brings an androgynous touch to the role that is slyly familiar from her Jaques in the Tony Simotes-directed "As You Like It" here four years ago. She creates a wonderfully rich character whose intellectual ambitions do open combat with the desires of her heart.
Randolph is paired with young actress Bridget Saracino, a recent graduate of the Brown/Trinity MFA program. Saracino plays Rachel Hardeman, an evolutionary biologist at the very beginning of her career. She's landed on Zelda's doorstep, as it were, with a theory that could either make her famous or discredit her entirely—or, most frighteningly, both. Saracino plays Rachel's brashness to the hilt, strutting around in a defiant pose that becomes more brittle when her ideas are challenged. Perhaps Rachel is less richly written than is Zelda, but her self-regard does start to get on one's nerves, even if it is masking something more vulnerable underneath.
Treem's great triumph here is in taking two somewhat esoteric ideas from the world of science and putting them in a context that deepens a very relatable relationship onstage. Though the ideas cited by these characters are grounded in real-world scientific literature, Zelda and Rachel are no mouthpieces for a playwright's thesis. Even if their clash of ideas too neatly serves as metaphor for their relationship—and Treem does overplay her hand with some late-developing twists—it's all so gorgeously done that we give the benefit of the doubt and just go along with it.
Zelda's career-defining work is known as the "grandmother hypothesis," which in fact was proposed in a 1998 article by anthropologist Kristen Hawkes. Humans are the only primates whose females often live long beyond their child-bearing years, and Hawkes explains this as an evolutionary advantage. Post-menopausal women are available to help with care for older children while their daughters are occupied with nursing, the idea goes, something that lets children stay dependent for longer and develop more complex brains.
Rachel arrives on the scene with ideas based on the work of Margie Profet, who in 1998 offered a controversial explanation for the purposes and benefits of menstruation. As Zelda and Rachel dig deeper, the harmoniousness of their ideas—about matters both professional and personal—comes into question.
There's a lot to sift through here, including reflections on the work/life balance, the ways older women are often undervalued, the importance of art (taken broadly to include intellectual inspiration) and self-reliance. Treem might safely have saved a few themes for deeper exploration elsewhere. But as Zelda searches for common ground on which both women may stand, Randolph's performance is so gripping that the realness of the relationship overcomes the self-conscious artfulness at times present in the material.
Early on, Zelda calls Rachel "something of a terror." It's meant as a compliment. But to many, the threat of losing relevance—of becoming invisible—is indeed terrifying. In the interplay between these two fine actresses, we get a glimpse of how one talent may complement another without being overwhelmed. And as Harold Bloom might have it, that offers some relief for a certain sort of anxiety.
Jeremy D. Goodwin contributes regularly to The Boston Globe, The ARTery (where he is also an editor), Berkshire Magazine and many other publications. See more of his work here. Follow him on Twitter here.