Hip-Hop Fest Showcases A Boston Rap Scene Now Gaining Steam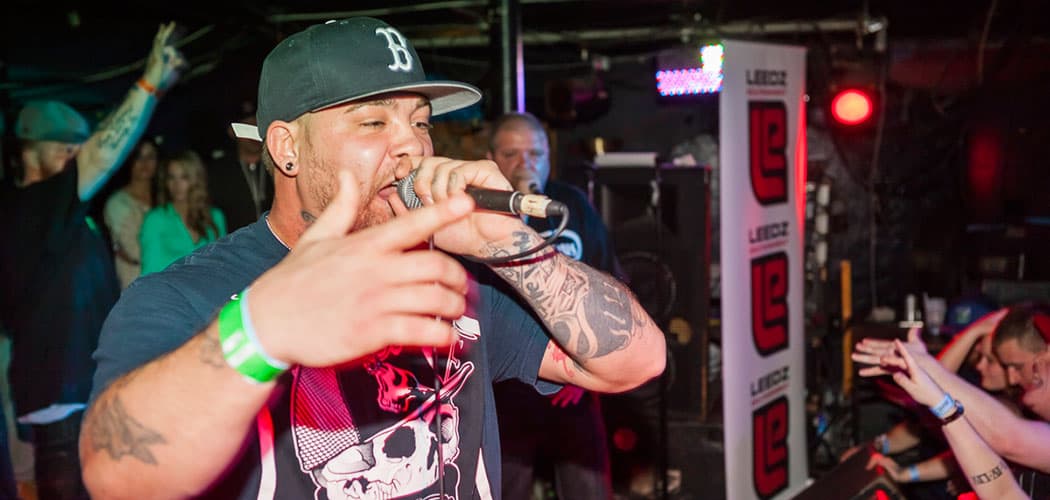 This article is more than 5 years old.
Most of the artists on the bill for the Boston Hip-Hop Fest, which debuts in its current incarnation on July 11 at the Middle East Downstairs in Cambridge, have played on that stage before—some as headliners, others as openers. In fact, the Middle East is one of the few venues in Boston to regularly host hip-hop, often bringing in national acts like Big K.R.I.T. and throwing album release parties for locals, like Dutch ReBelle. But rarely does the venue boast such a vast lineup of exclusively Boston-affiliated acts. Sixteen, to be exact.
The festival—which is really more of a big, evening-long party—is a reboot of an event started by DIF Entertainment back in 2000. It ran for a number of years and then disappeared. Ned Wellbery, who runs the Boston-based promotions company Leedz Edutainment, estimates that he waited about seven years before he felt it was the right time to resurrect the festival.
"I sat back and I watched for a while, and I saw these artists having their own little movements on their own," he says. "And I was like, if I added all these artists up, I think there's enough here to make a positive result, a good impact for a festival. Obviously we don't have connections to make it a big outside thing, but if the talent is there right now, and more so than ever—I feel like there is a lot of good talent, a lot of new energy coming in—that it was like, let's get this thing going again."
Boston hip-hop, says Wellbery, suffers from a lack of identity. "It's still trying to find out its lane. So many different styles go into Boston hip-hop. It's not one set sound of music. If you look at other cities, you'll notice a set sound that works."
But Wellbery also notes that stylistic diversity can be a strength, at least for a festival lineup. There is the political fire of Reks, Latrell James's raw confessionalism, Termanology's brashness.
"I've seen a lot of artists come and go. But I gotta say, of all the music genres—and I've booked other genres—hip-hop is probably the most loyal," says Wellbery. "I mean, there is a die-hard fanbase here that is not really affected by college coming and going."
The full lineup for the Boston Hip-Hop Fest is as follows: Slaine, Dutch ReBelle, Termanology, Akrobatik, Edo.G., Reks, Cam Meekins, STL GLD, Rite Hook, Millyz, Avenue, Spnda, Esh & Arc, Latrell James, Stiz Grimey, and b-boy-and-girl crew Floorlords. (Plus some secret special guests.) Four of the featured MCs were nominated in the 2014 Boston Music Awards, and all released albums in the last year. Slaine, Termanology and Dutch ReBelle, the 2014 Boston Music Awards's Hip-Hop Artist of the Year, headline the event. Read about a few other stand-out projects below.
Latrell James: "Twelve"
"Twelve" is rapper/producer Latrell James's coming-of-age album. James is a deft storyteller with a taste for dreamy-yet-economical beats. He has an expressive voice that is by turns conspiring, wry, snarling, and loopy.
Reks: "Eyes Watching God"
Reks has been putting out albums since 2001, but "Eyes Watching God" represents a political awakening of sorts. Produced by Hazardis Soundz, the album engages with a long history of black activism and thought, from Marcus Garvey in Jamaica to Steve Biko in South Africa, while Reks mines grief and anger to eloquent effect.
Avenue: "The Chandelier View"
Avenue's debut full-length is earnest and deeply-felt. The MC takes some interesting risks, from rapping over an ambient, beat-less backdrop on "Sit Tight" to cutting off the one-and-a-half-minute-long "Kid, with the Half Moon Haircut" just when the song seems to be hitting its stride, lending it startling gravitas.
Edo.G: "After All These Years"
Edo.G has been on the scene since 1991 with the release of his singles "I Gotta Have It" and "Be A Father To Your Child." "After All These Years" includes production from the father of jazz rap himself, Pete Rock, and molds itself along those lines with mellow, witty vibes throughout.