Jabari Asim's 'Only The Strong' Explores Racial Tension Through Lens Of A Fictional City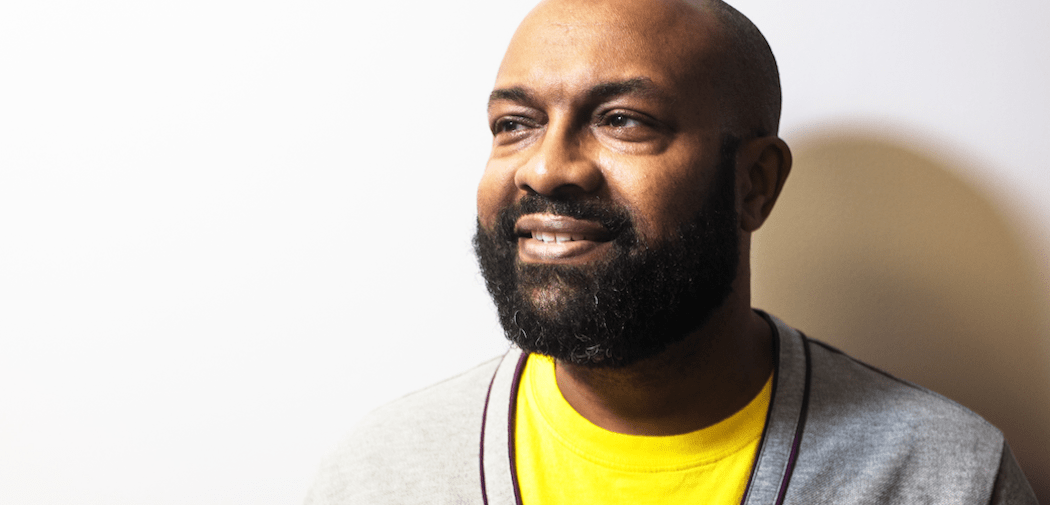 This article is more than 5 years old.
Partway through "Only the Strong," Jabari Asim's resplendent debut novel, a character muses about something she calls "the hunger." She considers it a force "as old as the universe … neither good nor evil but nonetheless fed on human suffering."
The novel is set in the unsettled year of 1970 and the black residents of the struggling North Side section of (fictional) Gateway City, Missouri, need to navigate through all kinds of outsized forces: racial, political and economic. In this environment, the existence of a powerful other-worldly force is not much of a stretch.
It is two years after the assassination of Martin Luther King, Jr.; the civil rights movement has matured; the Black Power movement is ascending; the Vietnam War roils streets and college campuses. Within this larger canvas, period details artfully enhance this tale of overlapping neighborhood lives: A friend confuses the infamous Chicago Seven with the newly famous Jackson Five; from a car radio drifts Sly and the Family Stone's "Thank You (Falettinme Be Mice Elf Agin)."
Asim, the acting director of the MFA program in creative writing at Emerson College, editor of the NAACP's The Crisis magazine and author of numerous nonfiction and children's books, is a native of St. Louis and Gateway City is modeled after his hometown (a stylized Gateway Arch appears on the novel's cover). Like St. Louis, Gateway City is located on the banks of the Mississippi in, as described in the novel, "the heart of a border state best known for stubborn mules, lager beer and the infamous 1820 compromise."
The author's decision to create an entire city proves highly effective. It allows you to focus on how an era's broader cultural events affect the characters, rather than on events of a particular city in that era.
Asim first created Gateway City for his 2010 short story collection "A Taste of Honey," and some characters from those stories figure prominently in "Only the Strong." It's a pleasure to be able to go deeper into these lives, though you don't have to read one book to enjoy the other.
A novel based on characters born of short fiction can hold as many risks as rewards. A successful short story requires a tight orbit around a diamond-hard core. Expanding the tale does not always improve it. "Only the Strong" succeeds in the extension, offering a gripping historical narrative as well as many scenes that shine with a warm brilliance.
The book is divided into four sections, each flowing with increasing momentum into the next. Early pages are a little too crowded with characters whose names are more distinct than their personalities, but the narrative soon coalesces, showcasing multifaceted people whose emotions run hot as lava just a layer or two beneath a cool, self-possessed surface.
There is Guts Tolliver, proud owner of a cab company and former enforcer for local kingpin Ananias Goode. Years ago, Goode, who lives by a code as honorable as it is knife-edge tough, had taken the orphaned Tolliver under his wing. Ever loyal, Guts still keeps a sharp ear to the street, alert to anything that might threaten his former boss. Not that Goode needs the extra protection; he's always been two steps ahead of everyone else.
Now in his 50s, Goode has moved into mostly reputable enterprises and even sits on the boards of some local foundations. But he knows his power won't ever match that of "the banking and department-store titans who … brokered deals in the steam rooms of the Downtown Athletic Club."
No one sitting in a downtown office or on a North Side front stoop would guess that for many years, Ananias Goode has carried on a tempestuous affair with the esteemed Dr. Artinces Noel. But on the North Side, lives intersect in the most unexpected ways.
The novel's title, taken from Jerry Butler's hit single "Only the Strong Survive," fits the story well. The more residents you meet — a star baseball player who searches for meaning beyond his outsized fame, a small-time thief convinced that wearing a stolen ring will improve his luck, a college freshman whose sharp intellectual curiosity may finally distance her from her harrowing past — the more you appreciate how Asim sculpts the meaning of "strong" for each character.
It is Artinces Noel who believes in the hunger and who has spent her life "determined to sidestep its tireless jaws as best as she could." She has spent her career fighting for the well-being of black infants and children, first upgrading a local pediatric ward (where she was considered "an uppity upstart"), then opening her own clinic, complete with a beautifully painted sign at the front desk stating "Every day is black day." This is Noel's response to an ostensibly benevolent, wholly loathsome custom of white pediatricians: They'd open their offices on certain days just for black children, to avoid "contaminating the … white patients with their presence."
These historical notes are especially painful to read, because they have not stayed in the past. Asim has also written a personal account of his own recent local episode of mistaken identity in Cognoscenti. "Only the Strong" is dotted with casual racial insults and uneven civil rights advances. Each is described in a minimalist way, as one might describe the weather — like when the local department store finally opened its doors to all residents on monthly sale days, but the "Negro shoppers understood they couldn't try on clothes." Asim's understated tone conveys more outrage than any vehement description could.
The subtitle of "Only the Strong"is "An American Novel." Very true. But this story does not need an explanatory descriptor. Just start reading.
Carol Iaciofano Aucoin Book Critic
Carol Iaciofano Aucoin has contributed book reviews, essays and poetry to publications including The ARTery, the Boston Globe and Calyx.