Country Legend Steve Earle Talks Breakups, The Blues And Baseball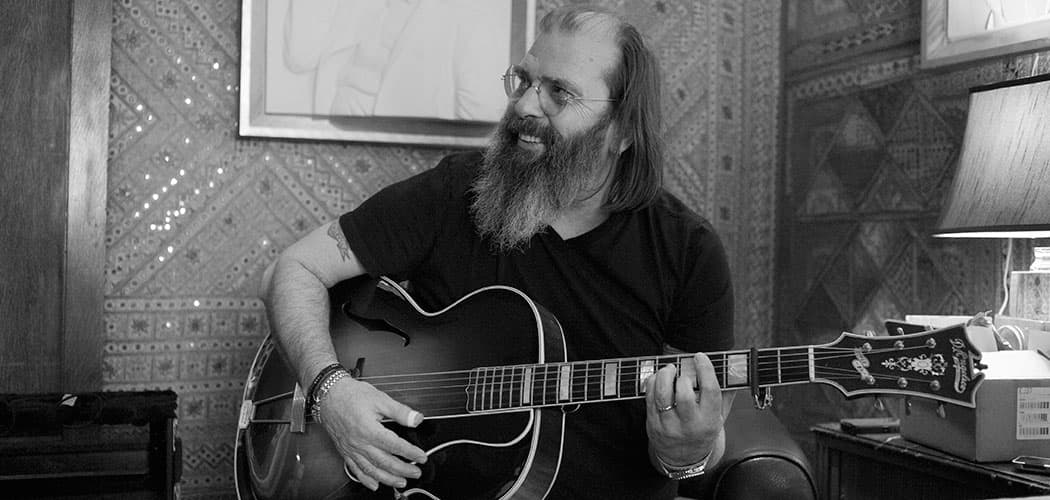 This article is more than 5 years old.
There is a reason the New York-by-way-of-Texas singer/songwriter Steve Earle was cast as the recovering drug addict and drug rehabilitation counselor Walon in the HBO series "The Wire." It's not just that Earle, who performs at the Wilbur Theatre in Boston on July 14, is himself in recovery from a heroin addiction that landed him in jail in 1994. You'd probably believe his portrayal of Walon regardless of his personal experience with the subject matter, and not just because he looks totally natural in a button-down shirt with the sleeves cut off to reveal an arrow-pierced tattoo. In any of his performances—songs, monologues—Earle conveys raspy country melancholy levied by warmth and wryness that deftly circumvents mawkishness.
Trying to summarize Earle's biography, and by extension his work, is like trying to recap the entire "Star Wars" series, prequels included; best to just immerse yourself in the thing from start to finish in order to truly appreciate both its genius and its struggles. Earle was born in 1955, grew up in Texas, and moved to Nashville to pursue a singing career. His 1986 debut album, the alt-country "Guitar Town," peaked at No. 1 on the Billboard country album charts and was nominated for two Grammy Awards. Through the early '90s, Earle's work was overshadowed somewhat by his addictions (heroin, alcohol) and his divorces (seven, twice from the same woman.) A brief stint in jail lead to sobriety and renewed productivity. There was "The Mountain" bluegrass album with the Del McCoury Band in 1999. There were the left-leaning political albums "Jerusalem" and "The Revolution Starts... Now," written during the George W. Bush administration, which contained protest songs like "Rich Man's War" and anti-capitalist numbers like "Amerika V. 6.0." There was the dust-up over the ballad "John Walker's Blues," written from the perspective of the American Taliban fighter John Walker Lindh and criticized in Nashville for being unpatriotic. There were the three Grammy Awards, the publication of a novel in 2011 and the appearances on HBO's "The Wire" and "Treme."
"Terraplane," which was recorded with Earle's backing band the Dukes, is a back-to-the-basics kind of album. While Earle made his name with a hard-bitten country-rock sensibility belied by lefty politics, "Terraplane" is almost entirely indebted to the blues. Earle puffs away on the harmonica and thumps the floor with his foot. In grand blues tradition, he sings about personal sorrows and triumphs, captured in straight-shooting titles: "You're the Best Lover That I Ever Had," "Better Off Alone," "Baby Baby Baby (Baby)."
Earle is a great talker and in interviews happily holds forth on everything from addiction and recovery to songwriting and politics. In the following interview, which has been condensed and edited for clarity, he talked about the inspiration for "Terraplane," the history of the blues, and his enduring love of the Yankees/Red Sox rivalry.
I would love to hear about this album—why'd you decide to return to blues, so to speak?
It's a component of what I do, it's a major component of rock 'n' roll, it's a major component of country music. It's always been there. I think as you get older, and you make 16 records, you kind of—or 15, before I made this one—you start looking for ways to find a reason to make another fuckin' record, especially the way the business is now. You know? It's like, you have to make a lot of records to keep touring, even though you don't really sell records. The business has sort of changed. You make a record, that sort of gets the vibes going around and going around and to the same places and playing again. So, I have to come up with a reason to make a record. Luckily I like to make records, as my manager says, and I like to write songs, so I don't mind it. This time it was like, very similar to the reasons I made a bluegrass record in 1999. It's always been something I was interested in, I know most of the—that's the most intimidating thing—I know most of the leading practitioners of this form. But I always approach it from the songwriting standpoint.
And a lot of the core of this record is the idea that, Robert Johnson wasn't Robert Johnson because he sold his soul to the devil and he came back a better guitar player than everybody else. He's Robert Johnson, and we talk about him more than we ever do Son House, who by the way was the first person that ever said that he sold his soul to the devil, and my guess was he was jealous. He was Robert Johnson because of the songs. Robert Johnson wrote every song—every song that's a big deal, every form of the modern, of the post-World War II, alleged blues, is based on one Robert Johnson song or another. And it's absolutely the truth. He's every bit the father of the modern genre as Bill Monroe is the father of bluegrass music. And maybe even more so, because Bill didn't write that many songs. He wrote a handful and he just came up with a format for them. Robert Johnson, as a songwriter, is pretty fascinating, because there are no earlier versions of these songs that anybody's been able to find. They all begin with Robert Johnson. Which I think's fascinating.
So there's that part of it, just the interest in it as a songwriter. And also, when you're trying to trick yourself into a way of keeping working when you've been doing this as long as I have—you need stimulus. You need something that keeps it, makes it interesting. And in this case—and the bluegrass record's the same—it's like, the bluegrass record I had to really stretch and play better than I ever have, because it's pretty hard music. But it is within certain parameters, you know. So I spent a year hanging out with bands and sitting in with bands just to get where I thought I could try it. This is the same thing, my harmonica playing's a lot better since I made this record, even though I only played harp on a couple, 'cause I was just really paid a lot of attention to it because I kind of had to. Charlie Musselwhite emailed me, because I'm going to see him in a couple days, said "The moment of truth has arrived." It's kind of like—coming up with the songs—it's kind of like working with a 32 box of crayons and limiting yourself to six, but you pick the six. And what it does is, having [fewer] colors to work with, all of them being shades of blue, as it were, makes you work harder and dig deeper. Because you kind of have to.
You've talked pretty openly about how you wrote this album while you were having a divorce. I also read somewhere you saying something about how this breakup was different because you were sober.
It's not the first relationship I've had fall apart while I was sober. It was the first marriage. The first time I've been married sober. ... My marriage ending is a bummer because there's a little boy who's 5 years old whose parents live in different houses now. That's always a drag. But it is what it is. I think, I can't really swear to this, but I think I was leaning towards making a blues record before my marriage fell apart, I mean once and for all. We've been separated a long time now, three years. But we separated just as we were making the last record. And you know, I don't think it's so much the cause of me making a blues record as much as the only thing that's fortuitous about my divorce, is that it happened to happen when I was getting ready to make a blues record. You know, that's the only good thing that came out of it, is that it didn't hurt me in the process of making this record.
Sure, yeah. It gave you material.
Yeah. And also, I can watch all the baseball I want to. So that's pretty good.
You're free! You can just fish and watch baseball.
Yeah. Hey, being able to sit wherever you want to in a movie theater, and not being pressured to leave before a baseball game's over, and not be able to watch every single game that your team plays on TV or listened to on the radio—being able to do all that stuff without somebody getting upset about it, doesn't suck.
No. What's your team?
New York Yankees, all my life.
Wait, really?
Yeah, because in Texas we didn't get baseball until '62, and I was 6 in 1961. You were either a Dodgers fan or a Yankees fan in the middle of the country with no baseball ... because you either got the Dodgers or the Yankees on TV, that's all you could get. You know this was before the super stations, all that stuff. And my grandfather was a Yankees fan, I had no chance. I got my first transistor radio for the 1961 World Series.
Well maybe I shouldn't print that, because this is a Boston piece!
[Laughs] I'm not a Boston-hating Yankees fan, I don't know. I get madder at Yankees fans in Yankee Stadium than I do Boston fans in Fenway. Just because, you know—Yankees fans are entitled and can be babies. [Laughs] And so can Boston fans, for that matter. Both teams have in common, they're incredibly hard on their own teams and their own players. I wouldn't want to play baseball in either city. I wouldn't want to deal with the press or the fans in either city. I feel bad for these guys, to tell you the truth. You know they're making a shitload of money and they get to play baseball, but if you're doing it in either New York or Boston—well Philadelphia's probably worse, they throw batteries at their own players there, that's pretty bad. But New York and Boston look tough.
But I love Fenway, I go every chance I get. I've had a hundred sausage sandwiches out there, walking from my bus parked in front of what's now House of Blues, and going over to a game, it's a day game before the show, across Lansdowne Street. I don't hate the Red Sox, it wouldn't be any fun to be a Yankees fan without the Red Sox.
Yeah, I don't care who anybody roots for, I was just like, "Hmmm..."
Yeah, it's one of those things. I'll never forget, the funniest thing, it was a light moment in a dark era, is I was leaving Boston—I was going through security at Logan [Airport]. My sister lived in Boston for years, she's married to a guy from there, she lived in Weymouth for a long time. And I don't remember whether it was business or if it was seeing my sister but it was after 9/11, and not long after 9/11, and they still had a city cop and a state cop and a National Guardsman standing at security at every checkpoint. And I was going through, and I pulled my computer out of the bag and I had a great big top hat Yankees sticker on it. And the sate trooper that was standing there looked at it and goes, "Aw, strip search this one." And everybody, including me, busts out laughing. And at this point, this was probably in October or November, and one of the planes did leave from Logan, you know, so security was really tough and everybody was really afraid to joke about anything.
You're one of the only singer/songwriters I feel that actually does protest songs. Why do you think it's something that's important to do?
It's important for me to do it because I can do it, it's not an easy thing to do. It's not so much a matter of skill as it is, you know, some baseball players are hitters and some are position players. I'm good at it. I'm good at sort of humanizing these political things. I just learned how to do it somehow, I don't know how to explain it. Or maybe I have a natural talent for that particular part of writing. But there's nothing worse than a political song that's poorly done. That's what gives protest songs a bad name. I had somebody on NPR actually argue with me for half an hour that "John Walker's Blues" wasn't one of the best songs I've ever written. I think it is one of the best songs I've written. [laughs] I'm really proud of it.
Ahead of his Boston show, Earle is also in the lineup for this weekend's Green River Festival, out at Greenfield Community College.