As Outside The Box Artistic Director, Actress Georgia Lyman Briefly Steps Off Stage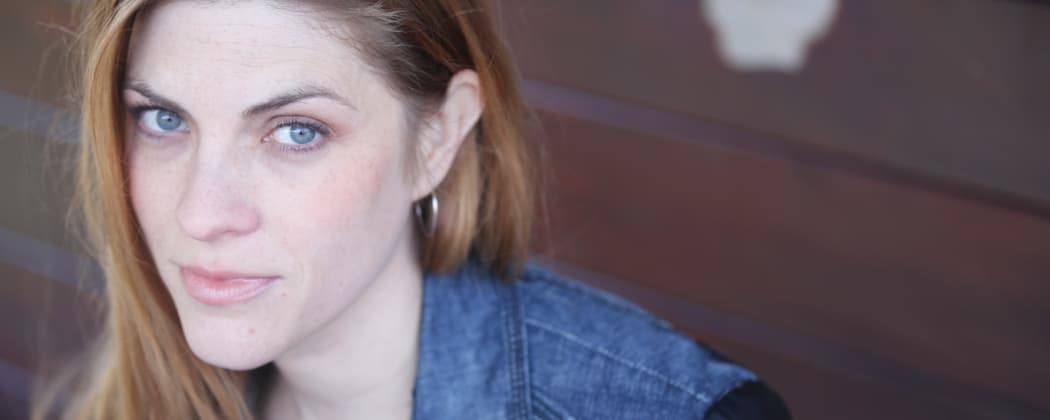 This article is more than 5 years old.
She won the Elliot Norton award in 2013 for Outstanding Solo Performance as Kerr in New Repertory Theatre's "Chesapeake." Her theater repertoire also includes Liz in Speakeasy Stage Company's "The Whale," and she headlined two Lyric Stage Company productions — "The Scene" as Clea and "Cat on a Hot Tin Roof" as Maggie. She's appeared in the TV series "Brotherhood" as Cassie Giggs and in "Law and Order: Special Victims Unit" as Officer Whitney Bowman. In 2011, she even played alongside Kevin Bacon in "R.I.P.D."
But her latest role sends her off the stage and out of the spotlight. As artistic director for Outside the Box (OTB), Georgia Lyman, 37, primarily known as an actress, works behind the scenes.
"When the chance was offered to make something like Outside the Box," she said, "something this huge and with the capacity to have such an impact on the arts and culture scene in Boston, how could I say no?"
Following an inaugural festival in 2013, OTB returns this year for a second time with three main stages and a full children's programming area. Partnered with Greater Media, OTB will feature over 100 multi-genre, local, music, dance, theater and spectacle performances in Beacon Street, Park Street and Tremont Street.
"The mission of the festival is to showcase Boston arts and culture," Lyman said. "If you think of it in sort of colloquial terms, it's bringing Boston back to the world. We were once known as the hub of the universe, which is an old saying around here in Boston, and we're known very much as — as Ted Cutler (Outside the Box founder and chairman) says — we're known for our history, for our science, for our medicine, for our education system, the collegiate system. But we're not necessarily known on a global level for our arts and culture, which is ridiculous when you look at the quality of art and artists and burgeoning art scenes that we have right here at home."
This mission lies close to Lyman's heart. Lyman was born and raised in the city, attended Boston University, and even purchased a home less than a mile from where she grew up.  Lyman's parents were also involved in the Boston arts scene. Her father, Will Lyman, an Elliot Norton award-winning Boston actor playing King Lear at Boston Common from July 22 to Aug. 9, is best known for his voice-over work.
As the artistic director, Lyman's responsibilities include but are not limited to upholding the vision of the festival, recruiting performing artists, incorporating cross-genre performances, developing relationships with possible partner institutions, organizations and individuals, and striving to showcase every aspect of the Boston arts and culture scene on stage.
When asked why the festival was important to her personally, she said, "[Being a Boston artist] is my background. That's my whole life — where I come from, where I was raised — and there's been nothing of this scope and magnitude that has the potential for national and international recognition as a place to come to see all aspects of Boston performance."
In 2013, Lyman worked on the debut festival as an associate curator under Sherrie Johnson. She had first discovered the "entirely different kind of joy" that is working behind the scenes when she began producing in 2008 with her own fringe theater company, Orfeo Group. The company, which folded in 2012, won four Elliot Norton awards in its five-year run.
Now, with OTB, Lyman enjoys providing local artists the spotlight. "The deeper I look, it's a never-ending spiral of talent that I keep coming across — groups that I've never heard of, individual artists who are just fascinating to me…" she said. "So, lucky me. My job just keeps going, and I get to start thinking long-term on if I didn't find them early enough, if they weren't brought to my attention, or if I couldn't find the right spot for them. We get to take a look at that again for next year."
Lyman and the rest of the OTB team are thinking long-term, working towards making OTB an annual festival. After skipping a 2014 festival and regrouping instead, the OTB team, according to Lyman, streamlined and honed its goals more closely this year. She said, "What we had in 2013 was so fantastic that it really wouldn't have been sustainable at that level for an annual event."
A large part of the team's mission is to continue to provide free art. "The arts are so important to our health as a society and as a species. There should be as many free culture events as possible at all times, because if we can't afford them, we need to be given them at every possible opportunity," she said. Lyman noted that access to free art not only exposes audiences to performers they may later support, but it allows people who cannot afford to pay for productions to enjoy performing arts.
Additionally, providing free performing arts events, she indicated, paves the road for the public, particularly children, to become lifelong participants in the arts, whether they're on the stage, behind the scenes or supporting the artists.
As for her own upcoming theater roles, Lyman said that her current artistic director role keeps her busy and happily so. She does, however, plan to return to acting whenever the opportunity arises and time permits.
To her, today's Boston theater scene is expansive, having "something for everyone," and the future of Boston theater continues to look bright, albeit with conditions. "If we can make the city of Boston livable and workable for our performing artists, we have the chance at becoming truly an incubator for shows that are important and long-lasting, and we'll have a lasting impact on the culture of theater."
For now, though, working on the festival, Lyman said she "couldn't think of a better way to help further the culture and cement the arts in the city of Boston as a prominent pillar than to be involved in something like [OTB]."