Kacey Musgraves And 12 Other Bands To See At The Free Outside The Box Fest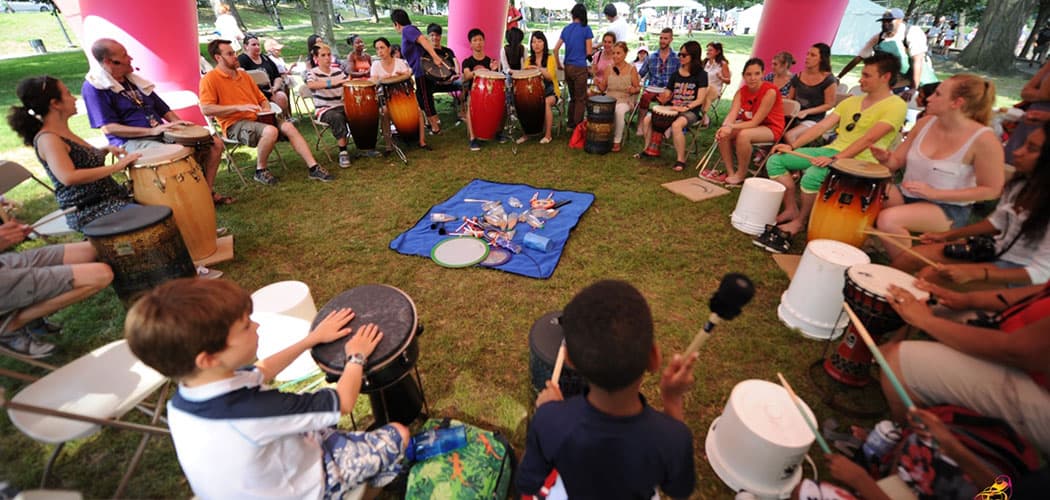 This article is more than 5 years old.
Country singer Kacey Musgraves may have been a coup headliner for Outside the Box Festival this year, but the free outdoor event is really about the over 100 supporting acts, a diverse collection of mostly Boston area musicians, dance groups, theater troupes and community arts organizations. Outside the Box, which runs from July 14 to 19 on Boston Common, is only in its second year—it was founded in 2013 but there was no 2014 festival—and in some ways it is still finding its feet.
But it is clear that the festival's great appeal lies in its starry-eyed ambition to galvanize the Boston area arts community across culture, neighborhood and genre. The following list contains music recommendations, but be sure to check out the full schedule, which boasts a mind-boggling array of performances and family-friendly activities.
---
A Far Cry, Tremont Stage, Wednesday, July 15, noon.
The Boston-based chamber orchestra upends the traditional classical paradigm by being self-directed and allowing players to take turns as leaders and soloists. The results are sublime.
---
Matt Heaton and the Outside Toys, Lily Pad Stage, Wednesday, July 15, 1 p.m.
Medford musician Matt Heaton fronts numerous projects, including an Irish duo with his wife Shannon and a surf group called Matt Heaton and the Electric Heaters, but his rockabilly-esque kids act is especially sweet.
---
Brian Thomas/Alex Lee Clark Big Band, Beacon Stage, Wednesday, July 15, 4 p.m.
Big bands might not be the jazz combo de jour anymore, but the genre is alive and well in the Brian Thomas/Alex Lee Clark Big Band. The Boston-based group has 18 members and plays original funk, soul, hip-hop and jazz.
---
Foundation Movement, Tremont Stage, Wednesday, July 15, 4 p.m.
Foundation Movement is an activist hip-hop duo comprised of Boston emcees Eroc and Optimus, who bring sweet beats and positive vibes.
---
Divi Zheni, Park Stage, Thursday, July 16, 6:30 p.m.
The Boston-based Balkan women's chorus and orchestra is worth checking out not least for its members' amazing outfits, which involve sparkly gold details and some pretty serious ruffles. Balkan folk music's intricate rhythms and eerie harmonies make for a breathtaking live performance.
---
Paa Seck Diery Band, Tremont Stage, Friday, July 17, 4 p.m.
Paa Seck Diery is a Cambridge-based drummer, singer and dancer from Senegal who plays propulsive, pop-inflected Mbalax music.
---
Kacey Musgraves, Beacon Stage, Friday, July 17, 6:30 p.m.
Kacey Musgraves is, in this critic's totally biased opinion, one of the best mainstream country artists working today. Women country singers have always been adept at subverting the conservative genre—from Loretta Lynn's pro-birth control song "The Pill" to Dolly Parton's anti-slut-shaming ballad "Just Because I'm a Woman"—and Musgraves follows in this proud tradition. She is especially practiced at witty kiss-offs and empowering, be-yourself anthems.
---
Boston Gay Men's Chorus, Park Stage, Friday, July 17, 7 p.m.
This is always a good choice, but this year it is mandatory viewing, because gay marriage!
---
Gamelan Galak Tika, Park Stage, Saturday, July 18, noon
The gamelan ensemble from Massachusetts Institute of Technology infuses traditional Balinese gamelan music with experimental and modern classical sounds. They have performed their intricate and mesmerizing music at Carnegie Hall, Lincoln Center and the Bang on a Can Festival.
---
Voices of Renaissance Choir, Beacon Stage, Saturday, July 18, noon
The Voices of Renaissance Choir is the Boston Renaissance Charter Public School's long-running student chorus. They have performed not once, but twice, for President and Michelle Obama, and are indescribably adorable.
---
Neuza, Park Stage, Saturday, July 18, 6:30 p.m.
Neuza de Pina is an extremely popular Cape Verdean singer with a bell-like voice and an incandescent stage presence.
---
Cymbal Jungle, various locations, Sunday, July 19, 1 and 3 p.m.
Boston-area Percussionist Maria Finkelmeier, director of Kadence Arts and Make Music Boston, presents an interactive percussion installation with a forest of cymbals and an open invitation for passersby to get in touch with their inner drummers.
---
Emperor Norton's Stationary Marching Band, Tremont Stage, Sunday, July 19, 2:30 p.m.
The Boston area steam-funk outfit is always a weird and welcome sight. They dress like circus performers and play brass-driven funk, pop, and jazz tunes.