Photos: Bed Racing In The Streets Of Newburyport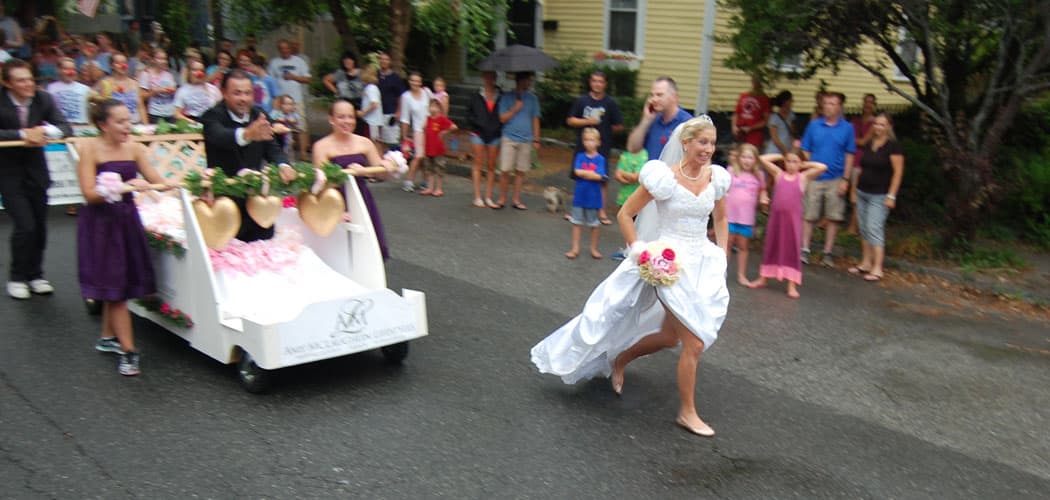 This article is more than 5 years old.
Last night, in the rain, hundreds of people lined a quarter-mile stretch of Federal Street in Newburyport for the city's annual Bed Race.
As the name implies, teams of up to five people push the beds—made up to resemble gondolas, fire trucks or the Mystery Machine from "Scooby-Doo" cartoons—as fast as they can down the road. Rules require at least one person to ride the "bed" during the competition.
For safety's sake, they run one at a time—and are timed. But to even call it a race is often a stretch, as many competitors prefer to meander down the street, approaching it more as a costume parade.
The "race" occurs during Newburyport's annual Yankee Homecoming, but it's not technically part of festival. Instead it's put on independently by the Newburyport Lions Club.
And it probably should be noted that to call them "beds" may be a stretch, too, as most entries are carts, barely resembling beds, that are designed with large handles for pushing and just a rudimentary mattress slapped on top. In fact, the rules have stated: "Mattresses are not necessary but may be used (riders will appreciate the comfort, it's a bumpy ride)."
Crossfit won for time. The Raybeam team's bed made to look like the rocket car from the "Despicable Me" films followed by dozens of yellow Minions won the prize for "most original." The runaway bride by Amy McLaughlin Lifestyles won "best in show."
Greg Cook covers beds for WBUR's ARTery. Follow him on Twitter @AestheticResear or on the Facebook.