With First 'Late Show,' The Real Stephen Colbert Emerges — But Who Exactly Is He?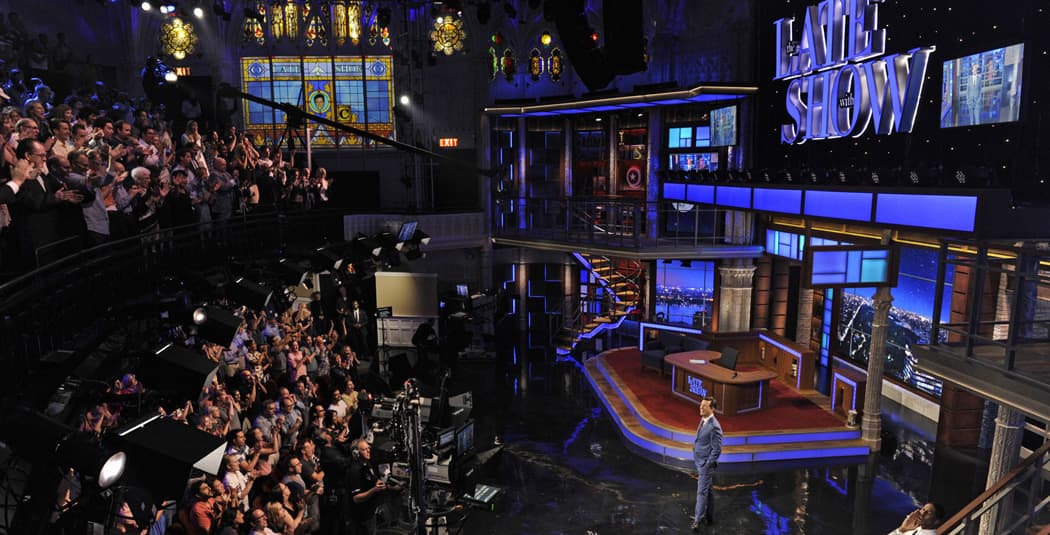 This article is more than 5 years old.
In Colbert, we trust — he'll get better.
After a decade as "Stephen Colbert" on Comedy Central's "The Colbert Report," Stephen Colbert finally made his debut Tuesday night as Stephen Colbert on CBS's "The Late Show with Stephen Colbert." It was, to be sure, an uneven hour-plus of occasionally wobbly jokes and gags. At times Colbert was doing so much — Singing! Dancing! Selling hummus! — it felt like he was still auditioning for a job to which he'd been anointed last year.
Colbert, of course, replaces David Letterman as host of the long-running late night staple. Gone is Letterman's vaguely misanthropic attitude, which always teetered between amusing curmudgeon and off-putting jerk. On the other hand, Colbert is a man eager to please and entertain. His inaugural show opened with a montage of the host singing "The Star-Spangled Banner" with people around the country in such locations as a factory, bowling alley and the National Mall. The bit ended where it began on a baseball sandlot, where an umpire — a gray bearded Jon Stewart — rips off his mask and shouts, "Play ball!"
Colbert then bounded onto the renovated Ed Sullivan Theater stage with the effervescence of a puppy allowed off-leash outdoors. Doing high-kicks like a Rockette with his bandleader Jon Batiste, Colbert, freed from the bowels of basic cable, was ready for his close-up.
With a zealous audience on its feet and chanting his first name, Colbert greeted them with "Hello, nation!" and launched into a monologue that wasn't as consistently funny as it was earnest. Colbert doesn't hide the fact that he's thrilled to be playing with the big boys (and stubbornly, the late night gang remains a boys-only club). One of his competitors, Jimmy Fallon of "The Tonight Show," even made a video cameo wishing Colbert well.
Winking to the former Comedy Central persona that he has called "a poorly informed high status idiot," Colbert said, "With this show, I begin to search for the real Stephen Colbert; I just hope I don't find him on Ashley Madison." In our quicksilver culture, a joke about the hacked adultery website felt old, though not as musty as a quip with a Teenage Mutant Ninja Turtle as a punch line. Showing off his memorabilia, Colbert highlighted a pennant he said his mother got while attending the 1963 March on Washington. "Sadly, civil rights only won the pennant that year; racism won the World Series," he said. It was the kind of comment — it wasn't meant as a joke — the former resident of that stage would never have made.
Not surprisingly, Colbert found his true footing in political humor. Of his guest, GOP presidential candidate Jeb Bush, he said, "Gov. Bush was governor of Florida for eight years and you would think that much exposure to oranges and crazy people would have prepared him for Donald Trump." In fact, there were so many Trump jokes Bush was nearly overshadowed. "Just like the rest of the media, I will be covering all of the presidential candidates who are Donald Trump," Colbert said. That line couldn't have made Bush, so thirsty to prove he's more than a Trump punching bag, happy as he waited backstage.
But first there was smug, charming George Clooney doing his best Bill Murray imitation — that is, showing up with nothing to promote but himself. After a short conversation about Clooney's work in the Sudan (the audience was primed for laughs, not genocide in Darfur) Colbert quickly moved onto asking Clooney about his wife, Amal, and what it's like to be "arm candy" for an internationally respected lawyer. Even with pre-recorded clips from a fake Clooney action movie, the segment felt long and unfocused.
Again, chatting about politics showed Colbert at his best. While the personality-adverse Bush tried to be affable, it was his host who scored all the well-deserved laughs, such as poking fun at Bush's "Jeb!" campaign posters. ("It connotes excitement," Bush futilely explained.) With its initial brew of entertainment and politics, Colbert may be aiming for a less stodgy version of "The Dick Cavett Show," a late night show for adults. That would certainly be a welcome addition to those who believe post-primetime TV can offer more than a curated series of celebrity-driven viral videos. If Fallon and Jimmy Kimmel are content with serving a bedtime amuse-bouche, then perhaps Colbert can offer real food for thought.
Colbert wound up the evening with a raucous sing-along of the Sly and the Family Stone classic, "Everyday People," which included Mavis Staples, Derek Trucks, Brittany Howard of Alabama Shakes, Buddy Guy and Colbert himself.
With time and tweaks, "The Late Show with Stephen Colbert" will find itself, and in the process may reshape late night TV. It wasn't all smooth sailing on this first date, but there were enough flashes of the spontaneous wit and sharp intelligence that made Colbert a star to signify many captivating late nights to come.
Renee Graham is pop culture correspondent for WBUR's Here & Now and The ARTery, and was a longtime arts writer and pop culture columnist for The Boston Globe. Follow her on Twitter at @reneeygraham.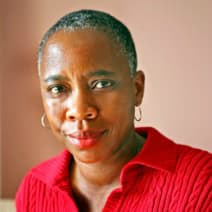 Renee Graham Contributor
Renee Graham is pop culture correspondent for WBUR's Here & Now and The ARTery, and was a longtime arts writer and pop culture columnist for The Boston Globe.