Welcome Back, Odyssey Opera: Massenet's 'Le Cid' In Concert At Jordan Hall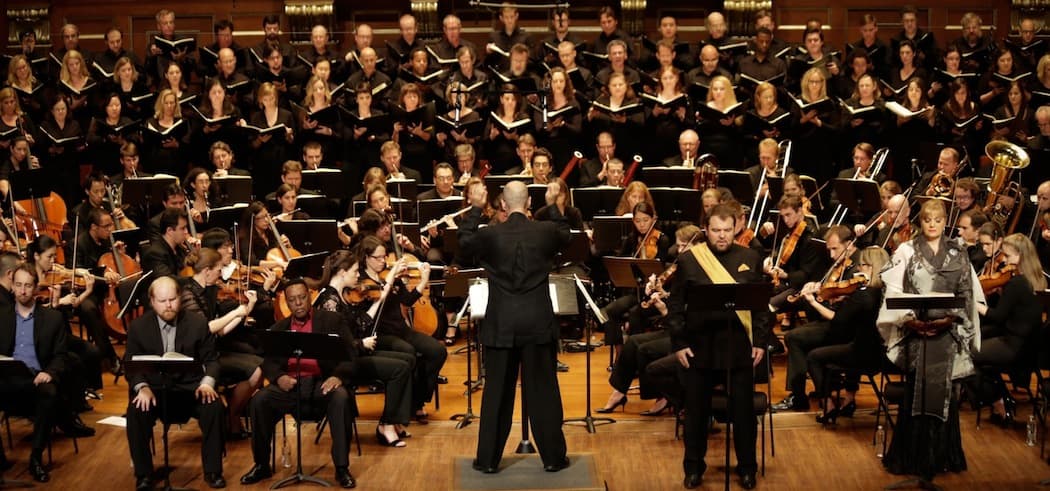 This article is more than 5 years old.
The fall season is about to begin and the event operagoers have come to anticipate most eagerly is the annual concert opera presented by Odyssey Opera. Music director Gil Rose's idea is to begin with a grand opera too big to stage and present it in concert, then later in the season to do fully staged productions of smaller works. Two years ago, Rose inaugurated Odyssey Opera with Wagner's early epic "Rienzi." Last year it was Korngold's gorgeous romance "Die tote Stadt" ("The Dead City"). That performance justifiably sold out.
And this year's rarity is a major work by the French composer Jules Massenet, "Le Cid." Based on a play by Corneille, it's the story of Spain's legendary hero, the 11th-century knight who battled the Moors and, so the myth goes, charged the enemy even after his death, his wife armoring his dead body and mounting it on horseback. That's how Charlton Heston did it in the 1961 movie epic directed by Anthony Mann and co-starring Sophia Loren.
Even without such fabulous heroics, Massenet's opera, composed in 1885, at the high point of his career (following his masterpiece "Manon" and preceding "Werther"), "Le Cid" was a glittering success. The starry cast of the premiere included three of the greatest singers of the age: the brothers Jean (tenor) and Édouard (bass) de Reszke (Jean making his first big splash as Rodrigue — nicknamed "the Master" — and Édouard as his father) and bass Paul Plançon as Rodrigue's lover Chimène's father, whom he kills in a duel in order to avenge an insult to his father, thus triggering the rest of the plot.
By the turn of the century, there had been 100 performances at the Paris Opera. But eventually, the opera fell out of the repertory, and though it has been continually revived, except for a couple of arias and the ballet music (which Arthur Fiedler used to play at Pops), the opera has been largely forgotten, especially in this country.
Those arias are wonderful. "Pleurez mes yeux" ("Weep, my eyes"), Chimène's hopeless lament about her conflicting loyalties to her lover and her dead father, is one of Massenet's most beautiful and heartfelt soprano arias. Except for a wayward and wobbly high note, the most heartrending performance is by Maria Callas, in a concert in Hamburg, 1962.
The other famous aria is Rodrigue's prayer before battle, "O souverain, O juge, O père!" ("Oh Lord, Judge, Father"), which Plácido Domingo sings on a complete 1999 video from Washington Opera.
But the most exciting performances are by Enrico Caruso, on a 1916 recording and by one of the very greatest French tenors, Georges Thill, in 1933.
The appealing ballet music is a series of colorful Spanish dances. My favorite is the second, the slow, insinuating Andalouse.
Music director Rose will surely be in the right mood for conducting a French opera, having just replaced Seiji Ozawa leading Berlioz's "Béatrice et Bénédict" at the Ozawa Matsumoto (formerly Saito Kinen) Festival in Japan. And he has assembled an impressive cast, mostly of singers who have excelled in previous Odyssey events.
In the title role, and new to Odyssey, is the celebrated tenor Paul Groves, whose career took off singing brief but eloquent lyric roles in Wagner (the Steersman in "Flying Dutchman") and Berlioz (Hylas in "Les Troyens"), at the Met and with the BSO, often under James Levine. He made his BSO debut in 2003 in John Harbison's "Requiem." Even earlier, he gave a memorable account of the coloratura tenor role in Bellini's "I Puritani" in the Boston Lyric Opera's grim 1993 production. In 2007, he graduated to the leading role in the BSO's Berlioz, "Damnation of Faust."
Groves' basically refined singing has always had a passionate conviction behind it. And now he is playing more heroic roles like Wagner's Parsifal and Beethoven's Florestan. Hard to think of another tenor with better credentials for "Le Cid."
Odyssey Opera presents Jules Massenet's "Le Cid" at Jordan Hall on Sept. 18.
---
Lloyd Schwartz is a music critic for NPR's Fresh Air and Senior Editor of Classical Music for New York Arts. Longtime Classical Music Editor of The Boston Phoenix, he was awarded the Pulitzer Prize for criticism in 1994. He is the Frederick S. Troy Professor of English at the University of Massachusetts Boston. Follow him on Twitter at @LloydSchwartz.