Company One Has A Social Network All Its Own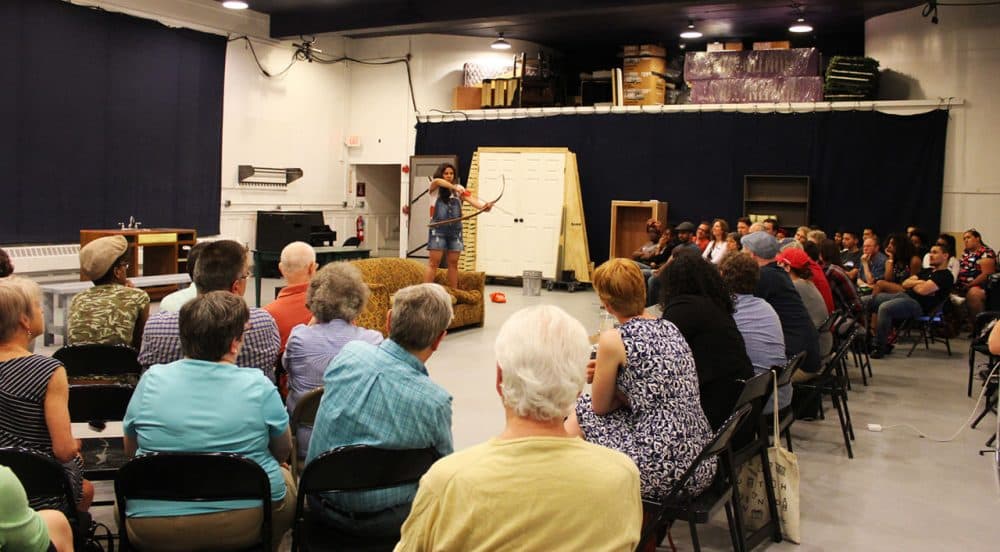 This article is more than 5 years old.
Social events are de rigueur for arts organizations today as the search for new audiences becomes a matter of survival. These days, everyone's doing under-35 nights, date nights and all kinds of other experiments aimed at broadening the base.
At Company One Theatre, these social events are built into the mission.
Take, for example, last spring's production of "Edith Can Shoot Things and Hit Them." There was a rehearsal of the play that was open to the public and preceded by drinks and hors d'oeuvres at a nearby restaurant; there was a night of interactive activities related to the production and aimed at high school students; a '90s-themed karaoke night (from the time period during which the play is set); and in honor of playwright A. Rey Pamatmat as well as one of the characters in the play, a "Growing Up Gaysian Night," which included food, a performance, and a discussion on identity.
And it's not just young people who show up at these events. Company One's audience, both inside the theater and at various events, range from teenagers to retirees.
A full range of theater-going veterans are attracted to Company One by the quality of the work, which has earned the group a number of Elliot Norton Awards for productions of plays from young playwrights such as Annie Baker, Kristoffer Diaz and Natsu Onoda Power.
Joan Lancourt, a retiree who lives in Brookline, enjoys that Company One takes her out of her comfort zone and shows her new perspectives.
"I think theater is important for everybody," she says. "And if you don't see your own story on stage, you don't come, and I think Company One is committed to making theater for everybody."
As for why she attends Company One's social events, Lancourt says she wants "to know what other people are thinking. I don't want to just stay with everybody like me."
Company One's teen night for their production of "Edith Can Shoot Things and Hit Them" featured warm-up activities, interactive scenes and evocative conversation. Young actors from Hyde Square Task Force recreated situations their peers might face -- from sexual harassment and stalking to stereotyping and racial profiling.
Called "forum theater," the series of vignettes called for audience interaction. The audience suggested strategies and tactics, referred to as interventions, to manage the situation should it ever occur again.
To Kelly de Leon, 15, theater's importance is exactly that ability to highlight and create conversation surrounding community issues.
"Theater, I think, portrays very strong stories," she says. "So if you have an issue in the community and you want to change it, you could make a play and then do it in a community event. It will make an impact on what other people think."
Yanni Cabrera, 17, a production apprentice for Company One, says the group reflects the youth voice — a voice looking to be heard. She believes Company One's productions are a way for older audiences to view young people's experiences and perspectives.
Meanwhile, Priscilla Smith and Ellen Bick, who say they attend a lot of productions across the city, are just as enthusiastic. At a restaurant before a recent open rehearsal, the pair say they loved going to rehearsals and then attending the play.
Smith noted that Boston is home to a lot of great theater, but agreed with Bick that Company One is different. "It's very challenging, enlightening and the performances are spot-on," she says.
Smith and Bick regularly attend SpeakEasy Stage Company and Lyric Stage performances, and occasionally the New Repertory Theatre.
But, primarily because of the subject matter, "This is the one we're devoted to," Smith says of Company One.
"There's something about the intimacy," Bick adds. "I like their niche. I don't want them to do [shows like] 'Drowsy Chaperone.'"
Rebecca Sananes and Ed Siegel contributed to this report.