A Little Local 'Night Music' — The Huntington Likes What It Hears In Boston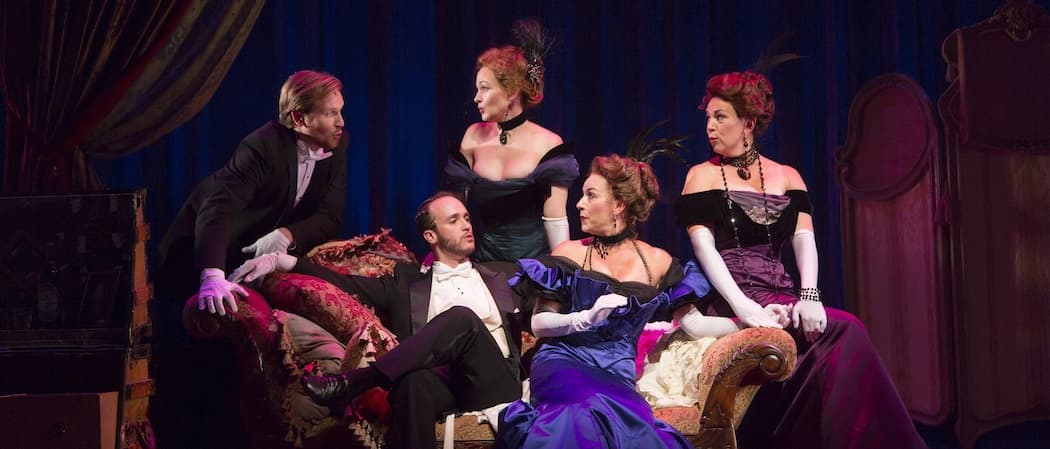 This article is more than 5 years old.
BOSTON — Casting local actors in Huntington Theatre Company shows is nothing new. The trend began when the late artistic director Nicholas Martin came to town and fell in love with actors like Nancy Carroll and Will LeBow. As the Huntington opened a second stage in the Calderwood Pavilion at the Boston Center for the Arts, there was even more opportunity for local actors in Huntington shows.
Current artistic director Peter DuBois has reached out even further, evidenced by his current season opener, a rollicking production of Stephen Sondheim and Hugh Wheeler's "A Little Night Music" with several top Boston actors in prominent roles and half a dozen others in supporting parts. Most of them are stalwarts in the midsize theaters — the Lyric Stage Company of Boston, New Repertory Theatre, SpeakEasy Stage Company, Actors' Shakespeare Project — though three are students at the Boston Conservatory, which has funneled dozens of great singers into the local scene over the past 20 years or so.
While it's fun for devotees of those theaters to see familiar faces on the larger Stage, such community activism on the Huntington's part plays a key role in making Boston a city in which actors can make a living, which has not always been the case. Midsize companies pay between $300-$500 a week; the Huntington pays about $950.
"We decided about six years ago, we were going to audition locally first and then do New York," said DuBois. "It greatly increased the number of actors we were casting. At local auditions, not surprisingly, there were so many talented singers. Plus BOCA's [Boston Conservatory] here, N.E.C. [New England Conservatory], we've gotten cast members from the Emerson musical program. We found a wealth of talent and the more Boston-focused we were, the happier I was."
It wasn't just the singing when it came to casting "Night Music," he said. Danny Pelzig, the choreographer, Jonathan Mastro, the music director, and I really put them through their paces. They have to act the songs, they're not just numbers. There are big wonderful numbers like "A Weekend in the Country" and "The Glamorous Life," but for the most part these are really character-driven songs." He paused and added, "There are so many triple threats in Boston."
McCaela Donovan, who helped make "Xanadu" and "The Drowsy Chaperone" such frothy treats at SpeakEasy Stage Company, is Petra, the — shall we say — frisky maid. She's a fine actor as well, proven by her comic timing here, and she sings up a storm in "The Miller's Son."
"It's a challenge," said Donovan about making a living in Boston. "It's not easy. Most actors that I know in Boston do have another job, whether related to the field or not." Donovan's job is closely hewed to acting. She's assistant director at the School of Theatre at Boston University.
"Oh, it's huge," she said of the chance for local actors to pick up a Huntington paycheck. "Chris Wigle [producing director] and Bevin O'Gara work with local talent quite a bit. [O'Gara handles local auditions.] They're pioneers in seeing that many people settle here who could be working in New York easily and getting them in the door at the Huntington. They've really been huge at that." (Twelve of the 17 actors are local.)
A go-to leading lady in local musical theater, Aimee Doherty, is Mrs. Segstrom, one of the chorus quintet. She doesn't get to show the full range of her talent, as she did in her Elliot Norton-award winning turns in "On the Town" and "Into the Woods" at the Lyric and "Hairspray" at Wheelock Family Theatre. Still, it should be apparent to everyone watching and listening why she's become a Boston MVP. Like Donovan, she's also an excellent actor. Doherty also points to the Huntington's activism in getting out into the community:
"Bevin O'Gara, I feel, and Chris Wigle are the ears to the ground for the local community. I've seen them at my shows, and I see them at other shows in town. They have a really good sense of what's happening and if Peter can't make it, they fill him in on what's going on.
"Monetarily it means making a livable wage," she said, adding that the midsize theaters do the best they can, but she needs to dip into "Shear Madness" while other actors have to wait tables and do other things to get by. "It's just wonderful to be there — my first time with them or a company on that level. Aside from the monetary factor, it's just great to work with people who've been in the business for so long, people like Haydn Gwynne and Stephen Bogardus, learning their process ... which doesn't differ that much from great performers here like Leigh Barrett. It's interesting to realize that a lot of it is sometimes location. And opportunity."
Bobbie Steinbach has been one of the most engaging actors in Boston, mostly in straight plays, for decades. Her comic timing is also impeccable as the wise and witty Madame Armfeldt, but she handles the tricky Sondheim textures of "Liaisons" gracefully and mellifluously.
"It's marvelous," she said of the buy-local attitude toward the show, "because there's a lot of mega-talent walking around. The artistic staff over there has really taken a look at that and embraced the talent that's here. It's my fourth production, but it's the juiciest role." Steinbach and the good madame are on intimate terms. She's played her at Tanglewood (with Christine Ebersole) and in Michigan (with Leslie Uggams). She also played her in Spiro Veloudos's superbly sung "Little Night Music" in 2004, joined by Maryann Zschau, Leigh Barrett, Drew Poling and Christopher Chew.
The Boston Conservatory students Morgan Kirner as the young bride Anne Egerman and Pablo Torres as her stepson (with benefits, he hopes) already have a slew of credits — it's easy to see why. Andrew O'Shanick, an opera grad student there, is also a member of the excellent chorus.
There's no formal relationship between the Huntington and the conservatory. "It's total coincidence," said DuBois. "They auditioned, I loved all three. And they're each age-appropriate. It's really important to understand that these two are contemporaries. A lot of times, they're played by older actors and you can really feel they are not 18 or 20. With Morgan and Pablo you really feel they are these ages because not long ago they were 18 or 20."
DuBois added that they don't cast locally to save money. "It's driven less by economics, and more by wanting to tap into the Boston pool, which is growing and growing … We rent the apartments anyway and they'll sit dormant if they're not used. There's a little bit of savings, but not a huge amount."
There are other local actors in the cast and musicians in the pit, but beyond the list of everyone involved, there's an important issue here. Until, say, the 1990s, Boston was a stepping stone to New York for talented young actors.
"The cool part of Boston," said Aimee Doherty, "is that they do so much. There's such diverstity of work here. Friends from New York say they'd love to come to a place like Boston and have a normal life, a house, a family and still be able to be artistically fulfilled. In New York if they're lucky enough to do something, it's 'Phantom of the Opera' for four years. Whereas most of them are jealous of the variety of work we get to do, because the contracts are shorter. It's a double-edged sword, you're working 2 1/2 to three months, if you're lucky. But you're not as pigeonholed here."
Boston, I'm happy to say, is a Phantom-free city. With more work from the Huntington and other larger theaters it will be a livable one for actors as well.
Ed Siegel is critic at large and editor of The ARTery.