Local Chess Players Weigh In On Fischer-Spassky Match And 'Pawn Sacrifice'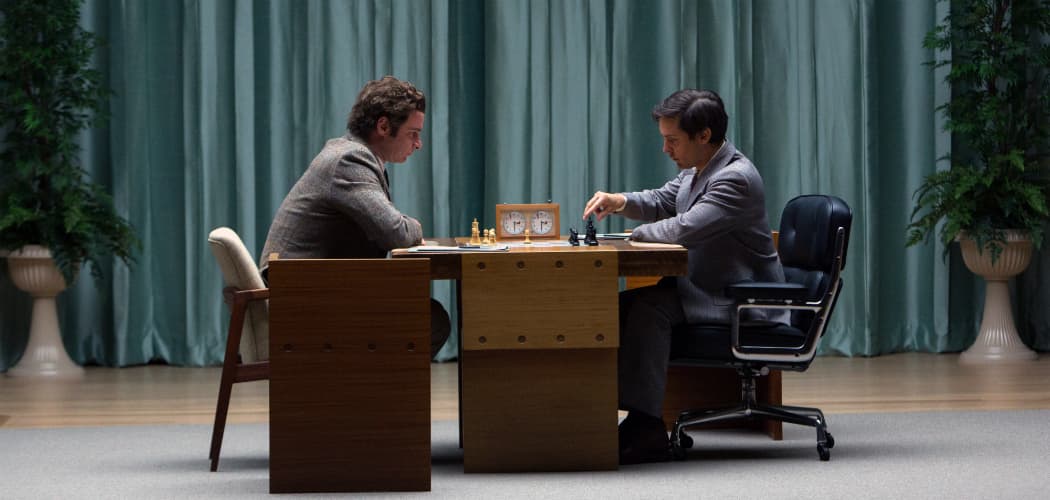 This article is more than 5 years old.
During the summer of 1972, the war in Vietnam was raging, Richard Nixon was running for re-election against George McGovern and the Cold War was going full tilt.
In July and August of that year, another significant event occurred in Reykjavik, Iceland — the world chess championship between the reigning champion from the Soviet Union, Boris Spassky, and the brilliant, but unpredictable, chess talent from Brooklyn, New York, Bobby Fischer.
The new dramatic film, "Pawn Sacrifice," directed by Ed Zwick, features the buildup to and account of that storied match, and stars Tobey Maguire as Bobby Fischer and Liev Schreiber as Boris Spassky.
For three Boston area chess personalities, the film calls to mind much about Fischer's genius, his troubled psyche, his fabled match with Spassky and his visits to Boston.
Fischer, born in 1943, had become celebrated by the American public in a way not seen for a chess-player before. Michael Cavallo, Lexington resident and former executive director of the U.S. Chess Federation, grew up in the '50s and '60s. He says he learned chess before he could read, and was fascinated with Fischer.
He came into the spotlight "like Muhammad Ali did for people who didn't follow boxing," remembers Cavallo. "Fischer's genius and personality caught the attention of people who didn't follow chess."
It wasn't just the intensity of his play, but also the unsettling quality of his personality that created his public image.
"He put lots of energy into every game, his focus was incredible," notes Chris Chase, Somerville resident, chess Life Master, three time New England champion and currently co-editor of the Boston Globe's chess column. "He always played to win," unlike many other players who would seek draws. "He was monomaniacal," far less balanced and well-rounded than the celebrated Russians and other Europeans were.
The Fischer-Spassky match of the summer of 1972 drew large amounts of public attention.
During that summer, Cavallo was in Italy competing at an international chess competition, and was amazed, when he returned home, that so many of his non-chess-playing friends had, because of the sudden popularity of the Fischer-Spassky faceoff, become chess enthusiasts.
In "Pawn Sacrifice," much is made of the uniqueness of Fischer's play, especially during the sixth game of that Fischer-Spassky faceoff, showing Fischer's approach as so boldly idiosyncratic that the defeated Spassky stands up and applauds him at the end. For Chase, the film's characterization of the sixth game as the greatest game ever played is false, though it was "a very good game, as are many of the others in the match."
"He was actually less idiosyncratic than most players," says Cavallo. "Fischer had a very all-around game but had a real determination to find the right move in any position."
Eric Godin, another chess Life Master from Boston, notes that Fischer did play different openings in the championship than he had before, a not unusual practice for championships, but that the sixth game was dramatic because it was the point when Fischer took the lead.
Regarding Spassky's applauding of Fischer — which did apparently happen — Cavallo imagines that it might well have been one of the strategies to keep the volatile, and emotionally unpredictable, Fischer in the tournament.
Cavallo also notes that Henry Kissinger, then secretary of state, made efforts to keep Fischer in the game, seeing the match as a crucial symbol of U.S.-Soviet competition during a period of still severely strained relations. In the film, Paul Marshall, who served as Fischer's manager during the match, is suggested to have had likely ties to U.S. government intelligence in its efforts to promote Fischer's role as an intellectual "Cold Warrior."
As a 12 year old in the early 1960s, Cavallo had written a letter to NASA saying "if you really want to drive the Russians crazy, you should hold the first chess game in space" and got a lot of responses from different government agencies. He says "it really would have bothered the Russians to do that, and the Russians did make a big deal about it when they eventually played the first chess game in space."
Chase notes that in 1964, when Fischer was a 21-year-old wunderkind, he had come to Fitchburg to play a "simul," 56 simultaneous games with different opponents, of which he won 49.
Fischer also made a special trip to Boston in 1977 to play the "Greenblatt" computer at MIT, which he readily beat in several games. Cavallo comments, however, that in the 1970s, he, Chase and Godin could all beat computers. "That was not such an exceptional thing then," he says. "Now, however, even the world champion doesn't like to play computers because it's too depressing."
But, for these chess whizzes, computer ascendancy in chess does not spell the end of human competition. "Humans do not play like computers, so it's still a competitive game," says Chase, and Cavallo observes analogously that, though humans cannot go as fast as cars, running still remains a popular sport.
Sadly, in addition to being one of the greatest chess geniuses of all time, Fischer exhibited a progressive decline into mental illness. Though born Jewish, he became, even as a teenager, drawn to anti-Semitic influences which, after serious mental decline in other ways resulted, in the late 1990s and early 2000s, in virulent, paranoid rants on Philippine and Hungarian radio programs. Ironically, he maintained cordial relations with many Jewish chess-players, including Spassky, throughout his career. (Spassky's mother was thought, by many in the chess world, to be Jewish, though there has been considerable debate about his ethnicity.)
Though Godin suggests that Maguire's portrayal is more likeable than the real Fischer, he also "can't imagine an actor who could have played the part better." Chase, however, feels that "the film portrays Fischer as a wide-eyed crazy person even from day one, and he wasn't like that at all."
Despite what will inevitably be differences of opinion about the film's characterizations of Fischer and its particular portrayals of the Fischer-Spassky championship, it's clear that it is likely to provide a renewed awareness to many about what a unique game chess is.
What makes chess so enduringly attractive? Godin answers readily: "It's art, science and sport rolled into one."
Charles Munitz publishes the blog Boston Arts Diary. 
Correction: The number of games played and won in the 1964 "simul" were incorrect in a previous post. We regret the error.