3S: The Intimate New Music And Art Space That Aims To Put Portsmouth On The Map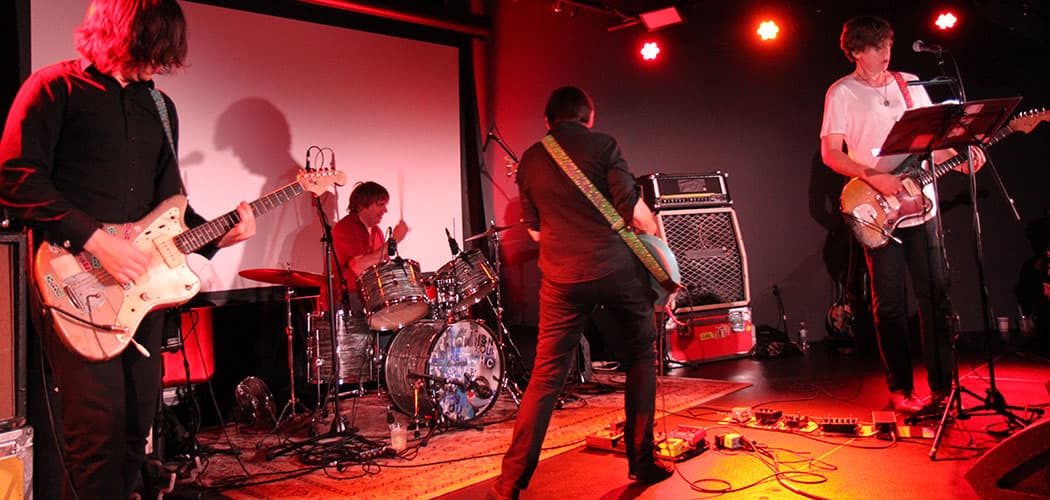 This article is more than 3 years old.
Someone is standing with his nose 3 inches from Thurston Moore's guitar. He's transfixed—immobilized except for his nose hairs, which are blowing in the wind of every downstroke of the former Sonic Youth frontman's hand.
It's the same lineup that played at the Sinclair in Cambridge the night before, but the difference in intimacy level between the two venues is like the difference between Skyping with someone and sitting on their lap. Not just during the show, but before, after and during the break between sets. Having dinner? Then you're having dinner with the bands. Locked in the entryway after a cigarette or a trip to the bathroom? You'll be rattling the wrong door like an idiot with members of the band you just saw right alongside you.
Welcome to the self-contained, but completely open to you 3S Artspace in Portsmouth, New Hampshire.
It's an hour's drive from Boston, but it's another world: one where you can swim or surf before grabbing an affordable farm-to-table meal and catching Chain and the Gang and the Thurston Moore Band on a Monday night.
And one where, on this early August evening, Thurston Moore may lean over from the stage and rub your shoulders for you.
That's right. The guy whose nose hairs were blowing in the guitar-stroke wind was looking a little tense, so Moore paused the show and gave him a nice shoulder rub. 3S is a magical place.
But creating this magic has been hard, hard work. A tiny, devoted staff has been scrambling around the clock for about seven years to bring this arts utopia to the point of realization that it's currently at. Though what they've created since the venue debuted in March is great—there's nothing like it in the Boston area—they've still got a lot of work to do if it's going to function sustainably. And even more if every dimension of its vision is to be realized in the foreseeable future.
3S was a hope swelling in founder and Artistic Director Chris Grenier's heart for a long time. Then it existed as a presenting organization without its own space for an equally long time.
Greiner moved to Portsmouth after losing his job at New York's Knitting Factory during a weak moment in the economy. His initial plan was to spend six months in a more relaxed place than NYC, working on a record, and then to dive back into a bigger city, but he fell in love with Portsmouth. It dawned on him pretty soon after this first encounter with New Hampshire that he was "not a city person."
Originally from Long Island, he enjoyed his stint in New York, and another in Boston, but ultimately felt that in larger cities he had "too much anonymity."
In addition to loving the pace of life and the amount of exposure to nature that moving to New Hampshire provided him with, Greiner was surprised and impressed by the level of artistic activity in the region. "As small as the arts scene is here, it's kind of outsized for the size of the community."
He started working at Portsmouth's historic Music Hall theater, then became embedded in a whole range of arts related activities in the small city—writing for a weekly newspaper, starting an annual music challenge, producing arts popups, and serving on the arts council.
Though he didn't know it at the time, through all of this he was building relationships that would help gird the loins of the nascent 3S.
In 2009, Greiner created a nonprofit board to support his vision of a community where the visual arts, the performing arts and the art of cooking with fresh local food could all be given equal weight and intermingle.
The original organization produced roving arts events in existing venues along New Hampshire's 18 miles of coastline known colloquially as the "The Seacoast," but the vision really required space that didn't exist in the area. Portsmouth is the Seacoast region's "cultural hub," but its art museum was in the lobby of a commercial building and then was without a space at all. Concert venues in town were either too small or too big to encourage the kinds of touring acts that Greiner wanted to produce events around. And without a restaurant, the food component of the vision wasn't realizable at all.
Greiner wanted something happening in Portsmouth that felt more like Providence's AS220 or Space Gallery in Portland, Maine.
Informal research that he was conducting while working everywhere else in the area supported the belief that this was the kind of non-commercial, multi-use place that people were craving.
Seven years, $2.2 million worth of fundraising, and innumerable gallons of sweat-equity later, a beautiful, state of the art, extremely re-configurable music venue stands within spitting distance of the main drag in Portsmouth, flanked on the left by an airy restaurant-bar with outdoor seating and on the right by a white box gallery with a soaring ceiling. Above are affordable studio/residency spaces. Phase two of development aims for additional gallery space and a waterfront seating area for the restaurant (not to mention wads and wads of adventurous programming.)
But between phase one and phase two of 3S's development, is Dan Hirsch, a well-known promoter from the Boston music scene, currently based in Chapel Hill, North Carolina.
Hirsch—who founded Boston's Non-Event experimental music series before moving on to program for the Museum of Fine Arts, ArtsEmerson, World Music/CrashArts and MIT—moved to North Carolina via Michigan when he outgrew the kinds of programming opportunities available in Boston.
Hirsch is finding national and international acts for the venue and Greiner's goal at the moment is to match these with good local openers. Though Hirsch's family spent summers in the Seacoast area, Greiner obviously has his finger on the pulse of the region in a way that Hirsch can't from 700+ miles away. But at the national and international level, Greiner's got complete faith in Hirsch. He says there's a lot of overlap between his personal taste in music and Hirsch's, and calls Hirsch "the best in the business" as far as booking at this scale goes.
The feeling is mutual. Though Portsmouth might be a smaller "market" than Boston, 3S's thinking is bigger than that of many organizations here. Hirsch has felt in the past like he's had to censor himself or be "administratively minded" in some of his programming because of its context. 3S has allowed him to test out some of his wilder ideas. For example, Hirsch describes easily incorporating video and rearranging the stage (which breaks into moveable sub-segments) for Brooklyn-based group Prince Rama's screening and performance of "Never Forever," described as "the first New Age psych-opera." The seating can also be easily organized for cabaret or theater style performances or screenings. And removed altogether for large, standing room only shows.
"I feel really lucky as a programmer," says Hirsch when he reflects on how intentionally flexible all three of 3S's spaces are. It's a huge relief, he explains, to be able to design events in spaces that aren't locked in position or institutionalized about their usage. The conjoined spaces encourage experimentation, cross-disciplinary exploration, and freedom of movement among them.
Hirsch has also had a chance to let music spill over into the gallery space. He helped to bring Eli Keszler's interactive sound installation "Railsback Curve" to the gallery, and has made some forays into other kinds of programming as well. For example, a family-friendly hip-hop-dance-party and book reading event with Somerville author and illustrator Jef Czekaj. Hirsch also had a big hand in bringing the annual collective filmmaking experiment Colony of Light to 3S, where they were in residence in August.
Greiner's main audience is the Seacoast community and then a radius that goes north to about Ogunquit, Maine, south to about Newburyport, and west to about Manchester, New Hampshire. He describes a thrill at seeing a post on a messageboard where someone equated 3S or Portsmouth with "New Hampshire" (as in "I can't believe Earth is playing New Hampshire!"). This is the goal with the musical dimension of his work—to put New Hampshire on the map for bands that play mid-sized venues, and to give people who would normally haul themselves to Boston or Portland if they wanted to see a band, another option. An option that feels like home instead of someone else's city.
That said, a quick glance around the room at the Aug. 3 show reveals a number of folks who made the journey north from Boston on a Monday night because they knew the experience would be worth it.
A familiar-looking Bostonian named Peter sums up the rationale for a road trip nicely: "This place reminds me of all of the cool grassroots stuff that used to happen in Boston and just doesn't anymore because there's no space for it. I could have seen these guys play at the Sinclair I guess but I knew it would be more fun here and I just want to support the people who run this place. They're cool people."
Heather Kapplow is a Boston-based writer, media producer and artist.