400 Pumpkins: Lawn On D Wants Your Help Carving A Giant Jack-O'-Lantern Display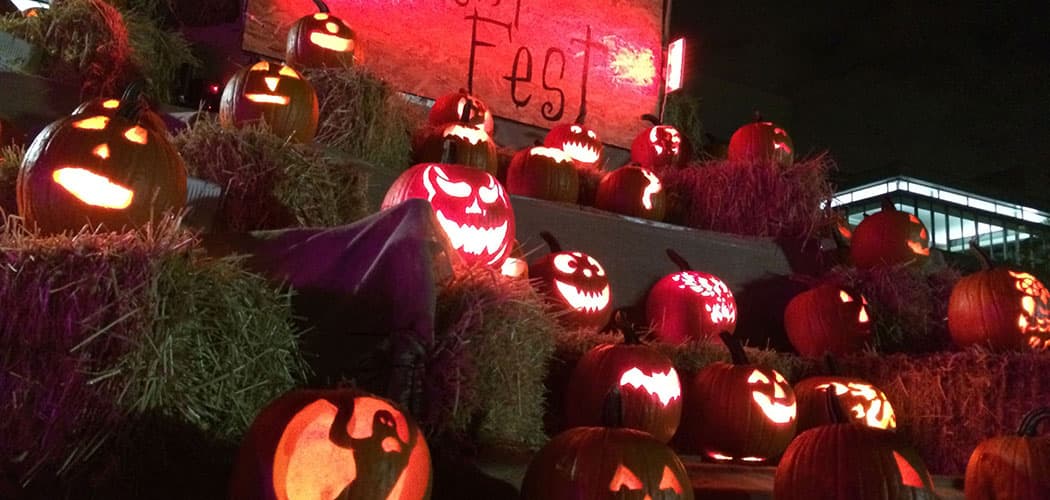 This article is more than 4 years old.
"It's really lighthearted. It's not about scaring people," Ed Slapik says. "It's about entering the fall season."
Slapik is the producer of the second annual "Punkin' Fest," a three-day project at Lawn on D this weekend. Organizers are inviting people to help carve some 400 pumpkins for display in a giant lit-up Halloween "Punkin' Manor" at the outdoor event space at 420 D St. in Boston, next to the Boston Convention & Exhibition Center. Participation and pumpkins are provided free.
"It's spooky and fun and kind of Addams Family-ish," adds Beth Torrey, director of strategic programming for the Massachusetts Convention Center Authority, which operates the space.
Those arriving between noon and 10 p.m. Saturday, Oct. 10, will find two "pumpkin patches"—one offering those 400 pumpkins to then be transformed at dedicated carving stations ("carving tools will be supplied") and another patch offering 750 pumpkins (give or take) for younger children to decorate with paint, stickers and markers. "Guests are also invited to bring their own pumpkins as our stock will run out," the event website says.
Carvers can choose where they want to add their jack-o'-lanterns to a 24-foot-tall and 50-foot-long structure of metal scaffolding resembling the facade of a "manor." Assuming said manor was covered with pumpkins, of course.
"I don't want to give away the mystery of this," says Slapik from Mission Six Event Design & Execution in Woburn. But he will admit, "It's twice as big [as last year] and has twice as many pumpkins on it and it has a completely different design."
All the pumpkins will be filled with lights, with the light in each pumpkin individually controlled, for a six-and-a-half-minute show of blinking lights, spooky music and "special effects" that will run each half hour from dusk to 10 p.m. Saturday, Slapik says.
The light show will repeat from sunset to 8 p.m. Sunday and Monday, Oct. 11 and 12. (There will be no additional pumpkin carving or decorating those days.)
Lawn on D is a project of the Massachusetts Convention Center Authority, which launched it last summer as an 18-month tryout as it considered developing year-round programming next the Boston Convention Center. That tryout is concluding this month.
"It's the closing weekend of the Lawn," Torrey says of the "Punkin' Fest." Will the lawn reopen for winter fun or events next year? "We're working on that as we speak. … It's still being decided, but it's looking very promising."
---
Greg Cook is co-founder of WBUR's ARTery. Follow him on Twitter @AestheticResear or on the Facebook.