'Meow Meow' Could Use A Little Bark In Her Mix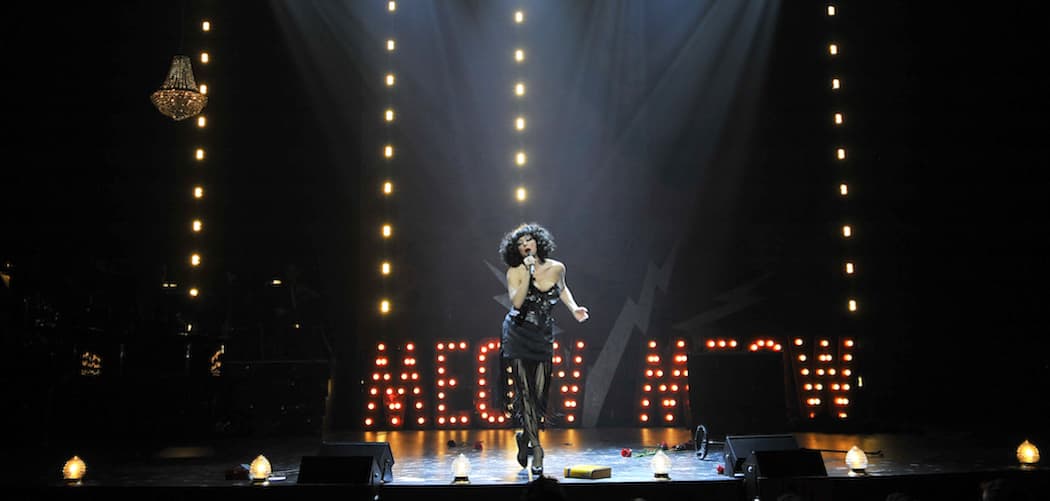 This article is more than 3 years old.
Meow Meow has a lot to say. The self-described "post-postmodern diva" arrives in the room with a weighty agenda, to which her 80-minute show "An Audience with Meow Meow" is devoted.
She aims for no less than a deconstruction of live performance itself, with near-constant meta-theatrical asides meant to draw attention to its essential artifice. But within five minutes, the rhythms of her act — and, more or less, the outline of her ideas — become evident, and the balance of the evening is devoted to repetition without much variation.
Here's the gist. Styling herself as every inch the larger-than-life diva of cabaret, the Australian-born performer builds up to big moments of stagecraft that we, as audience, are trained to expect … and then draws delayed chuckles when the moments never materialize. The pattern is established right from her entrance — an amusing, if familiar, bit of business whose potential for laughs, like that of many such bits throughout the show, she overestimates.
In-between these gags, Meow Meow, who is a character created by the actress Melissa Madden Gray, performs songs from the cabaret tradition and elsewhere, landing on Jacques Brel's "Ne Me Quitte Pas," Leonard Cohen's "Dance Me to the End of Love" and "Itsy Bitsy Teenie Weenie Yellow Polkadot Bikini," the 1960 novelty song written by Paul Vance and Lee Pockriss. She does this with the help of an onstage quartet, a few costume changes (generally accomplished onstage) and simple set pieces like a steamer trunk. Leigh Silverman's direction moves her all around the Cutler Majestic Theatre, where the show, presented by ArtsEmerson, plays through Oct. 24.
What keeps the whole enterprise from being cynical, and is the kernel of her essential charisma, is that this is all sealed with a hopeful kiss, a belief in the ability of art to transcend its essential absurdity and, as Samuel Taylor Coleridge would have it, send our souls on a proud flight. "I want to believe that [the theater is] still a transformative space," she says at one point, "I want to believe a song can change the world. Don't you?"
She's very free with this thesis, at least twice citing her desire for all this theatrical business to "reveal the real." At times it's truly poignant. "I can't bear it when the dancing ends. If I stop spinning I'm just in [expletive] wasteland," she says after one of many sight gags built around the concept that her show does not have the big budget it requires. A strong element of audience participation both enhances the show's central conceit and underlines the artist's statement about how the audience completes the act of performing. As such, some climactic crowd surfing is oddly affecting.
The trouble is, she never quite gets around to delivering on this transcendence she keeps advocating. She's so relentlessly ironic, there's little room left for the audience to make an emotional investment. Meow Meow sounded in good voice at press night on Saturday, but the frequently-interrupted songs were just vehicles for gags of middling effectiveness and repetitive patter. And she may call herself "the Mother Courage of performance art," but she never puts the audience in Brechtian discomfort. "It should be dangerous," she says of theater, but nothing here feels especially threatening. Meow Meow affects sadness, but rarely finds the quiet poetry of the clown.
For this whole thing to really land, there has to be some truly moving artistry at its core. The audience needs to actually feel that oft-referenced transcendence, not just hear affirmations of its existence. And though an extra dose of pathos is packed into the show's final quarter, by then the performer has long since shown her full hand. There's enough material here for a performance of about half its length. The appearance of Nikka Graff Lanzarone as another incarnation of Meow Meow adds some energy to the finale, but in its deliberate echo of the show's opening it only reinforces the circular feeling.
In one of the show's last gestures, Meow Meow gets closer to what she's been aiming for. Reaching into a top hat, she pulls out a tiny handful of rose petals and throws them into the air. It's an aggressively underwhelming thing, but in that it is beautiful. Somehow this hits harder than all the rhetorical bombast that precedes it.
This show's conceptual foundations are promising, but in the end there's just not enough there there. At some point you have to stop talking about how fabulous you are and actually be fabulous. "An Audience with Meow Meow" is one of those high-concept productions that may indeed embody some essential truths about the nature of theater, but is more interesting to talk about after the fact than it is to actually experience.
---
Jeremy D. Goodwin contributes regularly to The Boston Globe, The ARTery (where he is also an editor), Berkshire Magazine and many other publications. See more of his work here. Follow him on Twitter here.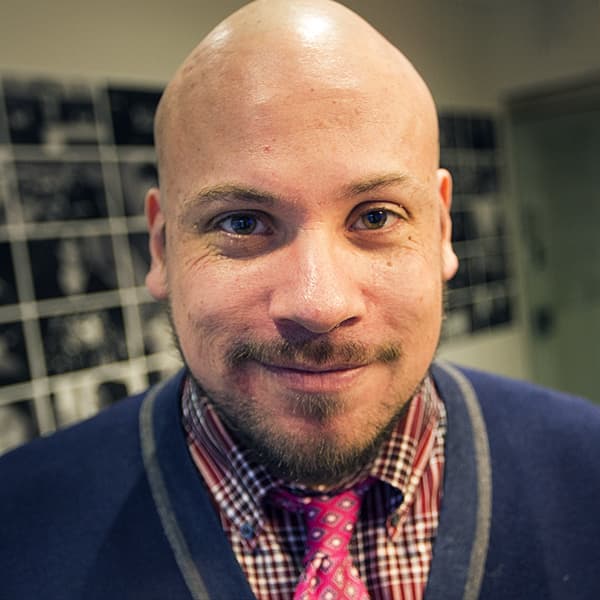 Jeremy D. Goodwin Contributor, The ARTery
Jeremy D. Goodwin was a writer and critic for WBUR's The ARTery.