'Song Of A Convalescent Ayn Rand' Is A Ball Of Fun, But It May Just Unravel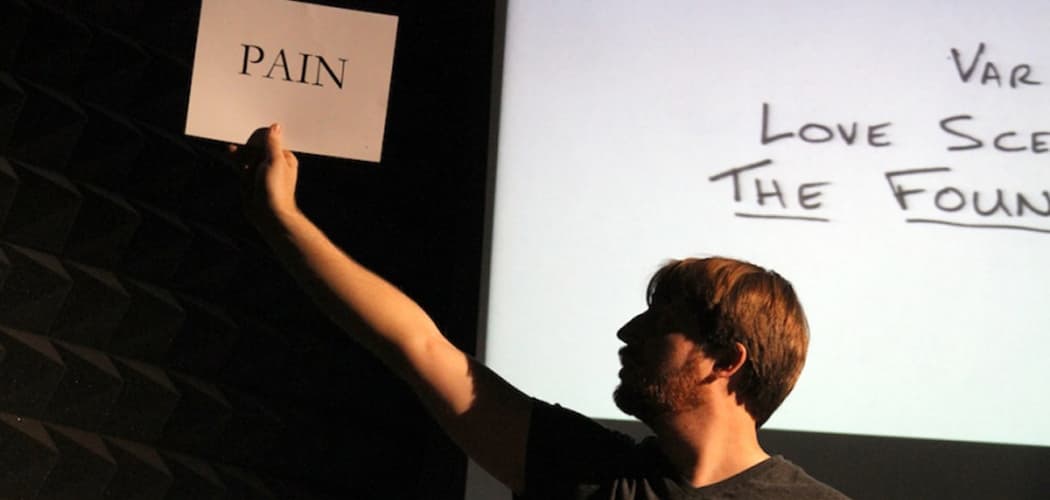 This article is more than 3 years old.
What does the excruciating pain of the migraine have to do with Ayn Rand's stripe of egoism, which is to say, the elevation of self and one's own happiness above the needs of others?
Assuming there is a connection, how does Beethoven's "Quartet in A minor, Op. 132" — an 1825 composition with five movements, as opposed to the usual four — come into it?
Two men named Michael — playwright and actor Michael Yates Crowley and director Michael Rau, who, together with several other "team members," comprise something called Wolf 359, described at its website as a "narrative technology company" — don't really have an answer to these questions. That doesn't stop them from throwing it all into their hilarious stew of one-liners and off-kilter musings, a theater piece that merges performance art with skits and song.
The full title of the piece is "Song of a Convalescent Ayn Rand Giving Thanks to the Godhead (in the Lydian Mode)," presented at the Oberon through Oct. 23. If it sounds like a piece of classical music, that's because the show's title riffs on that of the third movement of Beethoven's String Quartet No. 15, "Heiliger Dankgesang eines Genesenen an die Gottheit, in der lydischen Tonart" (or, in English, "A Holy Song of Thanks from a Convalescent to the Godhead in the Lydian Mode").
The show's title, reflecting the show itself, simply drops Rand into the mix. It's funny, and it opens the way for some critical thinking about objectivism amidst the comedy, but it also feels random. That's not necessarily a bad thing; the two Michaels bring a casual, slackerish vibe to the stage, where they banter and drive running gags into the ground, so a Millennial sense of lateral thinking, with some semi-improv filling in the margins, isn't really out of place.
What's curious is the show's sense of stubbornly surface-level entertainment and a mood of defiant non-rigor, especially given that Ayn Rand, the two Michaels' satirical target, was certainly focused. Rand, a Russian émigré whose novels ("The Fountainhead," 1943; "Atlas Shrugged," 1957) and philosophy ("objectivism") have excited tremendous devotion among generations of admirers (and resulted in a recent trio of poorly-made films based on the latter novel), believed that an individual's highest priority was his or her own self-interest. To Rand — and to legions of libertarians and political conservatives who embrace her ideas — it was both proper and moral to place one's own needs and wants above those of others.
But what does this philosophy tell us about pain, whether our own or that of others? Yates Crowley poses the question in one of his many guises. (He proves himself a master of the quick change, switching back and forth between about a half-dozen characters throughout the show's 90 minutes.) It's not a question that seems immediately obvious, except insofar as one might object to Rand's priorities on the basis that they don't seem to make exceptions for people who are suffering.
Yates Crowley — or his eponymous character — has an interest in the subject of pain, having suffered debilitating migraines since his teen years. He's maintained a "migraine journal" for years, hoping to identify triggering causes, but what the journals have really done for him is to have acted as repositories for his thoughts about the physical, and metaphysical, meaning of pain.
How that's led him to Rand is anyone's guess. The show, though stuffed with novel forms of audience participation and wildly funny observations, doesn't exactly have a through-line or much in the way of a deeper, organized thesis. Instead, Yates Crowley and Rau jump around to different settings and modes of performance, skewering everything from the cult of celebrity that surrounds Rand (she's adored as "The Great Mind") to fad diets and cures.
It's amazing how many threads twine into this hour and a half: A Canadian teen shares his story on YouTube; an "intellectual drag queen" in Peoria, Illinois, entertains a late-night crowd with the erotic beauty of her IQ and a cover version of Adele's "Someone Like You"; Dr. Schuss, an obvious quack, cheerily tells his audience that his treatments might (or, more likely, might not) be therapeutic to migraine sufferers, but "as long as there's money, there's hope."
Beethoven himself returns from the dead for an interview, conducted half in German, about the opus he composed near the end of his life, as he was suffering from gastroenteritis. Rand also makes a return from the Great Beyond, dressed all in black and ready to accept the adulation of the 21st century. (In a witty turnabout, she's undone by a phone call from Maury Povich — laissez-faire capitalism, the socio-economic system championed by Rand and her disciples, including Alan Greenspan, evidently offers no bulwark against tabloid TV.)
A show as loose-jointed as this one can rattle happily along and still feel of a piece, if its ending is strong. Knowingly or not, the finale of "Song of a Convalescent Ayn Rand" borrows from that of John Cameron Mitchell's movie "Shortbus," itself a semi-improv and somewhat rigor-eschewing project that still managed to achieve a raw emotional potency. "Song," however, lacks resonance once the laughter fades away. This is an evening of theater that offers many delights — but won't shed much light.
"Song of a Convalescent Ayn Rand Giving Thanks to the Godhead (in the Lydian Mode)" continues through Oct. 23 at Club Oberon in Cambridge. For more information, visit A.R.T.'s website.
---
Kilian Melloy has reviewed film and theater for a number of publications, including EDGE Boston and the Cambridge Chronicle. He is a member of the Boston Theater Critics Association and the Boston Online Film Critics Association.