New Repertory Theatre Plays Clone Tag In Churchill's 'A Number'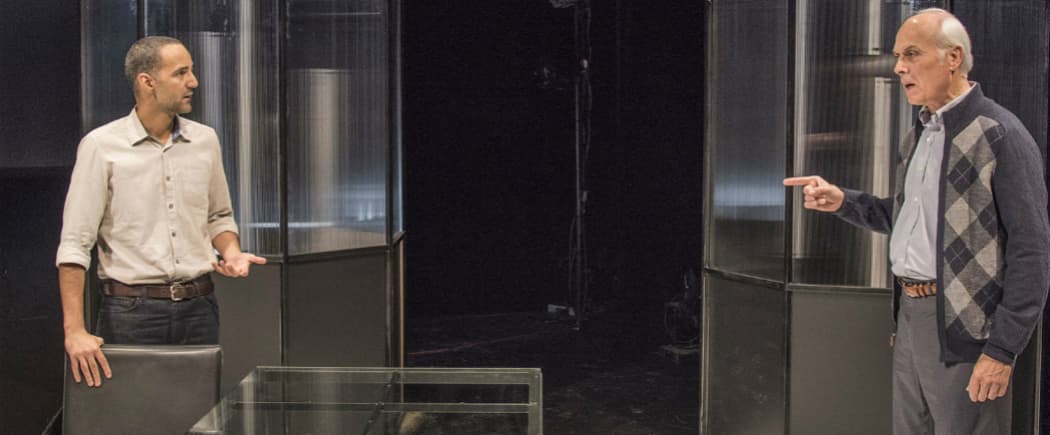 This article is more than 3 years old.
Scientists haven't started Xeroxing people yet (as far as we know.) But with the cloning of a sheep — in 1997 in Edinburgh — the possibility raised its troublesome head, mouthing questions about bioethics, nature-versus-nurture and the sanctity of individual human identity. Not surprisingly, revered British playwright Caryl Churchill, who has been considering disruptions in the natural order since the 1970s, weighed in with a brief, anxious dystopian fantasy entitled "A Number," first performed in 2002.
Since "Identity" is the stated theme of New Repertory Theatre's current season, "A Number," which the troupe has mounted at Watertown's Arsenal Center for the Arts (through Nov. 1), must have issued a clarion call. In just about an hour, Churchill takes the hoary themes of fathers and sons, guilt and resentment, and casts them in an eerie new light.
As one character opines early on, an identical twin would be a surprise. But "a number" (the play's first line) of duplicates of oneself constitutes a shock. Which is what a beloved son called Bernard receives in the first scene, in which he pulls the teeth of his origins from his nervous, evasive dad, Salter, who raised him, apparently lovingly, as a single parent.
Despite its multiple, emotional confrontations of father and son, "A Number" is not a naturalistic play. Aptly, the New Rep staging is heavier on atmosphere than on realistic detail, more choreographed than simply directed by Clay Hopper and considerably abetted by Phil Schroeder's agitated sound design. Cristina Todesco's set, though rather grand, is sterile and steely, dominated by columns in which fluorescence bubbles like tubes within tubes. The furnishings consist of a few rigid chairs and tables, periodically rearranged to suggest aggression or entreaty. As the lights come up and the play begins, the figure of the son seems to step out of the figure of the father. But which son is it? The original — or a dupe?
Like Scrooge on Christmas Eve, Salter will have three visitors — though whatever chance this culpable dad had to turn his life around was already taken, with the distressing results that the play imagines. First we meet the thoughtfully raised young man who is just learning the lies on which his selfhood was built. Then we are subjected, along with Salter, to the embittered "original," who hates the then drunk and grief-stricken parent who in his view threw him away. Perhaps most disturbing is the benign triplet whose lack of any past connection to Salter has rendered him both contented and shallow.
What we are meant to make of all this is not spoon-fed. Clearly, issues of nature-versus-nurture are being probed, along with the increasing ability of science to manipulate human uniqueness (for better or worse). But Churchill did not set out to create an intricate sci-fi tale in the mode of, say, the BBC/Canadian Space series "Orphan Black." Despite the violence reported in "A Number," and Salter's sufferings from it, the play is more of a sketch probing the possible consequences of a controversial idea than a fully formed drama with backstory. (For example, we learn nothing about how the clones, as many as 20, were created, incubated, birthed and let loose on the world.)
Like the play itself, the dialogue often hangs in the air truncated and incomplete. (Some of Churchill's plays, possibly including this one, were created in part from actor improvisation.) And at New Rep, Dale Place, as the ever-present Salter, and Nael Nacer, as Bernard and his copies, prove masters of language given to halt and hover as well as of the tension pulsing beneath the unsaid.
Nacer has the flashier job, playing three disparate people who look exactly alike: the menacing lower-class powder keg the original Bernard has become, the more posh and polite if increasingly frantic acknowledged son, and the pleasant, depthless Michael Black. Among the area's most dependable actors, Nacer brings to each a distinct accent, body language, personality (or lack thereof). And Place, whatever the past and present sins of a character desperate not to be found out (and to make a litigious buck off it if he is), captures the anguish with which Salter, for all his whining and self-justification, is increasingly gobsmacked.
For my money, Churchill could have put a bit more flesh on the play's bones without interfering with its enigmatic, cautionary elements. But if "A Number" is short, its implications are many and its running time in your mind will be longer.
---
Carolyn Clay was for many years the theater editor and chief drama critic for the Boston Phoenix. She is a past winner of the George Jean Nathan Award for Dramatic Criticism.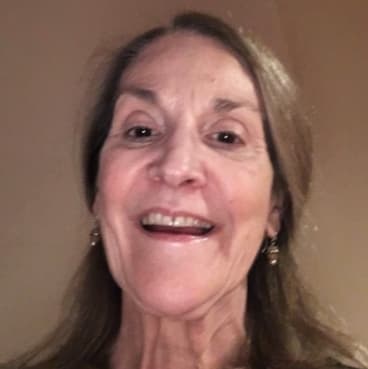 Carolyn Clay Theater Critic
Carolyn Clay, a theater critic for The ARTery, was for many years theater editor and chief drama critic for the Boston Phoenix.