Harvey Fierstein On The Cross-Dressers That Inspired His 'Casa Valentina'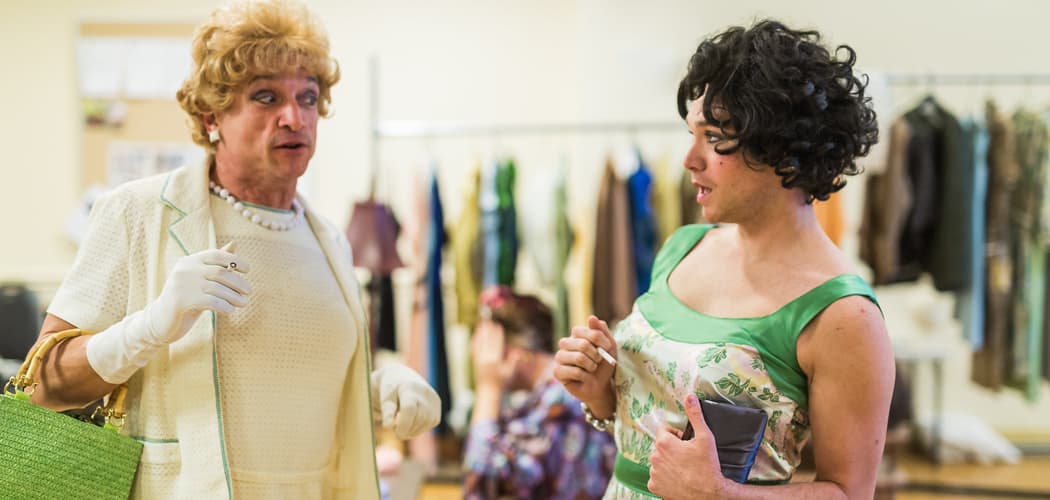 This article is more than 4 years old.
"Are you ready for me?" croaks the familiar voice, in a playful whisper, over the phone from his home in New York.
The famous frog-throated rasp, deep yet inviting, comes from the mouth of Harvey Fierstein, the theater luminary who won Tony awards for playing frazzled matriarch Edna Turnblad in "Hairspray," for penning the book for "La Cage aux Folles" (which had a pre-Broadway tryout in Boston in 1983), and for writing and starring in his 1981 breakthrough "Torch Song Trilogy."
Fierstein has been creating stories about men in drag since early in his career, from the Jewish drag performer in "Torch Song Trilogy" to the flamboyant Albin and his sequined Cagelles in "La Cage" to the sassy-yet-steely Lola and her stiletto-heeled cohorts in the 2013 Best Musical winner "Kinky Boots," on which he collaborated with pop icon Cyndi Lauper.
But the cross-dressing men in Fierstein's 2014 Tony-nominated play "Casa Valentina" — which receives its New England premiere from SpeakEasy Stage Company, Oct. 24 to Nov. 28 at the Calderwood Pavilion — are an altogether different group, putting an intriguing spin on the gender-bending theme. The story centers around a group of heterosexual male cross-dressers who secretly gather in their beehives and brassieres at a Catskills resort in the 1960s.
"The way they expressed themselves was: They were half male and half female. They claimed both sides, which to this day people are still not really comfortable with," says Fierstein, who's just returned from London, where he attended the West End debuts of both "Kinky Boots" and "Casa Valentina."
At 61, Fierstein is busier than ever these days. He's reworking the books for two musicals — the London revival of "Funny Girl," which begins performances at the Menier Chocolate Factory on Nov. 20, and the NBC television production of "The Wiz Live," airing Dec. 3.
"You sort of want to take me with a grain of salt these days. My life's a little cocka!" he says, with a flourish and a big laugh.
With "Casa Valentina," Fierstein says he was inspired by a true subculture of heterosexual men who created a hidden refuge where they could be themselves and wear dresses, heels, wigs, makeup and jewelry without fear of reprisal. Faded photographs of the real-life Casa Susanna, a farmhouse with nearby bungalows in the Catskills, were discovered at a Manhattan flea market more than a decade ago by a furniture dealer and published in book in 2005. The trove of snapshots showed a mysterious world of men dressed as women, lounging around, playing cards, smoking cigarettes and eating dinner.
Fierstein had been approached by producers to gauge his interest in writing a play inspired by the real-life retreat. The producers saw it as more of a colorful romp á la "Hedwig and the Angry Inch" or "La Cage," but Fierstein had other ideas. He was intrigued by the idea of a subculture of gender-bending men who embraced both their masculine and feminine sides, yet were heterosexual.
"The thing that's hard to understand is that they weren't up there having sex with each other. When they went up there, it was to dress, and it was to spend time in women's clothing. They were not driven there by sexuality. They were driven there by gender."
Fierstein, who came of age among a group of drag performers at the famed La MaMa experimental theater in the '70s, cautions that people have a hard time separating gender from sexuality when it comes to cross-dressing. "What's most questioned about Caitlyn Jenner is her sexuality. Because if Caitlyn Jenner said, 'I'm now a woman, and I date men,' people would stop asking questions. But because she doesn't say that, because she says, 'I don't know yet,' people can't handle it. They want a simple answer."
The resort in "Casa Valentina" is run by George, aka Valentina, and his supportive wife Rita. But despite having created their very own Garden of Eden, the oasis is also something of a mirage. George has been asked by a local postal inspector to explain some suspicious mail, and the resort is experiencing financial pressure. But the biggest conflict comes from Charlotte, who runs a magazine and organization devoted to the rights of cross-dressers. She's there to urge Casa Susanna's guests to come out publicly as part of her national organization. But some of the members resist giving up their privacy, and her presence divides the group.
Furthermore, not only did the organization actively avoid any allegiance with the gay community, gays were actively banned from the group. "Homosexuals, in their opinion, would never be accepted by decent society," Fierstein says. "But [Charlotte reasons that] if decent society knew what we do is really harmless, they will accept us. So we either ban homosexuals or we are homosexuals."
At a time when the transgender movement is practically mainstream thanks to Caitlyn Jenner, Lorraine Cox of "Orange Is the New Black," the Amazon series "Transparent" and other recent cultural touchstones, heterosexual cross-dressers still have low visibility. Fierstein says it would probably surprise most people to learn that there's still an active cross-dressing community, with a magazine and some 30 chapters across the country. But it always considered itself separate from the LGBT movement, Fierstein says, which had a marginalizing effect.
"It felt kind of sad, because we include everybody in the gay community under the GLBT umbrella. But there's no 'T' for transvestite because they separated out their community in the founding. That's the point of part of the play," he says. "That's why the transvestite community is now still on the outskirts, and people still don't know what a transvestite is. If you said to your average person, 'Did you know there's a transvestite community?' they'd look at you like you're nuts. But we had modern transvestites at rehearsals."
Fierstein was able to forge a connection with one of the Casa Susanna denizens, who's now a woman living in Australia. As he was writing the play, he would email her his drafts for feedback. "She's not only a librarian, but also an author. She's written her own life story. And she's a very good editor. We became very close. She spent time with us and stayed through opening night of the play. She tried contacting a couple of people from Casa Valentina who she still knew, to no avail. Fifty years later, they just wouldn't talk to me."
When Fierstein first saw the published book of images from Casa Susanna, he was stuck by how happy and tranquil the cross-dressers looked, inside the safe confines of their protective haven, away from the prying eyes of a close-minded society.
In his research, Fierstein recalls one of the women writing about her first morning waking up at Casa Susanna and going into the bathroom. "There were four girls clustered around the sink all shaving in negligees, and what a thrill that was to her. You're not alone in the world. Not only am I in a place where I am safe, which is strange enough, but that there are people who understand me and are not judging me."
Fierstein points to the character of Jonathan, a young married newcomer to the group who gets a makeover into Miranda. "Imagine that boy who only knew about wearing women's clothes in the basement of his house when his wife was away. Then all of a sudden being able to put on a dress and come down to dinner. It must have been an unbelievable feeling."
The play also incorporates the wives' point of view through Rita. Its conclusion poses a difficult question as George heads to his bedroom to put on women's clothes and Rita wonders aloud: "How do I know this isn't the last time you go up those stairs and I never see my husband again?"
"Think about it, that's what happened to Kris Jenner. Caitlyn may have been dressing [as a woman] for years. But there was a day that Bruce left the room, Caitlyn came back, and Bruce will never be back. I mean, that all has happened after I wrote the play."
---
Christopher Wallenberg is a freelance arts and entertainment reporter and a regular contributor to the Boston Globe, the New York Times, and American Theatre magazine. You can email him at chriswallenberg@gmail.com and follow him on Twitter at @chriswallenberg.