Can Joanna Gruesome Make Noise-Pop A Forum For Radical Gender Politics?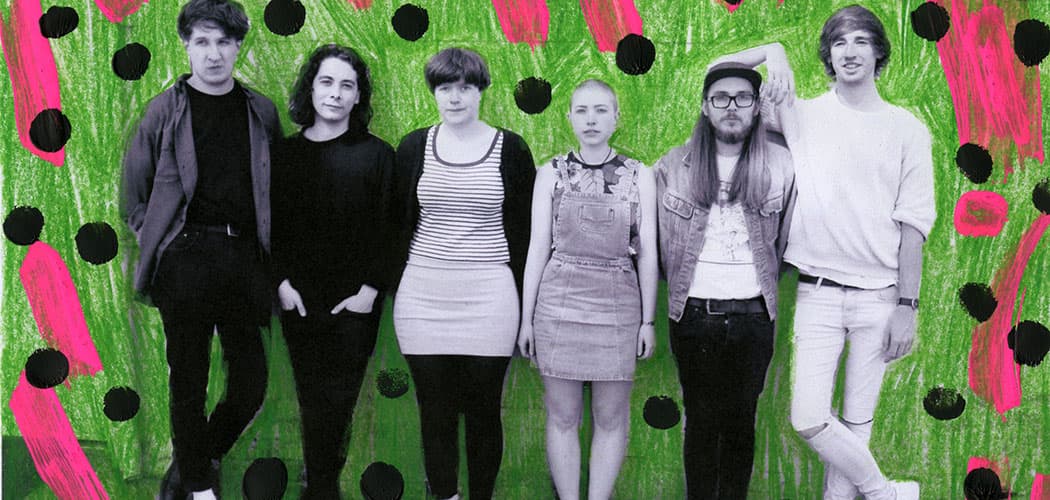 This article is more than 3 years old.
The Welsh noise-pop group Joanna Gruesome doesn't exactly fit the punk rock mold. The band — who perform at the Middle East Upstairs in Cambridge on Oct. 28, and recently released, "Peanut Butter," their sophomore effort, to rave reviews— are known particularly for their intoxicating fusion of gummy pop melodies and thrashy punk freak-outs.
But since they emerged from the small but lively hardcore scene in the Welsh capital of Cardiff, they've also been one of the groups at the forefront of the trend toward bold frontwomen. In June, Joanna Gruesome's scream-singing lead vocalist Alanna McArdle stepped down (she announced on Facebook that she was departing to address "mental health problems") and the screaming and singing (respectively) Kate Stonestreet and Roxy Brennan stepped in.
"More recently," Owen Williams, the band's main songwriter and secondary lead singer, explains via email, "the lyrics have been a bit more explicitly political in the sense that most people take it in. … Like for instance, writing less cryptically about non-binary gender."
The daughters of the Riot Grrrl movement have—thankfully, finally—made powerful frontwomen less and less of a special occasion and more and more normal, from hardcore favorites Perfect Pussy to Stonestreet's own queer rock outfit Pennycress. Building on that tradition, noise bands, with their room for venting and their out-front punk politics, may be becoming a place where a broader, more encompassing conception of gender is coming to the fore. The success of transgender punk rocker Laura Jane Grace, Against Me!'s former lead singer, has shown that punk may be uniquely suited to expressions of radical gender politics.
Though in Joanna Gruesome's case you may have to take Williams' word for it—the evidence of this shift is as hard to discern as the band's notoriously hard to decipher lyrics. The band's guitars tend to be much louder than its voices, whose diction is usually mushy. On the band's new album, "Peanut Butter," it is possible to discern a phrase or fragment here or there. In "Jamie (Luvver)" the salient line is "Oh, dreaming of Jamie." "There Is No Function Stacy" begins with "I wanna get stupid" and ends with "space alien." One gets the sense that emotion is more important than content.
Williams writes that that his newfound lyrical impulse stems from his own discomfort with masculinity. "For the most part, it's me introducing these ideas about myself and gender into a pretty strict framework of lyric writing that's mostly limited to songs about the occult, songs about espionage and pop/artificial love songs," he says. "I also don't really write about it from a place of protest, partly because I feel that, despite viewing myself as lying somewhere towards the middle of the [gender] spectrum (perhaps shifting across it at different times), I've also felt (and often feel) comfortable (or at worst have begrudgingly accepted) being perceived as male and have undeniably benefitted from the perks and privileges of that perception throughout my life."
It is possible to detect androgyny in Joanna Gruesome's music even without understanding Williams's lyrics. The female lead vocal rarely appears without Willams's soft tenor doubling the melody underneath.
"I've always written the songs for two singers to sing and tried to mush both voices in with each other as much as possible," says Williams. "I like this texture because it is similar to the connection attempted by the telepathic."
On "Peanut Butter," it is McArdle's voice that first emerges, breathy and deceptively delicate, at least until she starts yelling. But a closer listen reveals that Williams is a nearly constant presence, his voice blending warmly and unobtrusively with the lead. The effect is one of both genderlessness and egolessness—which is likely exactly how he wanted it.