Where To Find The Creepiest Halloween Decorations Around Boston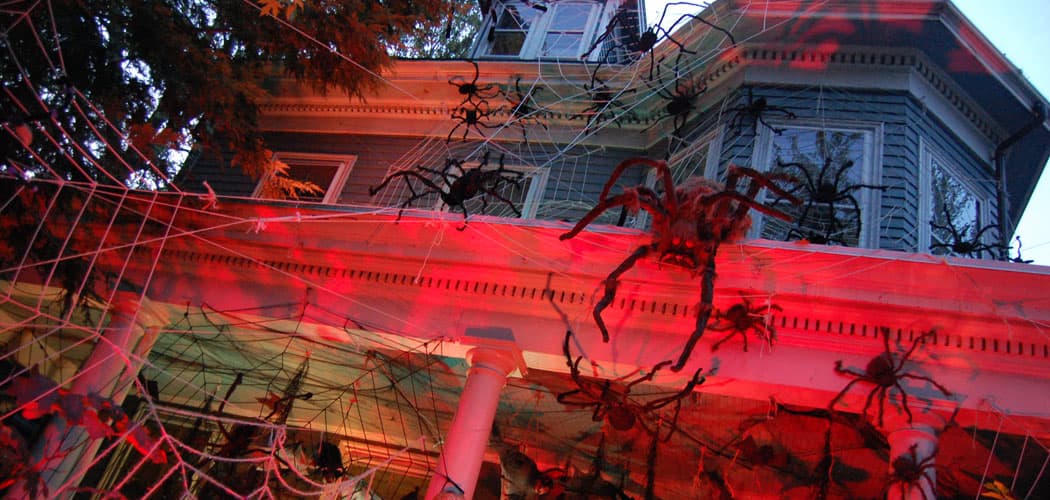 This article is more than 3 years old.
Halloween is, in part, about reckoning with the coming season of darkness, about confronting our fears of what lurks in that dark — spiders and spirits, witches and ghouls. Each year, it seems more and more people get into the season's spirit by going all out decorating their homes. Below is a guide to my favorites (listed by community, in alphabetical order), based on several nights of haunting Greater Boston after the sun went down.
Are there great places that I've missed? Let me know in the comments, by email or on the Facebook.
---
Boston: 206 Savin Hill Ave.
A giant, inflated Grim Reaper stands on the lawn and a purple ghost flutters in the tree.
---
Boston: 62 Tuttle St.
A pumpkin-headed ghoul and spiders haunt this home. Style points for the tasteful use of cornstalks.
---
Boston: Union Park and Waltham Street.
Union Park and neighboring Waltham Street, just off Tremont Street, are the Halloweeniest part of Boston's South End. Numerous properties are decorated with skeletons, witches and pumpkins. The neighborhood grew so covered with fake cobwebs this week that a concerned citizen filed a complaint with the city on Oct. 25. Now that's doing Halloween right.
---
Malden: Bainbridge Street.
Bainbridge Street has become a Halloween destination since Maryann Spinney (26 Bainbridge St.) and her daughter and son-in-law Evelyn and Mark Anzalone (50-52 Bainbridge St.) began going all out decorating their homes more than a decade ago. Other neighbors followed suit, including Michelle Corbett, who often turns her yard at 49 Bainbridge St. into a free, outdoor, walk-through haunted house.
---
Malden: Wyoming Avenue.
A couple homes, about a block apart, are worth checking out here. Witches and a mummy haunt the front door at 37 Wyoming Ave. A graveyard filled with skeletons and ghouls fills the lawn at 104 Wyoming Ave.
---
Medford: Main Street at Bowen Avenue.
Inflated ghosts, the Grim Reaper, spiders and a dragon haunt this corner property.
---
Melrose: 462 Lebanon St.
Ghouls (one with long auburn hair maybe, coincidentally bears a bit of a resemblance to the hairdo of one of the residents here) haunt the porch of this blue and purple house.
---
Melrose: 223 Washington St.
Each autumn, Scott Moss turns his front drive into "Clara's Tunnel of Terror," named for his late mother, who he says inspired his passion for Halloween haunts. He covers the driveway and turns it into a maze running past animated tableaus of zombies, a ghoulish mom pushing a baby carriage (don't look inside), and a murderous butcher and still writhing corpse. He opens it to the public on both Halloween and Halloween eve (when he invites visitors as a charity fund-raiser). Moss dreams some day of opening his own haunted house.
---
Somerville: Springfield Street at Concord Street.
Another magnet for trick-or-treaters is Springfield Street at Concord Street, where numerous neighbors decorate their homes. Jerry Carvalho fills the front yard at 53 Springfield with a zombie nursery. (The babies aren't on view yet, he says, because they tend to wander off if he puts them out too early.) His brother, who resides next door, has covered his property with a giant spider web. Across the street, a neighbor often decorates with a Phantom of the Opera theme, but perhaps not this year as the property is for sale.
---
Somerville: 23 Chester St.
This home and its neighbor to its left are a couple of the best-decorated homes in the region. Giant spiders have overrun the place, stringing webs in the trees, on the porch, and climbing up to the roof. It will make your skin crawl.
---
Somerville: 44 to 46 Medford St.
Skulls, ghosts and glowing spider webs.
---
Somerville: 465 Medford St.
The lawn on this corner property has become a graveyard. "I told you I was sick," reads one headstone. "Boston Red Sox R.I.P.," reads another.
---
Somerville: 48 Walnut St.
This astonishing house at the corner of Walnut and Summit Avenue glows a creepy blue. Skeletons sit on the porch, dragons perch on the roof, and the yard is filled with inflatable ghouls, a graveyard and a zombie.
---
Somerville: 31 Warren St.
There's something terribly unnerving about this graveyard and ghouls.
---
Greg Cook is co-founder of WBUR's ARTery. Follow him on Twitter @AestheticResear or on the Facebook.