The Huntington Gives Birth To Winnie Holzman's 'Choice'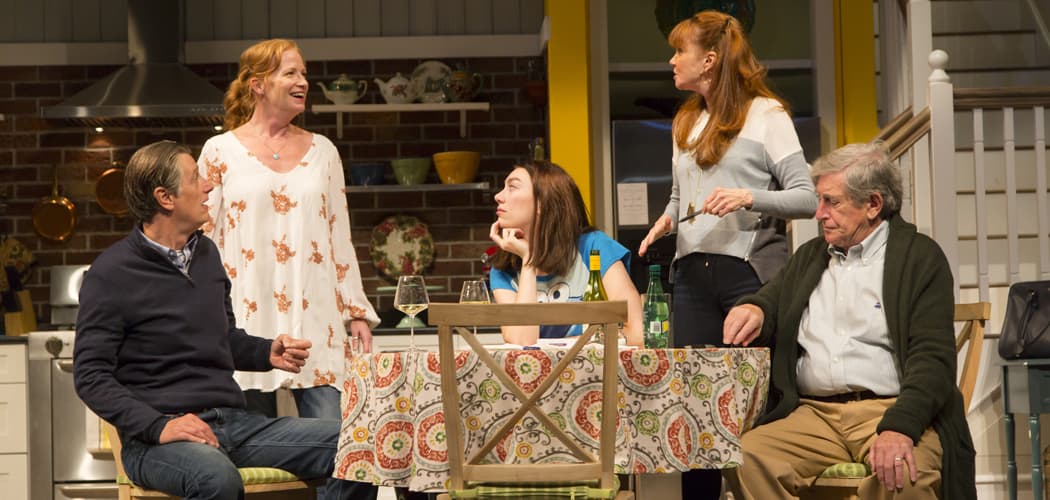 This article is more than 3 years old.
Guilt, a character in "Choice" asserts, "is the new large purse."
To continue with that metaphor, the distracted heroine of Winnie Holzman's play, which is in its world premiere by the Huntington Theatre Company (at the Calderwood Pavilion through Nov. 15), has filled her culpability container to the brim — with old regrets given a new, almost supernatural sheen. For a woman of Holzman's feminist-foremother generation (the playwright is 62), hauling out and acknowledging the weight of old decisions is a brave act. So why does the writer also root around in the handbag for so many cheap accessories, from sitcom jokes about hearing loss to inexplicable funny accents?
Holzman — who is best known as the creator of the acclaimed 1990s television series "My So-Called Life" and librettist of the Broadway phenomenon "Wicked" — has said that she was inspired by John Patrick Shanley's "Doubt" to write a play that would pose questions triggered by its one-word title, less to answer them than to start a conversation. And "Choice," whatever its inconsistencies, may inspire exchanges as heated as the one that erupts between its heroine and her best friend regarding a woman's right to choose and its possible emotional, even spooky ramifications.
Zipporah "Zippy" Zunder is a celebrity journalist writing for Vanity Fair, currently engaged in skewering a well-known Hollywood producer who has become a believer in something called Children Lost and Found (CLAF). Its adherents, possibly inspired by the Tibetan Book of the Dead, posit that the souls of aborted babies will not only be reborn as new humans but may also find their way back to the progenitors who made them "not happen" the last time. Stephanie Beechum, the producer who is the focus of Zippy's article, is convinced that she has found the reincarnation of her long-ago aborted child, is introducing the young woman around as her daughter, and is sending her to college.
Preposterous, no? Except that Zippy, who terminated a pregnancy back in the '80s, before marrying and giving birth to a daughter, is suddenly beset by weird coincidences. Something unsettling is slithering in through the doggie door to make weird scratching noises at night. And a hustling young journalism student just the right age to be an old embryo come calling has wheedled his way into becoming the writer's personal assistant. On a more mundane if equally anxious plane, Zippy's husband, Clark, a Pulitzer-winning author several decades her senior, has entered his twilight years and her daughter, a recent Bennington grad, is living in her old room choosing to sleep all day.
Much to childless best friend Erica's consternation, Zippy's Vanity Fair piece is morphing from hatchet job to more sympathetic consideration. The post-menopausal Zippy's menstrual period has made an unexpected reappearance — just as the assistant turned up. And the old boyfriend — with whom Zippy made the decision to terminate that long-ago pregnancy — has invited her to a lunch at which new, uncanny information will be served.
But "Choice" is neither a trek into the Twilight Zone nor a modern family sitcom (though it has elements of both). At its heart are philosophical considerations of the titular commodity and its aftermath. "Mistakes," James Joyce is quoted as opining, "are the portals of discovery." And daughter Zoe (a delightful post-adolescent who could easily star in a "My So-Called Life" sequel) wafts about her parents' well-appointed home in an afghan inscribed with a quote from Kierkegaard: "The truth about one's own life is not to be attained in conceptual thought. It is a truth that is chosen and lived in fidelity to that choice."
So, is Zippy choosing her truth right now? Did she choose it long ago and must now be faithful to it? Does her newly pricked interest in the traffic between this world and the next reflect her fear of losing her adored, elderly husband? Does her mysterious attraction to Hunter have anything to do with knowing her daughter will be — and should be — moving on?
At the play's eerie end (which for me conjured up Conor McPherson's "Shining City"), just what is Zippy inviting in? Would Planned Parenthood approve? And how much of this play is a magical-realist fantasy triggered by the heroine's concerns about aging and the roads not taken?
"Choice," for all its comic accouterment, seems to me a very personal work. (Like its heroine, the author is decades younger than her husband, and they have an adult daughter.) It is also one that examines, á la Wendy Wasserstein, the ways in which women's choices have changed over the last 50 years, with each generation essentially flying blind. Moreover, with regard to the pioneering boomers of which she is one, Holzman seems to ask: did they perhaps claim too much empowerment as well as blame? "Oh my God, mom," Zoe accosts Zippy, "all of you -- your generation -- you think you made us, like some art project."
But Holzman is a skilled comic writer (the sweet, snarky book of "Wicked" is the best thing about it), and that sometimes gets in the way of the more serious business of "Choice." This is particularly true in the scene in which Zippy and Erica meet old boyfriend Mark (an affable Ken Cheeseman) for lunch. Mark has had a stroke, so the whole conversation is marred by sophomoric or scatological jokes built on his aphasia — from giving him an Arnold Schwarzenegger accent that mysteriously disappears halfway through the exchange to having him substitute phrases for words that elude him, for example calling the lavatory "the little room that smells bad" and referring to his own former self as "a little round place where the poop comes out."
But however disconcerting the play may sometimes be, the Huntington production, directed by Holzman contemporary Sheryl Kaller, is very nicely done. James Noone's bright and expansive kitchen set oozes affluence — and then turns into a veritable origami project, folding and unfolding to accommodate other locales in both memory and the present.
Moreover, the actors, several of them double-cast, are convincing even when the material is not. Johanna Day presents a smart, questing Zippy far less hard-edged than Connie Ray's long and adamant Erica. She's a sort of Alice in Wonderland clinging to the present while at the same time tumbling into the rabbit hole of the past and ruefully wondering whether she should redecorate. Munson Hicks is an avuncular Clark, who manages to rise above the non-sequiturs built on his deafness. Raviv Ullman, as Hunter, is a proficient yet needy dervish who deftly rides the line between acknowledging and deflecting connection. And as Zoe, Madeline Wise is an utterly plausible emerging adult, spewing would-be profundities while swathed in ads for both Kierkegaard and Batman.
Holzman certainly doesn't need a new production. But as her journalist heroine is distressed to hear about her Vanity Fair piece, she may have to let go of a lot of thoughtful work or undertake a less jarring rewrite.
---
Carolyn Clay was for many years the theater editor and chief drama critic for the Boston Phoenix. She is a past winner of the George Jean Nathan Award for Dramatic Criticism.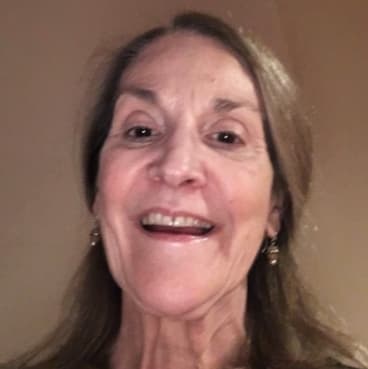 Carolyn Clay Theater Critic
Carolyn Clay, a theater critic for The ARTery, was for many years theater editor and chief drama critic for the Boston Phoenix.