Ensemble Intercontemporain Comes To Boston, Collage New Music Keeps Exploring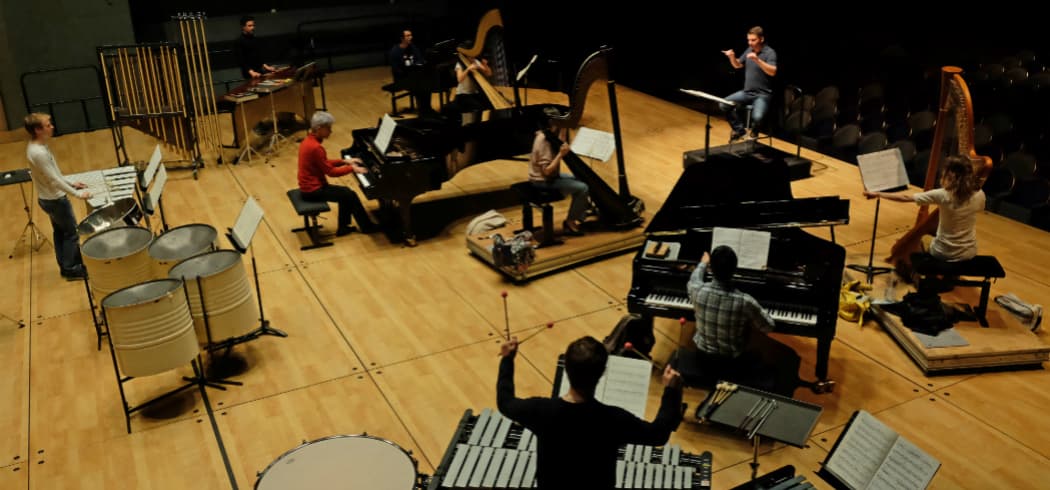 This article is more than 4 years old.
The most glamorous 20th-century music coming up is surely the rare appearance in Boston of the stupendous Ensemble Intercontemporain, the chamber group founded in 1972 by Pierre Boulez, which he's led on many memorable recordings.
The concert, at the Institute of Contemporary Art, in conjunction with the ICA's exhibit Leap Before You Look: Black Mountain College 1933 - 1957, is a program of works by Boulez himself (including the "Second Piano Sonata," "Livre pour quatuor" and "12 Notations") and four works by John Cage, who, while he was teaching at Black Mountain between 1949 and 1954, was corresponding with Boulez, and introducing his students to the works of the young French firebrand. At the concert on Sunday, Nov. 15, performances of the music will be interspersed with readings from their letters.
But I'm just as excited about the whole 2015-'16 season of Collage New Music. The music it was playing when it was founded in 1972 isn't so new anymore, but this estimable group of BSO players and distinguished freelancers under the direction of David Hoose has maintained a sense of exploration as well as history.
The coming season combines the retrospective and the elegiac with the adventurous. The season-opener (this Sunday, Nov. 1, at Pickman Hall) is a tribute to the late Gunther Schuller — one of the monumental Boston figures: Pulitzer Prize and MacArthur "genius" grant-winning composer, conductor, author, historian, administrator, teacher and coiner of the now famous term "third stream" for music combining classical and jazz. (Here's a listen back with Schuller talking about this with Terry Gross on Fresh Air in 1988.)
Schuller died of leukemia last June at the age of 89, but he was composing up to the very end. And this Nov. 1 Collage concert includes a world premiere: Schuller's "Singing Poems," with soprano Mary Mackenzie, written for Collage. The program begins with another piece written for this ensemble, Schuller's 1988 "Bouquet for Collage," described as "an infectiously virtuoso instrumental suite of character pieces." In between come pieces by Mexican composer Ricardo Zohn-Muldoon, a premiere by Boston composer Paul Brust, and Rand Steiger's "Elliott's Instruments," in homage to the late Elliott Carter (about whom more later).
The Collage press release also generously lists a performance of Schuller's "Grand Concerto for Percussion and Keyboards," a piece commissioned for Collage founder, percussionist Frank Epstein, and the New England Conservatory Percussion Ensemble, which will be performed at Jordan Hall, Nov. 19.
And on Nov. 22, at Jordan Hall, Gil Rose leads the Boston Modern Orchestra Project in yet another tribute to Schuller — this one including his "Journey into Jazz" and (with Odyssey Opera) Schuller's neglected folk-opera, "The Fisherman and His Wife."
Collage returns on Jan. 10 for a program called Voices of Now and Tomorrow, which features the magnificent soprano Dominique Labelle in an extraordinary, mind-and heart-opening work, Yehudi Wyner's "The Second Madrigal: Voices of Women" — along with pieces by David Rakowski, Chaya Czernowin and a new work by Collage '15-'16 fellow Talia Amar.
On the afternoon of Feb. 14, at MIT's Killian Hall, Collage pays tribute to another beloved Boston composer in an Edward Cohen Memorial Concert called Eddie's Musical Spheres, which also includes work by Nina Young, Seymour Shifrin and MIT's Peter Child (his "Clare Cycle" — four settings of poems by the often-overlooked Romantic poet John Clare with soprano Nina Guo).
The last Collage concert of the season (back at Pickman, March 13) is the one to which I'm most looking forward — a long-overdue Boston tribute to Elliott Carter, Elliott's Ears and Eras, with an exciting program of Carter masterpieces and less-often-heard solo works.
The concert begins with the piquant "Sonata for Flute, Oboe, Cello, and Harpsichord," one of the first pieces in the true Carter style, where ravishing melodies and harmonies sprout up unexpectedly in a complex world of multiple time sequences. Then beginning with the mesmerizing "Scrivo in Vento" ("written on the wind" — Carter loved puns) for solo flute, we'll get solo pieces for violin, oboe, cello and piano, including the landmark "Piano Sonata," plus "Elegy," a duet for cello and piano. And closing the program will be one of my favorite new-music singers, the powerfully expressive Tony Arnold, singing one of my favorite Carter song cycles (I think his only one not in English), the intricately — sometimes teasingly — compelling and moving "Tempo e tempi," a mediation on, among other things, "Time" (and "Timing" — an issue dear to Carter's heart), with witty and heartbreaking poems by the great 20th-century Italian masters, Montale, Quasimodo and Ungaretti. Be there or be square!
---
Lloyd Schwartz is a music critic for NPR's Fresh Air and Senior Editor of Classical Music for New York Arts. Longtime Classical Music Editor of The Boston Phoenix, he was awarded the Pulitzer Prize for criticism in 1994. He is the Frederick S. Troy Professor of English at the University of Massachusetts Boston. Follow him on Twitter at @LloydSchwartz.