Again, For The 24th Year, They Gather To Remember Those Lost To AIDS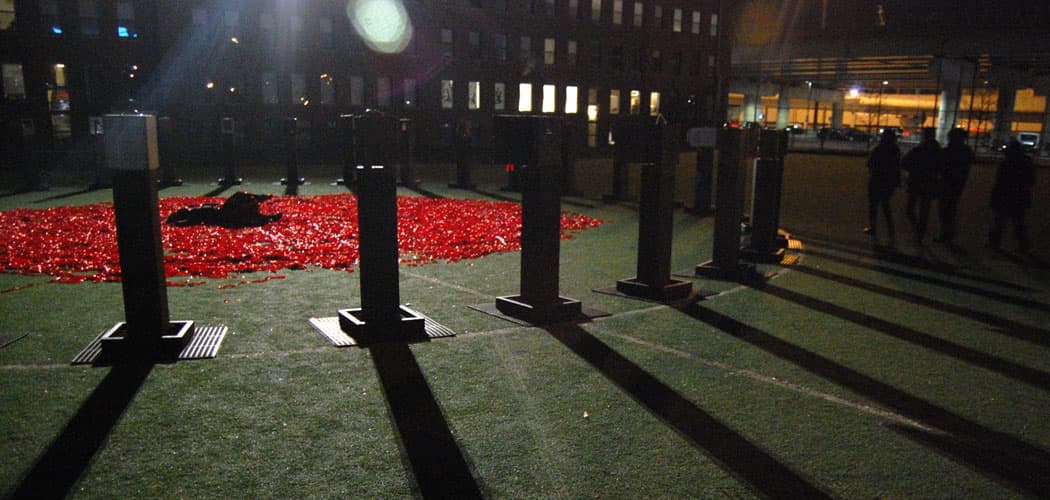 This article is more than 4 years old.
"Back in the '80s and '90s, one in four gay men of my generation died. One year ... I went to 50 funerals," Boston artist Michael Dowling told 10 people gathered just before midnight Monday night as the temperature dropped to freezing.
It was the opening procession of "Medicine Wheel," a 24-hour community vigil at a circular art installation that Dowling has been organizing each Dec. 1 since 1992, to mark World AIDS Day.
For many years, "Medicine Wheel" was held inside the vast cyclorama at the Boston Center for the Arts. Last December, it was held outdoors at Fort Independence in South Boston. Monday night, Dowling began the 24th annual ritual in a Thayer Street parking lot in Boston's South End, where a giant red AIDS ribbon was projected onto the end wall of the gallery and studio building there. Then they quietly, solemnly processed along Albany Street to Rotch Park on Randolph Street, where the temporary shrine is on view though the end of today, Dec. 1.
"It's for all those beautiful ones we lost through the dying years," Dowling told the group, "and all the invisible people who continue to struggle."
"What is HIV in 2015?" Dowling had told me earlier. "It's out there still. If you've got access to treatment, it's a chronic disease. If you don't, it's devastating."
"It ain't over," he said.