New Rep's 'The Snow Queen' Is Full Of Eerie Charm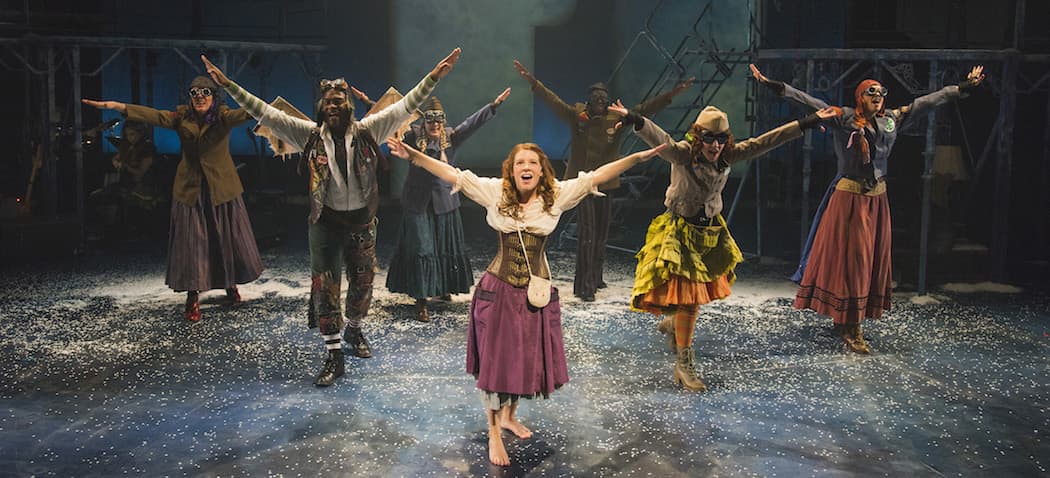 This article is more than 5 years old.
The Brothers Grimm might find "The Snow Queen" insufficiently gruesome — as might Heinrich Hoffman, the 19th century author of the cautionary kids' stories that make up "Shockheaded Peter." But Hans Christian Andersen's epic depiction of a young girl's quest to rescue her best friend from the deadly if alluring spell of the title character is longer on struggle than saccharine. And we see that reflected in the many cold and swirling surfaces of this new musical based on the seven-part 1845 fairy tale.
With a contemporary rock score by Haddon Kime and book by Kirsten Brandt and onetime New Repertory Theatre artistic director Rick Lombardo, the show is currently in its New England premiere by New Rep (through Dec. 20). And despite having the same source material as the Disney cottage industry that is "Frozen," this rock-propelled journey to the North Pole, with a few loopy digressions, is more Andersen than Mouse factory.
So the musical's an eerie charmer with an impressive score that sidles among pop rock, steampunk and Broadway ballad. The question is just whom "The Snow Queen" is meant to charm. Surely the piece, at two and a half hours, is too long and possibly too complicated for young children. And despite an overlay of dangerous sexuality, it may be too simplistic for adults. But at New Rep, under Lombardo's assured direction, with Garrett Herzig's projections raining snowflakes, asteroids and mathematical equations to join the frosty precipitation and petals cascading from the ceiling, it looks at once gorgeous and gritty.
It's possible that the success of "The Snow Queen" has surprised its perpetrators. Working in tandem as artistic director and associate artistic director of San Jose Rep (which closed its doors in 2014), Lombardo and Brandt conceived the piece as a holiday staple for their theater, where it premiered in 2013. What then ensued was like a bad-news/good-news joke: San Jose Rep declared bankruptcy, but "The Snow Queen" was invited for a brief run at the New York Musical Theatre Festival where, despite opening in meteorologically incompatible July, it was well received. This holiday season, there are no less than six regional theaters putting it on. But I'll bet this is the only staging helmed by the piece's co-librettist, co-lyricist, and original director returned to the house — the Arsenal Center for the Arts — he helped, during his tenure at New Rep, to build.
Like the green-hued heroine of "Wicked," Andersen's young Gerda (Victoria Britt) must learn to get tough and soar. (Indeed, girls empowered by "Wicked" may be this show's ideal audience.) But rather than stridently "Defying Gravity" from the giddy heights of an aerial broom, the protagonist of "The Snow Queen" takes a less high-tech approach to becoming airborne. When her beloved playmate, Kai (Nick Sulfaro), is pierced by shards from the mirror of disillusion and carried off by the Snow Queen (Aimee Doherty), Gerda follows on foot, then is born by the turquoise sash of a talking river, and finally takes to the sky on the backs of her friends in the catchy first-act finale, "Flying."
Both Gerda and her quest are as pure as — well, not the driven snow in this case, but you get the drift. However, the heroine hooks up, in the course of her rescue mission, with some pretty oddball characters, most of them imagined by Andersen but made kookier here. These sidekicks include chatty flowers, a sunny witch who just wants to be a mom, a bevy of bandits that includes a punk diva, and a crow who in this iteration is an aging World War I pilot with wings like little canvas sails. Oh, and there is also the troll (Maurice Emmanuel Parent) who cracked the cynicism-inducing mirror — probably with the falsetto he brings to a funky, pelvis-waggling duet with Kai called "The Real Reality."
As costumed by Frances Nelson McSherry with equal nods toward fairy tale and steampunk, many of these characters look fantastical. Whereas Britt's diminutive if big-voiced Gerda and Sulfaro's searching Kai are dressed like 19th century children, Doherty's arresting Snow Queen, borne on her sleigh of movable scaffolding, is gotten up in platinum pageboy, cinched-waist ragtag flounces, fishnets and boots. Exuding her deadly breath and piercing, authoritative soprano, she's like a cross between the Spider Woman and Wedekind's Lulu, itching to "set your mind on fire."
At New Rep, the supporting players are capably played, the lion's share of them by Parent and Maureen Keiller, who take on four and five parts, respectively. Parent rocks the cool-ass troll and makes the touching, eccentric most of the stiff-upper-lipped Old Crow on his final mission. And as the noble reindeer — crowned with silvery antlers and treading stiffly on legs like canes — who bears Gerda on the last lap of her mission, he shares with Britt a ravishing ballad, backed by a ballet of lights, called "Aurora."
Keiller makes her deft way through an impressive roster of characters, from a benign witch who sings in slinky couplets to a sexed-up crow to a piratical robber to a bundled-up old seer, serving all but the last with a side of goofiness. Jackie Theoharis is also a standout as a daffy princess admonishing Gerda in a dance-party number to "Never Give Up," then morphing into a petulant punk of a Robber Girl who pops out of a trunk to claim Gerda as a pet. Robber Girl's relentless "I Want That" is both the hardest rocking and the funniest thing in a show whose musical chops sometimes bog it down when they ought to drive it forward. (The able five-person band is led by musical director/keyboardist Emily Intersimone.)
Overburdened by music and quirkiness, "The Snow Queen" can sometimes seem like too much of a good thing. But it exudes an icy, geometric magic nonetheless. Switching back and forth between Gerda, finding first her strength and then her anger, and Kai, bewitched by the Snow Queen into an obsessive pursuit of reason, the musical makes haunting connections between the two. Moreover, if you grow weary of the perhaps inevitable clichés of once-upon-a-time, you can sit back and surrender to the seemingly infinite barrages that are central not only to the Snow Queen's fixation but also to the show's hypnotic visuals.
---
Carolyn Clay was for many years the theater editor and chief drama critic for the Boston Phoenix. She is a past winner of the George Jean Nathan Award for Dramatic Criticism.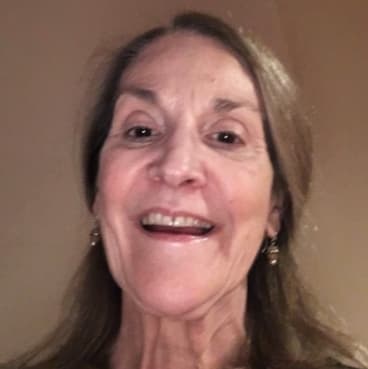 Carolyn Clay Theater Critic
Carolyn Clay, a theater critic for The ARTery, was for many years theater editor and chief drama critic for the Boston Phoenix.