A Haunting Pair — 'Matchless' And 'The Happy Prince' At Central Square Theater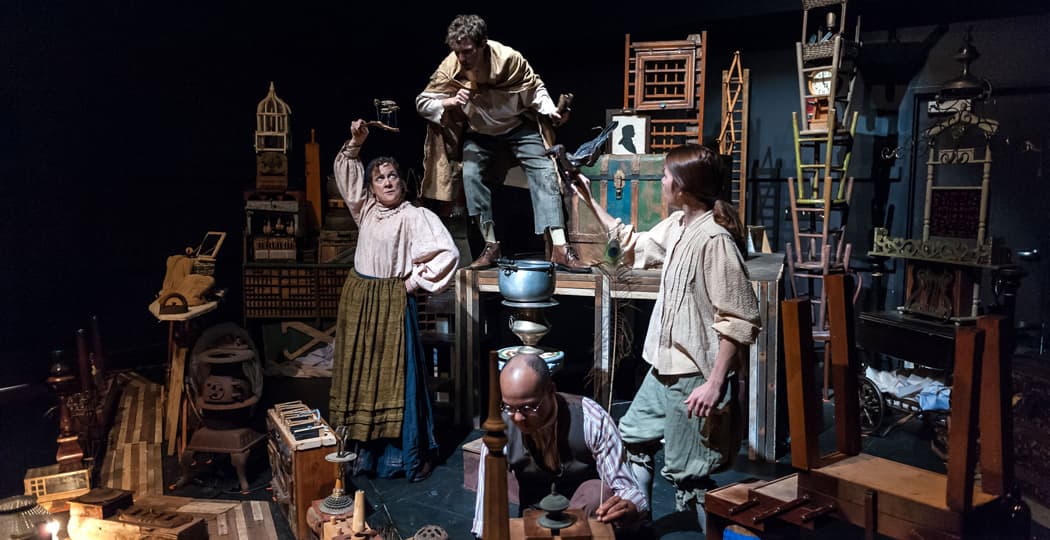 This article is more than 4 years old.
Underground Railway Theater's presentation of two one-act plays features a child's play-land of inventive props and furnishings drawn from junk heaps; the production is as gloriously ramshackle as anything from a Tim Burton movie, and as dustily vintage as a Dickens novel. Who doesn't like a little Dickensian-style storytelling as Christmastime draws near?
In the hands of the spirited cast (Eliza Rose Fichter, David Keohane, Alan White and Debra Wise), household objects (buckets, kitchen implements) and ratty, rusted antiques (lanterns, ancient manual typewriters) become townspeople for the first half, Oscar Wilde's "The Happy Prince," which started not as a stage play at all but rather a story Wilde told his children.
The happy prince of the title (played by Keohane) is a great statue that looks out over a village. Though made of base metals, the prince is covered in gold leaf and sports precious jewels: A ruby at the hilt of his sword, and two brilliant sapphires for eyes. Those sapphire blues behold the misery and suffering of the town's poor, making the prince's heart of lead even heavier.
When the statue befriends a swallow (Fichter), he realizes that he now has a means to relieve some of the destitution he witnesses. Sending the swallow around town to distribute the jewels and the bits of gold leaf that make him a shining monument, the prince gains joy but loses his luster. Never fear, though — a reward is in the offing for all those who sacrifice themselves for the betterment of others.
This simple, sweet, and somewhat shapeless narrative turns out to have a direct bearing on the production's second half, Gregory Maguire's "Matchless." In this one-act, puppets give way to a cast of humans, including Frederick (Keohane), his mother (Wise), a little girl who sells matches (Fichter) and her father (White).
The narrative is tighter here, and the mood is that of a classic fairy tale, featuring a dark undercurrent of loss in that the Match Girl is mourning her dead mother. In an elegant, haunting passage, the Match Girl crouches in the cold and dark of night on Christmas Eve, unable to gain access to the humble home she shares with her father and two younger sisters. To console herself, she lights up her meager supply of matches; one by one, the tiny, brief flames conjure an ever clearer, closer vision of her mother. It's a Christmas miracle, of sorts, though with a tragic outcome. But take heart: Those tiny flares of light return later in the tale to preserve Frederick when he stumbles into danger.
The production's scenic design, by David Fichter, creates an entire cityscape for "The Happy Prince" using odds and ends; a birdcage sketches in the spire of a cathedral, while an upended cart's jutting legs and accordion-folding drawers suggest towers and ramparts. In an ingenious twist, that cobbled-together town is replicated in miniature at a crucial moment that takes place in the second play — it's a delight to behold, and it ties things together in an unexpected, and surprisingly touching, manner. (Fichter also created the puppets, together with Penny Benson.)
"Matchless" uses a less cluttered set, but stands out in a different way with live sound effects performed by different members of the cast (though mostly by White). The effect is nostalgic; you almost feel as though you're watching a radio play, and the crackle and auditory fuzz of early broadcasts would not be out of place here.
Miranda Kau Giurleo's costuming is what gives the production its Dickensian gloss; the clothes are as devoid of color and as tattered as the worn and rusty implements used for the scenic design, but despite the desperate poverty the clothing indicates the characters are cheerful and energetic. As director, Wise tonally unifies the two stories with a glow of hope and possibility, and explains in the program notes that the courageous lives of now-deceased friends and family members lent inspiration to this production.
Perhaps that inspiration is the subtle, final ingredient that gives this production its literally haunting quality. You don't feel sorry for these characters, even as they endure loss and privation, because they don't spend a lot of time feeling sorry for themselves. If anything, they find ways to conjure generosity from want. That makes this pair of one-act plays an uplifting — and finally joyful — experience.
"Matchless" and "The Happy Prince" plays in repertory with "Arabian Nights" at the Central Square Theater through Jan. 3, 2016. These paired one-act plays are not part of any subscription package. For tickets and more information, visit their website.
---
Kilian Melloy has reviewed film and theater for a number of publications, including EDGE Boston and the Cambridge Chronicle. He is a member of the Boston Theater Critics Association and the Boston Online Film Critics Association.