'Little Orphan Tranny' And 'Winemaker' Serve Unorthodox Holiday Cheer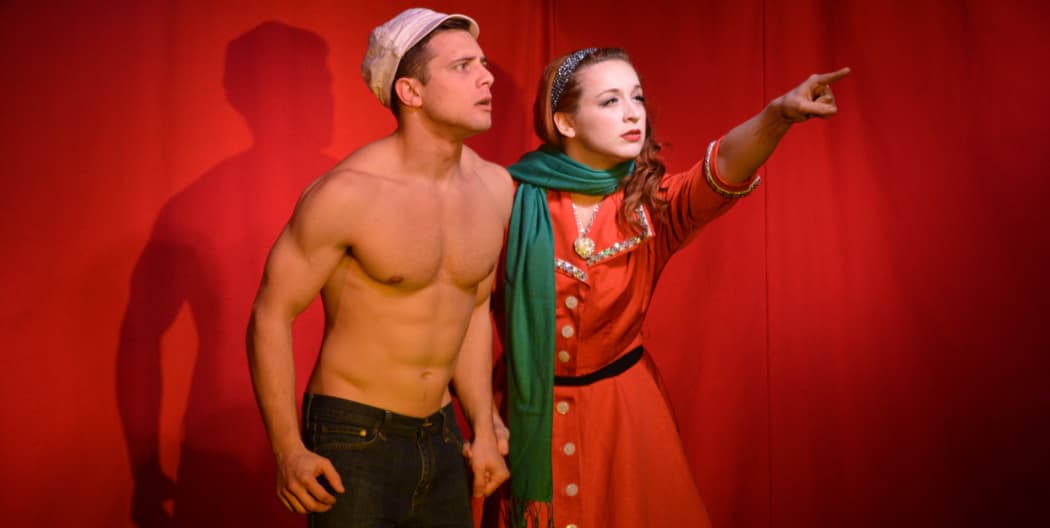 This article is more than 4 years old.
"A Little Orphan Tranny Christmas"
As the curtain rises on Gold Dust Orphans' "A Little Orphan Tranny Christmas" (at Machine through Dec. 20), the disembodied voice of Ryan Landry describes what we are about to see as "juvenile, nonsensical filth." But in fact, the Orphans grow ever more sophisticated without losing their anarchic edge.
They are also beyond inclusive, folding into this holiday spectacular loosely based on the musical "Annie" not only the gay, lesbian, bisexual, transgender and straight communities but also Whitey Bulger, Whitney Houston, Sarah Palin, Donald Trump and the eccentric denizens of "Grey Gardens." FDR was in it already.
Landry reprises his turn as the green-hued, hooked-nosed Mrs. Grinchley, here replacing Miss Hannigan, mean and pickled keeper of the "Annie" orphans, portrayed by hulking Orphans in homely nightgowns. The exception is Tranny, a cherubic young girl born with a penis and, possibly, false eyelashes; she is played by the retro-adorable Jessica Barstis, who has become to the Orphans what Darla was to the Little Rascals, beaming brightly and singing sweetly through the mayhem. And by Tranny's side in place of empty-eyed canine companion Sandy? That would be uncannily calm Orphans mascot Rhoda, wrapped in dignity and a fetching little ginger-colored ruff, as a dog that self-identifies as a cat.
Like last season's "Jesus Christ, It's Christmas!", "Tranny" wraps a loving, liberal message in some very bawdy doings, not to mention a suspense-filled plot in which Tranny, her beefcake boyfriend Jerry, and Little Edie Bouvier Beale must somehow foil Daddy Trumpbucks (Gene Dante in a boa made of money), who, not satisfied with being the biggest d---head in New York, also wants to have the biggest d---. Don't ask how he is going about achieving that, but it involves a hatchet.
Larry Coen directs the ever-surprising shenanigans, with some "42nd Street"-worthy dance routines by Gabriel Nesser for a quartet of Glitterpuss Dancers who appear as winter winds, snowflakes and Grinches to music lifted by Landry from shows including "The Music Man" and "Les Misérables" and gussied up with clever, relevant lyrics. Coen also plays a hilariously homely Big Edie, who takes guff from no one but her beloved kitties and feral raccoons. For Big Edie, there are only two kinds of people: "those who are kind to animals and those who should die a horrible death." Yet there is also a Mr. Rogers aspect to the character, barking out her terse morals about what makes one "special."
This being an Orphans extravaganza there are, of course, Muppets and puppets and "little elves on shelves." There is also inventive use of the scenic miniaturization that is always one of the more delightful cherries on an Orphans sundae — including a perilous escape from a tiny Trump Tower.
Moreover, Landry knows how to build showcases for the various Orphans into his dramaturgy. Here, as FDR, Tim Lawton gets to apply his operatic baritone to "One Day More" from "Les Mis" — an apt substitution for the annoying "Tomorrow," which the wheelchair-ridden president squashes like a bug. Olive Another, festooned in cinched, sparkling miniskirt and requisite headscarf, ladles on Little Edie's famed "staunchness" with his customary antic aplomb. And amid all the parody, Barstis and Richard Wingert, as the weirdness-embracing Jerry, deliver an "I'll Be Home for Christmas" duet that's truly sweet.
Landry likes to describe his troupe as among the most hardworking in the business, and they probably are. But that makes it sound as if the Orphans make more of an effort than an impact, which is to sell this sparkling, raunchy cache of artists short. The Gold Dust Orphans aren't just industrious; they're terrific.
---
"Return of the Winemaker: An Irish Christmas Comedy"
"Return of the Winemaker: An Irish Christmas Comedy" (presented by Tír Na Theatre at Davis Square Theatre through Dec. 20) put me in mind of a previous Gold Dust Orphans show, "Who's Afraid of the Virgin Mary?" That was an Albee-esque scramble around the manger in which Mary and Joseph stood in for the warring George and Martha and Mr. and Mrs. Santa subbed for late-night guests-to-the-slaughter, Nick and Honey. But why stop at lampooning the ill-accommodated holy couple of Bethlehem when you can send up God, his steely Mrs., and a dim-bulb, one-trick, 40-year-old Jesus?
Billed as a "dark musical comedy," "Return of the Winemaker" is the unholy work of Belfast-born playwright Bernard McMullan, whose "Jimmy Titanic" was a hit for Tír Na, which toured it in the U.S. and Ireland. That was a one-man show in which artistic director Colin Hamell played multiple parts including the title character, who both helped build and went down on the famous ship, and God.
"Return of the Winemaker" has fewer characters but more actors. Built on the unlikely premise of a Second Coming in Ballygoura, County Galway, in 1974, the cheerily tune-filled show is silly, sacrilegious and often funny. It is also mischievously played, blasphemy, nonsense and all, by an ace troupe that includes Hamell, Derry Woodhouse, Stephen Russell and the irresistible Nancy E. Carroll, under the light-handed helmsmanship of longtime Súgán Theatre Company artistic director Carmel O'Reilly.
As the play opens, the situation is goofy but dire. Jesus, raised by gruff tavern keeper Paddy Joyce and his diffident wife, Peg, as if he were their own, has been a disappointment to his earthly "da." Or he was until the discovery, when he was 30, that the heretofore useless lad could transform water into wine. Up until that point, his parents were skeptical about minor miracles of the loaves-and-fishes variety. But for a barman, indeed for an entire alcohol-soaked Irish community, a denizen who can turn anything from rain to reservoir into "drink" is, well, manna from heaven. And, unfortunately, that is where Jesus is apparently headed.
It seems that God, an Elvis-like Almighty in a white jumpsuit, though he sings authoritatively enough, has lost touch with the spoken word, not to mention his focus. So his wife, Marilyn, a tough-tender babe in cascading platinum curls and white clerical vestments, has decided it's time for the couple's only son to come home and start tending the family business — a removal that would be disastrous for Jesus's adoptive clan. In fact, the whole town of Ballygoura is up in arms about the potential loss of their let-there-be-wine guy. Prayers, including a Skype call between a bullying Paddy and immovable Marilyn, and schemes, including one "of a sexual nature" dreamed up by a pickled nun, ensue.
At an hour and 50 minutes, McMullan's irreverent Irish comedy is like a "Sunday Morning Live" sketch stretched thin as taffy. But it is rife with black-humored fun and innocent if irreligious joie de vivre. There is even some irony: As the irascible Paddy, Hamell proves a far fiercer father than God. Woodhouse, for his part, is a giddily jumping-up-and-down Jesus, geeky but touching. Russell is a God hovering between Vegas and coma, and Carroll does convincing triple duty as doting Peg, formidable Marilyn, and the nip-guzzling nun. So if you wake up one morning after one too many Scrooges or Messiahs, "Return of the Winemaker" might prove the perfect hair of the dog.
---
Carolyn Clay was for many years the theater editor and chief drama critic for the Boston Phoenix. She is a past winner of the George Jean Nathan Award for Dramatic Criticism.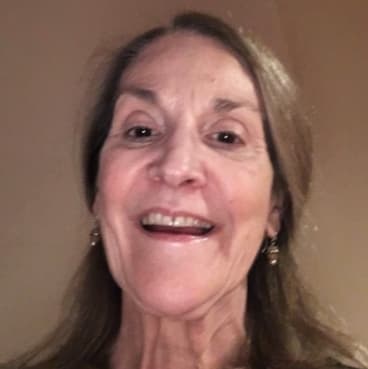 Carolyn Clay Theater Critic
Carolyn Clay, a theater critic for The ARTery, was for many years theater editor and chief drama critic for the Boston Phoenix.