Stop Worrying. Closing Of Beloved Rock Clubs Doesn't Mean The End Of Boston Music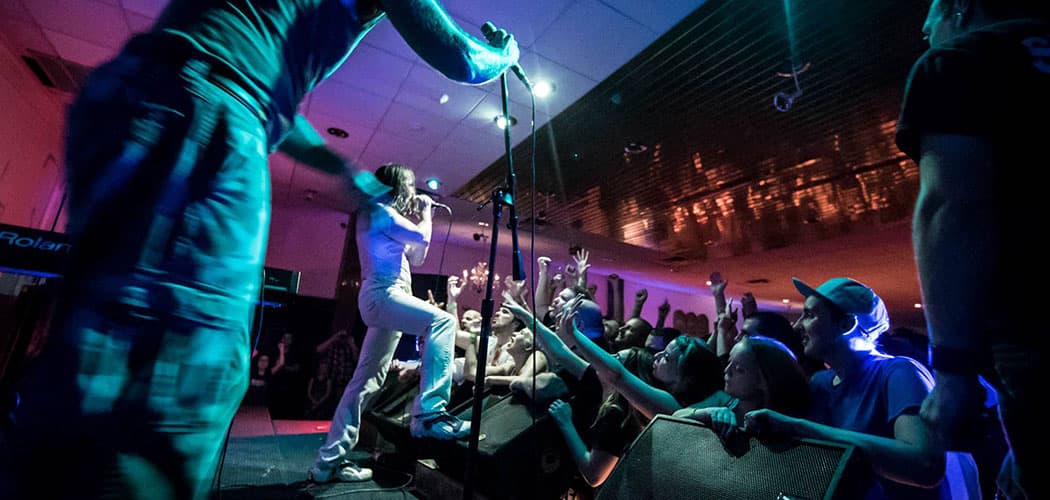 This article is more than 5 years old.
When T.T. the Bear's Place shuttered in July, a chapter closed in the beer-stained history book of Boston rock 'n' roll. But the event seemed to touch off an even greater crisis: Johnny D's announced in July that it would be closing this winter, Church suddenly shut down in September, and The Beachcomber in Quincy hosted its last show in October. Many felt like a tide had shifted, for the worse.
It hurts to lose landmark clubs like T.T's. Four venues closing in one year feels like a massive loss — but is it a trend?
In short: no. The vital question of any cultural community is whether you're losing more venues than you're gaining. And it turns out that Boston's music scene is growing.
"The reality is that businesses do close and that businesses do open. And there are new businesses opening," says JJ Gonson, a longtime member, and photographer, of the Boston music scene, as well as Elliott Smith's former manager. A year ago Gonson debuted two performance spaces, rebranded as Once in recent months, at her restaurant Cuisine en Locale in Somerville.
Indeed, there are other bright lights amid the doom and gloom. The New York-based concert promotion company The Bowery Presents has been doing booming business in Boston since it began booking concerts around town in 2010 and debuted the Sinclair, a 525-capacity venue in Cambridge, in 2012. A new restaurant and rock venue called Thunder Road set up shop in Somerville's Union Square in September. The Record Company, a nonprofit Boston recording studio, hopes to open the first of three all-ages music venues at the end of next year. The Sater brothers, owners of The Middle East Restaurant and Nightclub in Cambridge, plan to open a new venue called Sonia's in the space that T.T.'s vacated, sometime in the winter or spring of 2016.
Then there's the festival and outdoor music scene, which has exploded in recent years. Since its launch in 2013, the Boston Calling Music Festival has expanded into a three-day-long, twice-yearly event drawing tens of thousands to City Hall Plaza on the strength of pop acts like Beck and The Roots. The free Outside the Box festival took over the Boston Common in 2013 and this July to present a myriad of performing arts offerings, including music. The Lawn on D in Boston created a hit this year when it partnered with The Bowery Presents to bring in popular national acts like Passion Pit and Edward Sharpe and the Magnetic Zeros for its live summer music series. Since the 2011 debut in Somerville of the first free Porchfest, similar events have popped up in Jamaica Plain and Roslindale. 2015 marked the electronic music-oriented Together Festival's sixth year, the garage rock-centric Fuzzstival's third, the underground music festival Hassle Fest's seventh, and the activist street band festival Honk's 10th.
Compare that to The Beachcomber, which had a storied history of hosting acts from Louis Armstrong to Dropkick Murphys, but by the end had become a shadow of itself, mainly hosting DJs and cover bands in recent years. Or to Church, which struggled to carve out a distinct identity in the eight years it was around.
'Property Values Are Crazy'
So what to make of all the recent closings? Is it merely a coincidence, an unlucky synchronization of the ever-cycling lives of small businesses?
"Property values are crazy," says Gonson. "The rent to have a business, anywhere in the greater Boston area, is very, very high. ... [Liquor liability] insurance is so expensive. Every body that walks into a room that's insured, you pay money for that person. Every drink, you pay for it. The taxes are taking a large percentage out of your revenue. So anybody that's running a venue is doing it for love."
Rising property values do seem to be the primary cause of the current turnover. Carla DeLellis, the owner of Johnny D's, has said the club continues to operate in the black, but plans to close it in order to expand the building into a four-story housing complex with a business on the ground floor in Somerville's rapidly gentrifying Davis Square. DeLellis says she is not positive she will make more money with the new arrangement, but is sure she will be able to work less than she does running Johnny D's. "It's tougher and tougher to make money in the [live music] business," she says, adding that the chances of another music venue opening up in the new space are slim because the noise from concerts would be disruptive to residents on the upper floors.
Last year, Joseph and Nabil Sater bought the building that houses their Middle East Nightclub as well as T.T. the Bear's Place after the previous owner died. Then they turned around and raised the rent on Bonney Bouley, the owner of T.T.'s, who has said the increase was beyond what she could afford. (The Saters have stated the rent increase was necessary to cover the new mortgage.) The Beachcomber was sold this year to an owner who reportedly plans to demolish the building and build a restaurant.
Though rising real estate values is the primary driver, the result in part represents a change from one generation of club owners and concert promoters to the next.
At the moment, there seems to be growing energy and talent channeled towards live music. "Compared to most cities, Boston's really happening right now," says Jason Trefts, who books shows for the Middle East Upstairs as well as for his own concert promotion company, Illegally Blind.
Independents
In Boston, independent entities — promoters and venues alike — are probably the biggest supporters of local music. Illegally Blind recently hosted the second annual Boston En Masse, a three-night, cross-genre local music happening at the Middle East Upstairs and Great Scott. Earlier his year, Leedz Edutainment resurrected the Boston Hip-Hop Fest, which features exclusively Boston-based artists. And for the past eight years, the blog and concert presenter Boston Hassle has flourished and defined itself by showcasing homegrown underground music at Hassle Fest, the New England Underground Music Fest, and 10 to 15 shows a month.
In fact, many indie promoters are bringing their concerts to even smaller venues — like the 93-capacity Lilypad in Inman Square — than the ones that have recently closed. They also increasingly seek out unconventional places to throw shows. "Out of the Blue [Too Art] Gallery [in Central Square] is my favorite venue in town right now," says Sam Potrykus, a co-founder of Boston Hassle. "Those guys are just the greatest. They understand the needs and the value of the independent music scene, and they're making a home for it. Not only is there a performance space and good sound and a comfortable, sizable room, but there is art all over the walls."
But that doesn't mean the outlook is rosy for everyone. The recent closings may be particularly painful to the city's hip-hop and world music scenes. Church was one of the only venues in the area to regularly book hip-hop. "Hip-hop has always really struggled to find venues," says Ned Wellbery, who owns the independent hip-hop promotions company Leedz Edutainment. "'Oh, hip-hop's gang-related.' Yes, there is gang-related hip-hop but that doesn't mean all hip-hop is gang-related. But people see things on TV and they think that it's all like that. Or they might have one bad experience with hip-hop and they sum up the whole culture that way. Which isn't fair, but it does happen." (For his own part, Wellbery hopes to open a venue, although he has no firm plans at the moment.)
More than its rock-centric brethren, Johnny D's hosts an array of folk and international music, from Afropop to Cajun to blues. "There's an international scene here in Boston that I think is really important, and that's a big priority with me," says Dana Westover, who has booked shows at Johnny D's for over 25 years. And without Johnny D's, "I honestly can't say for sure where people are going to be able to play."
It is also possible that changing consumer attitudes are making it hard for small, independent venues to survive.
"You can see concerts in YouTube all the time if you want to, and that makes a massive difference in how you approach it," says Westover. "A lot of people expect things to be free now, too, because the Internet has created this sort of environment where everything's free."
Not The First Time
But this isn't the first time Boston has lost iconic venues. In the late 1980s, people were worried about the damage to the music scene after the closing of Jack's nightclub in Cambridge (lost to a fire and replaced by condos), Streets in Allston and Inn-Square Men's Bar in Cambridge. The closings were chalked it up to the increase of the legal drinking age to 21, rising real estate values and pressure to "clean up" neighborhoods. Still standing then were The Rathskeller (aka The Rat) in Kenmore Square, T.T.'s in Cambridge and Bunratty's in Allston.
"If the Rat goes, there goes Boston," Willie Alexander said in a 1988 documentary about the closing clubs (watch it above). "Because the Rat, to me and to the world, is the symbol of rock 'n' roll in Boston." The Rat, T.T.'s and Bunratty's have all since closed. But Boston rock didn't die. In fact, DeLellis says that the demise of Harvard Square venues Jack's and Jonathan Swift's in the '80s prompted her to expand the booking at Johnny D's to include more genres and touring acts, laying the groundwork for the venue to become the icon that it is today.
Even with the benefit of hindsight, Alexander, the former Boom Boom Band frontman whose best known song might be "At The Rat," still has mixed feelings about the long-ago closure of the Rat and the recent shuttering of T.T.'s. "The world is changing, and I don't know if I'm part of it anymore," he says. "It's just weird. But the thing is that new ones come up. It's like, you go down to Salem, and there was a club — Bangkok Paradise, I used to play there with Preacher Jack — and that closed. Now it's reopened and it's called Koto [Grill & Sushi Lounge], and bands like the Knock Ups are playing there. So things keep getting reborn for the new audiences."
In other words, the current so-called crisis is just another iteration of an age-old saga. But while it may be comforting to realize that the death of a few venues doesn't mean the death of music, the struggle to survive is one that promoters and club owners still feel very keenly, even as they inject the community with fresh ambition. "I've lost money on Illegally Blind, without question, over the years," says Trefts. "I haven't made money from it. It's been a losing proposition for me. And I think I'm good at it."
The daunting financial pressures working against venues, promoters and artists have prompted some to consider a different approach. Boston Hassle recently incorporated as a nonprofit, and Potrykus says they hope to open a venue next year, one that would function as a community center, with workshops and outreach programs in addition to concerts. Tom Tipton, who owns Out of the Blue Too — which moved from Prospect Street to a larger space on Massachusetts Avenue in Central Square after his rent more than doubled last year — says that he hopes to make the gallery a nonprofit soon. "It will allow us to solicit funding and grants and stuff like that."
Gonson thinks Boston is on the upswing in an ever-churning cycle. She posits that when economy shrinks, only the most talented artists survive. "When you have this paucity in the industry, the quality rises. The audiences grows, the money starts coming back into the music industry, you start to get too many bands again, and you go full circle. It's about a 15-year loop."
Correction: A previous version of this post incorrectly spelled the name of The Jazz Massagers and incorrectly identified photos of Andrew W.K. and The Grannies.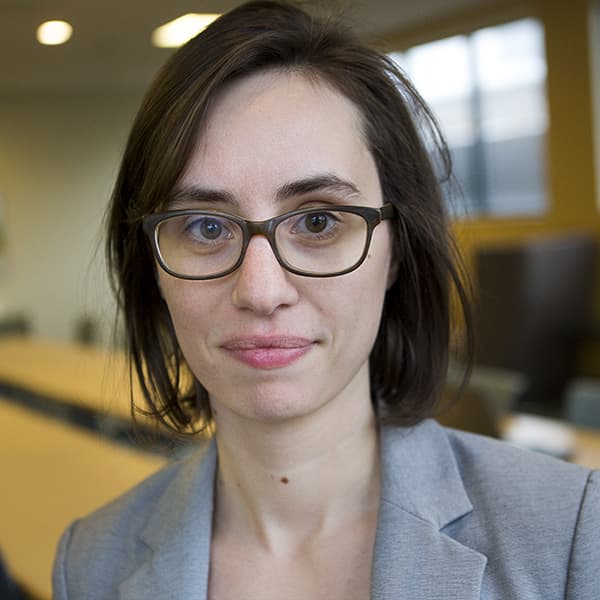 Amelia Mason Arts And Culture Reporter
Amelia Mason is an arts and culture reporter and critic for The ARTery, WBUR's arts and culture team. She covers everything from fine art to television to the inner workings of the Boston music scene.