Meet Anita Gillette, The Broadway Legend Now Starring In 'Confederacy Of Dunces'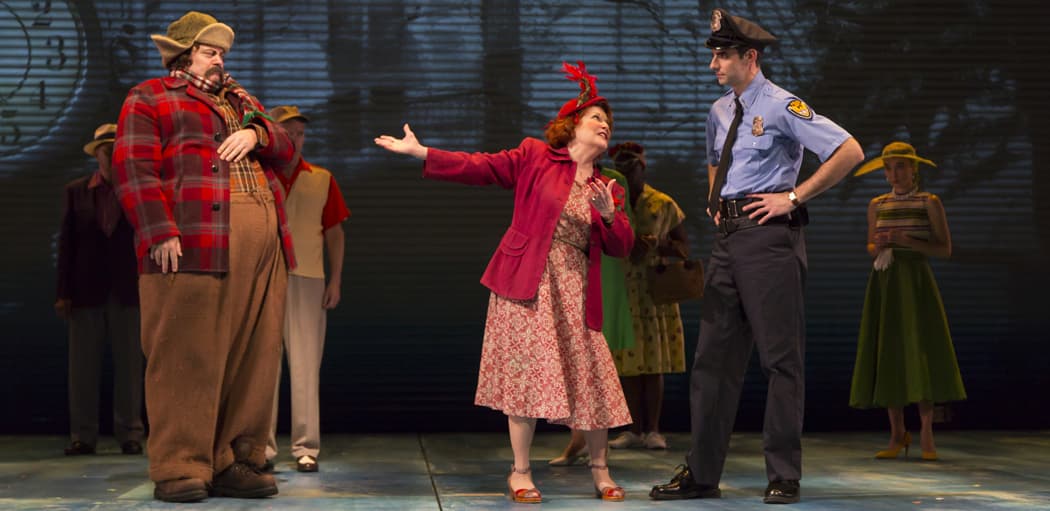 This article is more than 5 years old.
Her acting career exceeds 50 years on the small screen, large screen and stage.
She created the ingénue role in Mel Brooks' first Broadway musical, "All American," in 1962. She anchored the bottom-left-hand seat in the star-studded celebrity panel for several episodes of Gene Rayburn's "Match Game." And in the 1987 rom-com "Moonstruck," she played Mona, mistress to Cher's pop.
But Anita Gillette appreciates that she can still visit restaurants and go unrecognized. That is, unless she's dining in the vicinity of the BU Theatre. Gillette has brought her full repertoire of experiences and training to appear opposite Nick Offerman in "A Confederacy of Dunces," which runs through Dec. 20.
For the past three weeks, Gillette has been in Boston, getting a lot of attention for being a terrible parent. She appears as Irene Reilly, mother of the maladapted Don Quixote of 1960s New Orleans, Ignatius. Seventy-nine-year-old Gillette is frank but warm. Before a recent evening performance, she shared some of her dramatic insights, as well as irritations that an actress of a certain age experiences.
"You can't hide your age," she said over the phone from her Boston apartment. "Google knows everything. I really resent it terribly. And the algorithms don't go to 'Moonstruck,' or 'Quincy,' or 'Chapter Two,' or any of my Broadway stuff. They go straight to 'Another World,' which I did to make some money when I was getting divorced."
But for Gillette, one advantage of her age is that a good, long reputation precedes her in the theatrical community. She received the invitation to play opposite Offerman in "Confederacy" from director David Esbjornson.
The two had collaborated on another occasion: "We did a little movie together years ago, I think in '98, that never got released. It was called 'The Early Bird Special'," Gillette said. In that film, her character killed Offerman's. But she steers clear of physically harming him this go-around.
"It's a sick, co-dependent situation," Gillette said of the Reillys' relationship. It couldn't be more different from her real-life relationship with Offerman. "I love and respect Nick so much, not only as an actor, but as a person. I think it's a good production. I think we have an incredible cast. I'm amazed at how these kids do it. They change clothes, they change characters on a dime." She's proud that she keeps pace with her much younger cast-mates. She has succeeded, she believes, because no one in the company babied her.
The BU Theatre's layout does require her to hustle, though. "If you go from one side of the stage to the other, you have to go down the steps and under the stage and up the steps and you are constantly on the move." Gillette is on stage for a majority of the scenes in "Confederacy," shrieking at Offerman, dancing the twist, and even wooing cautious suitor Claude Robichaux (played by Ed Peed).
"They worked me as if I were 19 instead of 79. I have to keep up with the group," she said, and added, "As a matter of fact, I think sometimes I surpass them." During the final show of the cast's first five-performance weekend, co-star Steve Rosen was changing costume in the hallway beyond stage left as Gillette waited to go on stage. In a gesture meant to express his mental state, he fell flat on the floor. "Why the hell aren't you down here?" he asked Gillette.
The show also makes great demands on her voice. A singer trained by the Peabody Conservatory, Gillette's musical prowess is not on obvious display here, but it has helped her out. "I scream so much in this show. If I weren't a singer, I don't think I could have screamed this long and lasted. You really have to speak into the mast, not lay on your cords."
Gillette shifts her voice throughout her performance as Irene, who is by turns manipulative and vulnerable. This not only adds layers to a very complicated character, but also has the added benefit of protecting her voice from strain.
She is constantly applying the lessons from her long career to the ever-present demands of performing. While age may seem a terrible handicap in a pop culture that favors the young, experience still matters.
She enjoyed a stint on "30 Rock" playing Liz Lemon's mother, Margaret, who advises Liz to lower her standards for men after admitting that she herself was once smitten with astronaut Buzz Aldrin. To appear in-the-know, Gillette auditioned for the role wearing a pair of glasses identical to Tina Fey's. "I felt that gave me a boost," she said, "But if I couldn't deliver, then I would have been fired. The glasses wouldn't have mattered." More recently, she has earned appearances in other popular TV shows, like "Blue Bloods" and "Public Morals."
After "Confederacy" ends its run, Gillette will travel home to New York and prepare for an appearance there at 54 Below. Her busy schedule of cabaret shows and TV spots will resume. She may not be able to beat Google, but her ability to interpret and adapt to the moods of pop culture keep her in the public eye.
"A Confederacy of Dunces" plays at Huntington Theatre Company through Dec. 20.
---
Holly Van Leuven is a writer, publisher and musical theater historian in Boston. Her first biography, "More Than a Scarecrow: The Life of Ray Bolger," is forthcoming. 
Correction: An earlier version of this post incorrectly noted the length of Gillette's career and David Esbjornson's participation in "The Early Bird Special." We regret the errors.