How A Community Recording Studio Hopes To Put The Boston Music Scene On The Map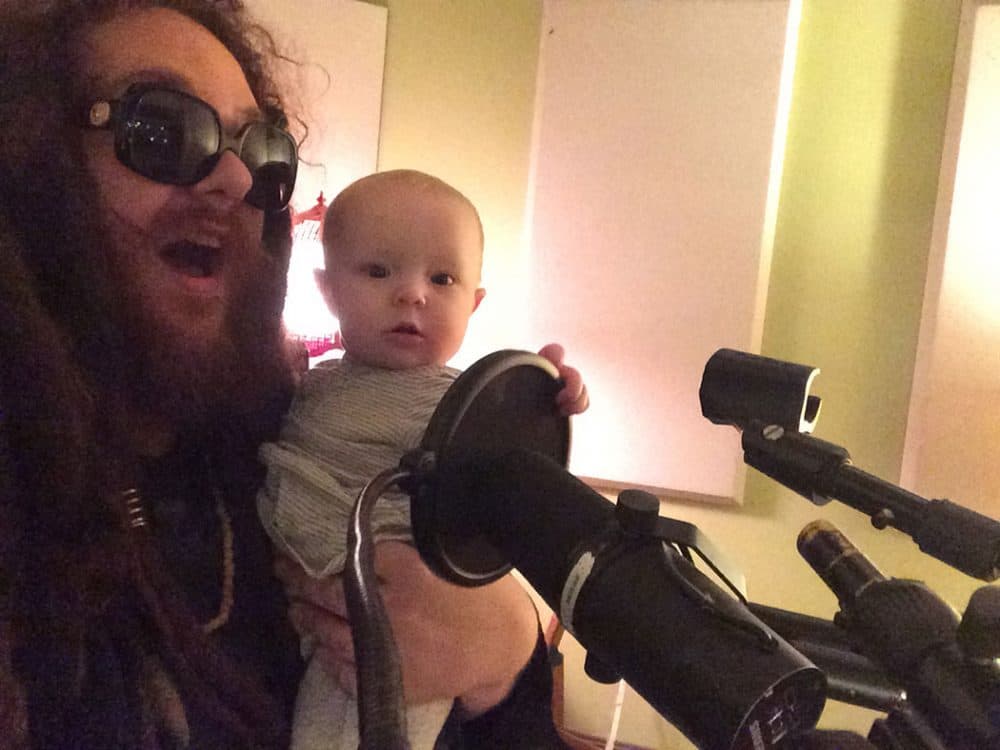 This article is more than 5 years old.
To get to The Record Company, you must first make your way through a windy concrete tundra dotted with gas stations and semi-trailer trucks and rusty chain link fences near Newmarket Square in Boston. There, in an unremarkable building that still bears the name of the rubber stamp factory that once inhabited it, you'll find the studio itself: Neat and spacious, its recording booths bathed in mellow lighting and outfitted in hip thrift shop decor. It's an oasis of scrappy-chic optimism in a drab urban desert.
A Berklee College of Music graduate named Matt McArthur founded The Record Company in 2010 with the aim of creating an affordable community recording studio in Boston. The nonprofit organization raises about 40 percent of its $300,000 annual budget through donations, which it uses to subsidize approximately 700 recording sessions a year. (Local artists who have used the studio include Dent, Milk, Bent Knee, Animal Flag and Walter Sickert & the Army of Broken Toys.) The rate, $25 an hour, is significantly cheaper than the cost of an average recording session, which can run anywhere from $60 to over $100 per hour.
There's a catch: The Record Company does not provide in-house engineers, which means that artists must vet and hire their own. The added expense has the potential to push the cost up to market value, in the event that a client opts for a pricier engineer. But McArthur and studio manager Jesse Vengrove argue that there are many other benefits to operating a studio this way, and that ultimately the subsidized recording space pays off for musicians and engineers alike.
"[Our rate] leaves a margin on top of that for freelance engineers to charge a rate that's fair for them," says Vengrove.
"It's important for the city — for our community — economically, to have those freelance gigs that didn't exist before we did," adds McArthur. "It's essentially 700 freelance [engineering] gigs a year that wouldn't exist unless we had that policy."
"The goal," he says, "is to provide a nationally recognized music scene in Boston." Creating an incentive for engineers to stay in town is a step toward achieving that goal.
McArthur also believes that the process of vetting and hiring an engineer is crucial for bands just starting out. That way, they have the opportunity to find someone whose style and expertise matches their own, as well as gain insight into the technical side of the recording process. Many of The Record Company's clients arrive with a production team already in place, but others need more guidance.
"This is an accessible, nurturing space," says McArthur. "Anyone can call us on the phone and Jesse will help them understand where they're at and what they might want to consider from a recording perspective. And that's an ideology that's carried through everything ... So if you're an artist, and you're making your first album, you can do it here without fear or hesitation."
Matt Peiffer, a freelance engineer who estimates that he works at the Record Company on a near-weekly basis, says that his services often consist of more than just pushing buttons in the control room. A lot of his clients, he says, "are still getting their feet wet with the process ... We're like: 'All right, if you want to do this, we're going to put you through the whole process. We're going to do pre-production, we're going to try out some demos, we're going to rehearse you with a band for a month to two months.' So my involvement can get that extensive."
Peiffer charges $20 an hour, an amount that, coupled with the cost of the facility, puts his sessions well below market rate. He started out as an intern with The Record Company, which takes between 12 and 16 interns a semester. Peiffer says that his freelance work with The Record Company contributed directly to his decision to stay in Boston after college instead of moving to New York or Los Angeles.
For artists, the studio holds various attractions. Harley Cullen, a guitarist in the Boston-based metal band Dent, says the choose-your-own-engineer model was not a particular draw for them, but estimates that they probably saved a few hundred dollars by using The Record Company instead of another studio. Plus, he says, the studio "sounds good. They have a pretty cool live room ... I've done stuff at Perfection [Recording] Studio [in Charlestown] as well, and I didn't really like the space as much. It's too sterile."
In addition to its daily studio program, The Record Company has partnered with The Center for Teen Empowerment, a Boston-based youth organizing program, to create a youth-run record label called B4 Records. Under Vengrove's guidance, B4 Records publishes a student-written and -recorded album every year. The Record Company also has a plan in the works to produce a compilation album of Boston artists, which is slated for tentative release at the end of next summer.
But The Record Company is gearing up to launch its most ambitious plan yet: to open three all-ages venues in Boston over the course of the next five years. McArthur says they are scouting locations for the first one right now.
"South Boston and Jamaica Plain and the southernmost tip of Dorchester make a triangle that is essentially a music desert," he says. "There's nothing. Until you get into JP, there's a couple spots. But that is pretty much a dead zone, despite a large population of young people, and just generally culturally underserved people that don't have a lot of cultural arts activities to participate in in their neighborhoods. Dorchester, Roxbury ... and JP all have very healthy and really talented hip-hop communities. No venues for these artists to play."
Opening a venue may look like a shift in direction, but McArthur sees it as a step toward the studio's goal of putting the Boston music scene on the map. "Our affordability is a mechanism for getting ... the artists and the engineers, getting those people paid. When we make the room cheap, it leaves more money in the budget for those other people."
"That's what a scene is," he continues. "It's a place where musicians can exist economically, and where the general public knows about them and buys into their artistry."
Correction: A previous version of this post misidentified the location of The Record Company. The post has been updated. We regret the error.