Seamus Heaney's 'Beowulf' Goes Dragon-Slaying In Cambridge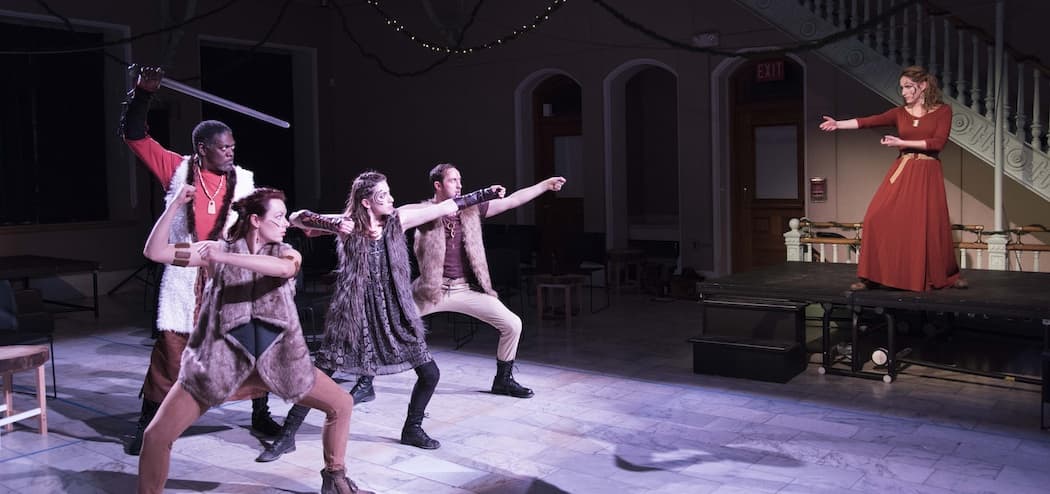 This article is more than 4 years old.
You have to hand it to the resurrected Poets' Theatre. Who else would take Seamus Heaney's translation of "Beowulf" and treat it with such integrity and intelligence? Even 02138 theatergoers aren't necessarily demanding more drama written sometime between the 7th and 11th centuries.
But Benjamin Evett, producing artistic director, has staged the mythic tale of the Scandinavian warrior's battle with the dragon, Grendel, and the mother dragon, with nary a nod to "Game of Thrones" splashiness. The words are the thing with the Poets' Theatre and Heaney's words (through this Sunday, Dec. 20) tell us what we need to know about the hero's journey as well as what it's like to live in dangerous times.
Johnny Lee Davenport in the title role heads a cast that's thoroughly comfortable with the poetic diction — no easy matter — and the Multicultural Arts Center on Second Street is a convivial host (with platters of prosciutto, cheese and sweets sprinkled around the room). The action is staged between tables on a basketball-court-like grid.
It's a smart production and an interesting way of experiencing Heaney's attempt to make the Old English text more accessible, but it's not a particularly emotionally involving night of theater. The pre-show gaiety seems forced, particularly with Revels-like dancing to a pair of troubadours.
The acting, the music, the physicality of the performance and certainly Patria Feragamo's finely designed costumes all advance the proceedings, but there's nothing that really grabs you by the lapel and thrusts you into the story.
Heaney's great accomplishment was to take you back into ancient days, even with the odd anachronism here or there. It's poetry that breathes across time. That isn't really the case here; the minimal stagecraft works against any such transport, as does the multiplicity of voices. Nor does it really put one in mind of contemporary applications of the myth — and let's face it, there are plenty of monsters around these days and a need for heroes. Or is the need for messianic heroes part of the problem? The point is, there's no shortage of ways to look at the epic poem.
Don't get me wrong — it's a pleasure to see a good performance of "Beowulf," though you'll have to do without the mead promised on the website as it turns out they can only serve non-alcoholic beverages. Oh well — the better to concentrate on Heaney's lovely words?
Perhaps, but in all respects, you might wish for something a little stronger.
---
Ed Siegel is editor and critic at large of The ARTery.