Where Pop Meets Classical — Gabriel Kahane And A Far Cry Find Schubert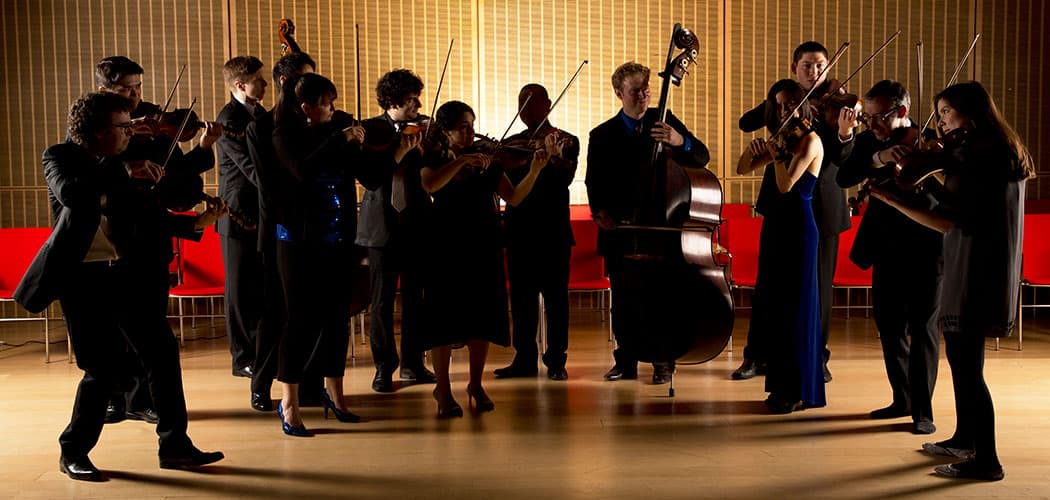 This article is more than 4 years old.
Miki-Sophia Cloud, a violinist in the self-conducted Boston orchestra A Far Cry, had been musing on an idea for a while: Wouldn't it be neat, she thought, to build a concert around a pair of likeminded composers, one canonical, one contemporary? At last, when she met with the Brooklyn singer-songwriter and composer Gabriel Kahane about a possible collaboration with A Far Cry, it clicked. The answer was Schubert.
"If they were in the same time and place, I think that Gabe and Schubert would have been friends — sharing songs and throwing Schubertiades," says Cloud, referring to the informal concerts held by the composer and his friends in early 19th century Vienna.
On Friday, Dec. 18, A Far Cry and Kahane will perform a selection of Schubert's and Kahane's compositions, plus a new work by Kahane, at Jordan Hall in Boston.
For his own part, Kahane had been itching to collaborate with A Far Cry for a while. With a background in classical composition and jazz — he attended the New England Conservatory for a year before transferring to Brown -- Kahane couches yearning melodies in irrepressible, exquisitely crafted arrangements. He thought A Far Cry, who perform without the aid of a conductor, would be a natural fit for his songs, which make frequent use of bass and drums.
"Un-conducted ensembles ... just have a deeper responsibility towards rhythm," says Kahane. "A lot of orchestral playing, rhythm is dealt with visually, because the conductor is showing them the beat. [But] rhythm should be felt, not looked at."
As for the pairing of Kahane and Schubert, says Cloud, "They both bring a very intimate, confessional tone to their writing, and use harmony in surprising and expressive ways. Both are very thoughtful about structure and form. In that way they're very architectural. But at the same time they're deeply emotional, evocative and subtle. So there is this really well-thought-out and exquisite framework to the music, but at the same time an expressive, subtle, deeply-felt layer."
Kahane and A Far Cry are an instinctive pairing. Both straddle the line between classical and popular music, but from different directions: Kahane shares a kinship with chamber-pop contemporaries Bon Iver and Sufjan Stevens, while A Far Cry can be placed within a burgeoning trend of forward-thinking, self-directed classical ensembles like The Knights and yMusic.
"[A Far Cry are] part of a generation of musicians who ... have both really rigorous training and the great repertoire of dead white guys, but are also really, really into good songwriting and into pop music and don't really discriminate or put up barriers," says Kahane. "I think they subscribe to the Duke Ellington adage: 'There are two kinds of music: good music and the other kind.'"
The second half of Friday's program will be devoted to an arrangement of Schubert's String Quartet No. 15 in G Major for orchestra, while the first half will focus on shorter pieces, including new arrangements of songs by both Schubert and Kahane.
"When Gabe sings Schubert, it brings out a certain purity in the sound," says Cloud. "The voice he brings to these Schubert songs is closer to what we as contemporary Americans have in our ear, the singer-songwriter voice ... Pairing a canonical art song with his approach brings Schubert one step closer to the audience. He really presents Schubert in a very stripped down, clear, beautiful way."
Kahane says that the new work he composed, titled "Freight and Salvage," posed a challenge particular to someone working in both the pop and classical idioms: "I'm sort of trying to reconcile the very direct songwriter in me with the guy who's interested in architecture and formal rigor and harmonic and rhythmic expansiveness or complexity."
Yet Kahane tries to employ the same principles no matter the genre. He may write with disarming melodic simplicity, but he relishes the breathtaking, and ofttimes challenging, sonic excursions made possible by a complex compositional sensibility.
"I'm always trying to make the parts that are pleasurable more pleasurable because they're earned," says Kahane. "And not so much because it's like force-feeding brussels sprouts that have been boiled too long, but really earning the moments of sweetness, of harmonic clarity, and trying to find a language where there is satisfaction both in the things that are a little more difficult and dense as well as the things that are more open and pretty on the surface."
Initially, Kahane had planned to write "Freight and Salvage" based on melodic fragments of Schubert's quartet. But he ended up using one of his own songs as inspiration instead. "Schubert was notorious for pilfering from his songs in his instrumental music," says Kahane. "So in a way, it's actually more Schubertian."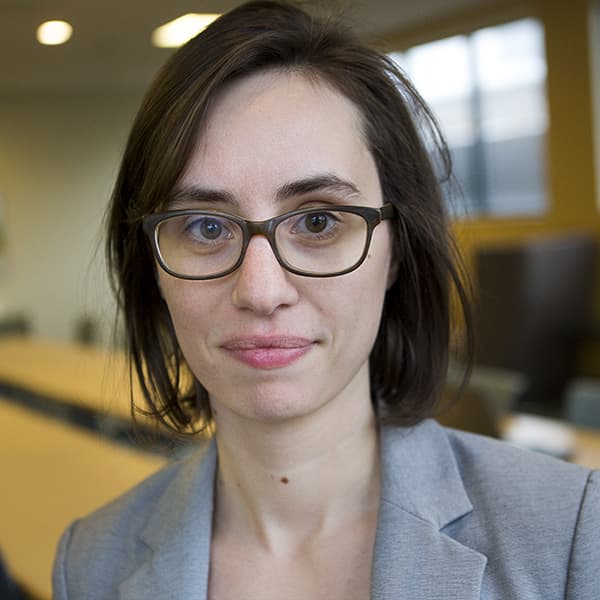 Amelia Mason Arts And Culture Reporter
Amelia Mason is an arts and culture reporter and critic for The ARTery, WBUR's arts and culture team. She covers everything from fine art to television to the inner workings of the Boston music scene.