Photos: This Is What It Looks Like When Salem Sets 1,000 Christmas Trees Ablaze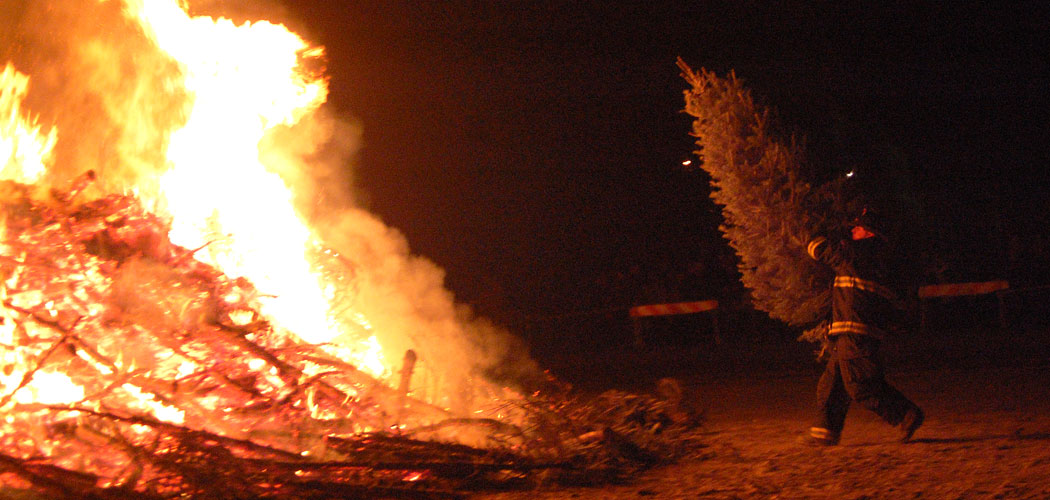 This article is more than 5 years old.
Yesterday morning, the Christmas tree still decorated the living room of the Flanagan family in Salem. Last night, a fireman dragged it across the sand and then hurled it triumphantly onto the city's 13th annual Christmas tree bonfire at Dead Horse Beach, on Memorial Drive near Salem Willows.
"She was a good tree," Thom Flanagan said. "Farewell to a good tree. Beautiful."
"Why did we have to get rid of it?" asked his 6-year-old son, Lamari.
"You can't keep them forever," Flanagan replied warmly.
If you missed the Salem blaze, the town of Newbury holds its own fifth annual Old Newbury Christmas tree bonfire from 3 to 9 p.m. (fire starts at 5 p.m.) Jan. 9 at Tendercrop Farms, 71 High Rd. (Parking costs $5.)
In Salem, the city had been picking up discarded Christmas trees across the community since Monday. "There are probably about a thousand trees there," Ellen Talkowsky, special projects manager for the city, said of the pile that had grown twice as tall as a person. "It's kind of hard to put a number on it. But we've picked up trees for a few days. We probably get a few hundred in each load. And people keep dropping them off and dropping them off."
In fact, people were invited to drop them off at the beach right up to and during the fire. Which is what the Flanagans did. The trees went up quickly, set alight by a firefighter with a torch -- plus some help from a dousing of diesel fuel, organizers said. Hundreds gathered behind barricades, dozens of feet back, could feel the heat from the blaze on their faces as the nighttime temperatures dropped into the 30s. Firefighters stood ready with hoses, and sparks drifted high into the starry sky.