Dry Humor Meets Drying Out In Merrimack's Premiere Of 'The White Chip'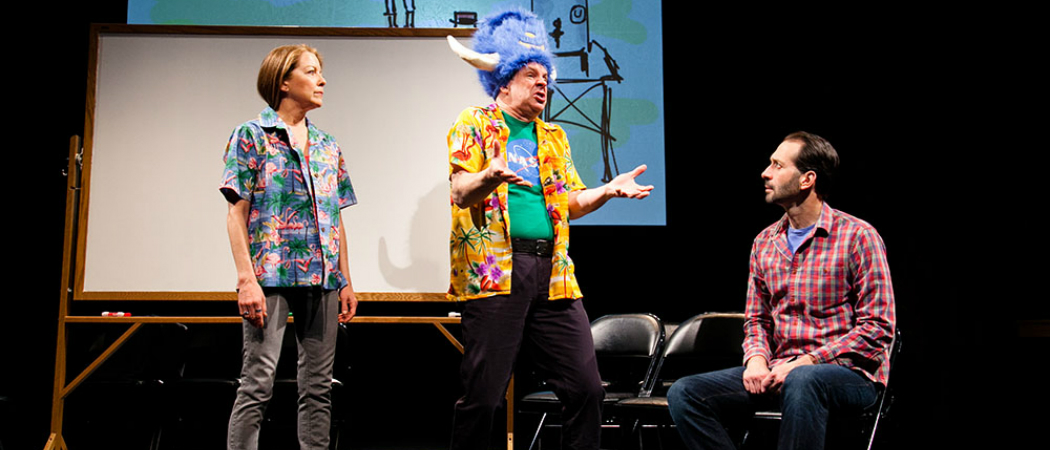 This article is more than 5 years old.
Sean Daniels has guts, introducing himself to his new community as an erstwhile screw-up who got himself thrown out of at least one artistic home. The incoming artistic director of Merrimack Repertory Theatre, having begun by helming strong productions of other playwrights' work, continues his inaugural season with his own sobering comedy about his own alcohol addiction and recovery. And there is nothing veiled or metaphoric about it.
"The White Chip," in a saucy production directed by Sheryl Kaller (through Jan. 31), focuses on a stage director named Sean, whose star rose in the theater world as he himself descended into the bottle, only to hit several bottoms before climbing up a lifeline dangled not by a Higher Power but by Science. It's a fascinating tale of an oft-frustrated journey that, because Daniels is a clever and self-deprecating guy, transcends the me-ism on which it's built.
Of course every recovering addict has a tale to tell — someone's is on the bill at every Alcoholics Anonymous meeting (which is where they pass out the titular chips to newcomers wanting to stop drinking). But not all will resonate beyond their target audiences of fellow travelers. "The White Chip," though more of a narrative than (strictly speaking) a play, does.
The show begins with the character of Sean perched atop a table in what might well be a church basement, addressing us directly from right here in Lowell ("the Venice of the Americas," as he dubs it). No sob brother, Sean makes it clear from the get-go that he "hopes you'll laugh with me" through a saga that was headed toward tragedy, following the usual suspects of divorce, firing, humiliation and arrest, before it turned itself around.
Cockily, Sean enumerates the alcohol-recovery "clichés" his theater piece will not employ, including the distribution of literature and "awful people saying awful things to other awful people." It will, however, make ample use of a "TED Talk-esque" media chalkboard on which the story will be augmented by cartoon illustrations (by Julie Felise Dubiner) and projections (by Aaron Rhyne). Moreover, two other actors are on hand to interact with Sean in the short scenes that are cut into his first-person account. The bells and whistles are cute, and the assisting actors prove versatile. But, essentially, "The White Chip" is an autobiographical narrative with decoration.
It helps that Daniels' life has not been without quirks, including Mormon beginnings (hey, it worked for Neil LaBute), a freewheeling stint at a university named "number one party school in America" by no less an authority than Playboy, and a job that's about as far from a Herman Miller cubicle as you can get. Daniels also has a keen eye and ear for the ridiculous, and "The White Chip" abounds with details like the endless loop of "Groundhog Day" he had to watch while in detox.
Daniels' is the story of a spiraling-out-of-control drinking life that began at 13 and was exacerbated by his father's illness and early death but which, for scarily many years, did nothing to derail his career trajectory. (There is some inevitable smugness built into this aspect of the show, with Sean accounting himself a high-energy artist whose "constant inspiration" required slowing down.) Ultimately, of course, there were pipers to be paid. But, interestingly, Jesus was not among them. In the liberating and informative final section of Daniels' narrative, we learn about the relationship of dopamine to alcohol addiction and how understanding it can lead, at last, to recovery.
Kaller's production, with its wry asides and graphics, is more amusing than evangelical (though there is an eventual dark, angry night of the soul). Jeffrey Binder is a spry, likeable, increasingly agitated Sean, and Benjamin Evett and Isabel Keating do multiple duties playing his loved but neglected parents as well as wives, friends, colleagues, would-be helpers and partners in crime. But what wrestles "The White Chip" away from the lectern and the confessional are less its hip trimmings than its authorial cocktail of passion and drollery.
---
Carolyn Clay was for many years the theater editor and chief drama critic for the Boston Phoenix. She is a past winner of the George Jean Nathan Award for Dramatic Criticism.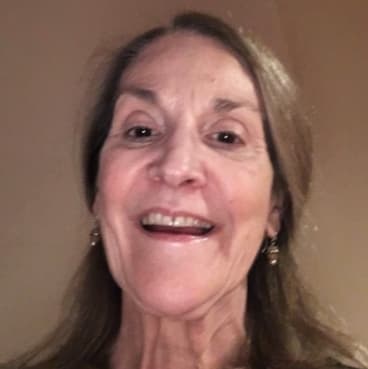 Carolyn Clay Theater Critic
Carolyn Clay, a theater critic for The ARTery, was for many years theater editor and chief drama critic for the Boston Phoenix.