After Devastating Tornado, Somerville Artist Sculpts Gargoyles For Rebuilt Church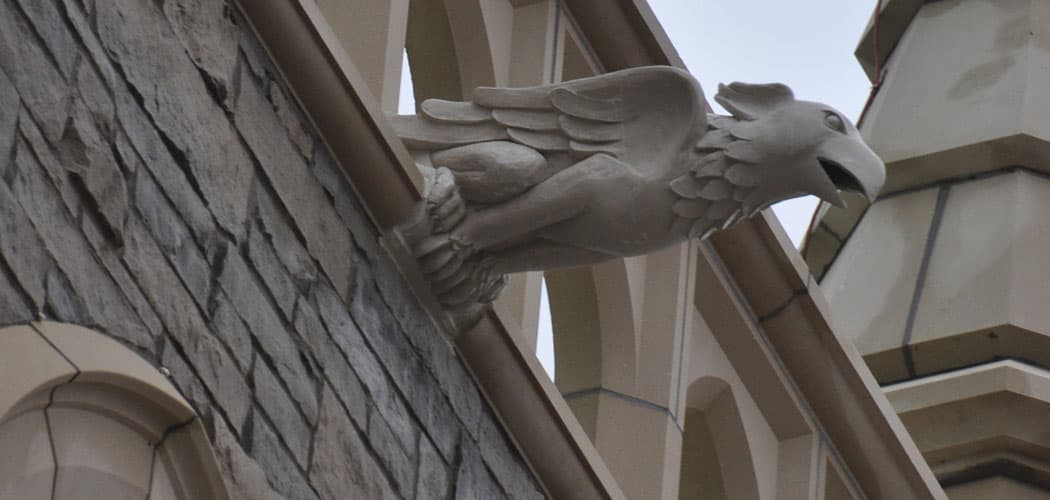 This article is more than 5 years old.
In the early morning darkness of Feb. 29, 2012, a tornado roared through Ridgway, a southern Illinois town of some 800 to 900 souls, located about 10 miles from where Illinois, Indiana and Kentucky meet. "We don't have a stoplight or a grocery store in the whole county," says Father Steven Beatty, the pastor of St. Kateri Tekakwitha parish there.
The priest's home was next to the Catholic church. "I ran out of the house and went the other way because that's where all the houses were," Beatty recalls. He was going to help. "Then at some point, I turned around and saw this jagged silhouette against the sky and realized the church was down."
The church — then called St. Joseph — was a scatter of red bricks. Just the front entranceway and altar were left standing.
"We get tornadoes pretty regular around here," Beatty says. "This one, on that day we were sad about the church, but the same storm killed eight people just down the road in the neighboring town" of Harrisburg. In Ridgway, "it didn't take any lives, which is kind of amazing. I saw what happened to my house and I saw what happened to the church."
They vowed to rebuild, eventually settling on a gothic style architecture, evoking the grand cathedrals of medieval Europe.
"It's a strong gesture of faith to rebuild," Danielle Krcmar says, "and to do it with that historical reference, that desire for longevity: 'This time it's going to last as long as those have.' "
The reconstructed church would be designed by Concord firm Cram and Ferguson Architects. And Krcmar, a Somerville sculptor, would shape the gargoyles that would scowl out from its roofline.
'A Sense Of The Sacred'
How does one become a sculptor of church gargoyles in the 21st century?
It begins with Cram and Ferguson. The architecture firm, which was founded in 1889, designed Boston University's Marsh Chapel and the College of Liberal Arts buildings that formed the Marsh Plaza along Commonwealth Avenue in the 1930s. They did work at West Point in New York and designed the Bourne and Sagamore bridges. Much of their work evoked historic gothic styles to emotionally resonate with tradition. "It had been a pioneer in campus architecture and church architecture," says principal architect Ethan Anthony, who merged his own firm with Cram and Ferguson around 1990. "They still had a lot of the drawings of these things. I started looking through the drawings and the photos and I got really excited. I wondered if we could do it."
The firm worked their way back into it by refurbishing churches. "We learned so much by restoring and fixing problems," Anthony says. "We kind of found ourselves in the position of having to repair these buildings, but didn't know where to go to find this artisan work."
So he began collecting artisans — like Carl and Susan Close of Hammersmith Studios in Newton, whom he hired to craft beautiful iron door pulls and hinges for stately church doors. Looking for a sculptor, Anthony began asking around Boston's School of the Museum of Fine Arts, where he was referred to Krcmar, who was teaching students how to make realistic sculptures of people. (She's now "artist-in-residence" at Babson College in Wellesley.)
Krcmar's first project for Cram and Ferguson was sculpting capitals for 16 columns as well as reliefs cast in concrete to go above doors in St. John Neumann Catholic Church, a neo-Romanesque church built in Knoxville, Tennessee, in 2008. Then she sculpted gargoyles — cast in concrete — for Sacred Heart of Jesus Catholic Church in Cameron, Louisiana. Next were gargoyles for St. Kateri Tekakwitha in Illinois.
"They were strongly interested in trying to regain what the tornado destroyed," Anthony says. "They were very proud of it. It had a tall tower and a spire that could be seen from all around. It was not just a church they lost, but part of their identity. They didn't want to lose part of their identity."
"It wasn't so much we'd prefer old to new. It was architecture has content. Architectures say something," Beatty says. "There's a sense a successful Catholic church should communicate an idea of majesty, but also intimacy and accessibility. … You want people to walk into the church and feel like praying. I think we accomplished that. … You want to have a sense of the sacred."
The gargoyles are part of that.
Gargoyles, Anthony says, "They're impossible. They couldn't exist. It's meant to kind of inspire awe. It's just amazing. 'What is that? Where did it come from? And why does it have a beak?' It's fantastical. It excites your fantasies."
"It's sort of an apotropaic image, which is a Greek idea, which is something that is so scary that it can scare evil spirits away," Krcmar says. "They're not saints and they're not demons. They're sort of protecting the church and frightening away evil spirits or demons."
Beatty doesn't exactly go in for that interpretation.
"One thing we did ask Danielle was to stay away from a menacing look," Beatty says. They were looking for a "noble, dignified" gargoyle. In particular, they asked for a griffin, which is a traditional Christian symbol, Beatty says. It's part eagle, part lion. "It's kind of like the divinity and the humanity of Christ, the soaring and the grounded."
Learning History By Doing
In 2012, the Illinois parish was in the midst of restructuring. At a meeting that Feb. 28, Beatty recalls, they decided to merge St. Mary's in Shawneetown, St. Joseph in Equality, St. Joseph in Ridgway and St. Patrick in Pond Settlement into one new parish centered at the Ridgeway church. "Eight hours later the place was in rubble on the ground," Beatty says.
The rebuilt Ridgeway parish would be named for Kateri Tekakwitha, a 17th century Mohawk and Algonquin convert to Catholicism. Officially canonized in late 2012, she became the first Native American Catholic saint.
The new church would be a 21st century building evoking styles of half a millennia ago. "It's a chance to learn art history by doing," Krcmar says. "I look at books and look online. Mostly at Notre Dame [in Paris], the go-to for gargoyles. And I was also trying to look at a lot of images of griffins. It's a mythical creature, so that's a challenge. It's a lion and an eagle. I was looking at lions and eagles as well."
In her studio at Babson, she shaped a 3-foot-long beast out of Plasticine, a non-drying brand of modeling clay. "I was told the first iteration of the gargoyle looked too much like a lion," Krcmar says. "The ears are sort of tufty. Eagles don't have ears, but I tried to make the ears so they looked more in line with a bird than a cat."
The gargoyles Krcmar had sculpted for the Louisiana church were cast in concrete. But for St. Kateri Tekakwitha, Anthony says, "I really wanted to make functional gargoyles." These gargoyles would serve as downspouts to channel rain off the roof, pouring the water out of their mouths.
"Gargoyle," Beatty notes, "it's the same Latin root as gargle. It's a throat. It's a functional thing."
Concrete is heavy and the architects feared that running a drainpipe through the middle would too weaken the material. So for the Illinois church, they cast four copies of the new gargoyles in lighter-weight fiberglass resin at Skylight Studios in Woburn. "The fiberglass is pigmented to match the stone so that from a distance it blends right in," Krcmar says. "Fiberglass, structurally you're not worried about supporting that weight projecting off the building."
"Now they spew water out," Anthony adds, "which is much better."
Last fall, workers installed the gargoyles along the roofline of the church, which was rededicated with a Nov. 29 Mass. Cram and Ferguson's new Gothic church also included wrought iron hardware and a baptismal gate fashioned by Carl and Susan Close of Newton; sculptural reliefs by Nancy Drone of Ridgway; and stained glass windows reused from a church an hour's drive north of Ridgway that was closing.
"The church at her best has been a pretty significant patron of the arts," Beatty says of the Roman Catholic Church. "We don't really see that so much any more. One thing that excites me about our project is we were able to get some art done."
---
Greg Cook is co-founder of WBUR's ARTery. He'd love to chat with you about gargoyles on Twitter @AestheticResear or the Facebook.