The Rarely Danced 'Onegin' Makes Its Triumphant Return To Boston Ballet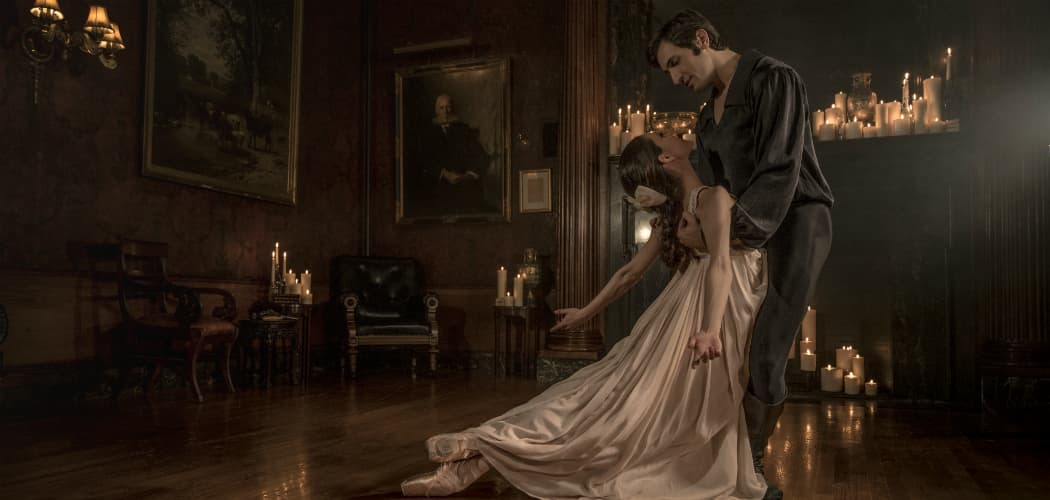 This article is more than 5 years old.
A rarely-performed gem — a Boston Ballet production at the Opera House through March 6 — "Onegin" is a glorious, but little known masterpiece.
"Onegin" is not a prominent name in the ballet world, and there are several reasons why. Its South African-born choreographer, John Cranko, had early success in London then Stuttgart, but died suddenly in 1973, relatively young, leaving a legacy of works but no creator to distribute them.
A three-act ballet, "Onegin" is based on a verse novel by Alexander Pushkin, and its plot is not familiar to most Americans. "Onegin" premiered at Germany's Stuttgart Ballet in 1965, and after Cranko's death, was danced at Covent Garden receiving mixed reviews in 1974. Only the composer Peter Ilyich Tchaikovsky, whose music was arranged and orchestrated by Kurt-Heinz Stolze for "Onegin," has instant familiarity in the dance world. In 1994, the Boston Ballet became the first American company to dance "Onegin," repeating it in 1997 and 2002. It's a stunning production — exquisitely danced, framed by graceful, spare sets by Elisabeth Dalton, and set sensitively aglow by lighting designer Steen Bjarke.
The "Onegin" tale unfolds with strength and clarity in evocative, spare solos and pas de deux that soar with airy lifts. Unlike most story ballets, it's a drama for adults, "a story ballet for grown-ups," as my ballet companion summed it up. No cursed swans, wooden nutcrackers or puppet dolls, no supernatural Wilis dancing men to death in the moonlight. Its characters are people, with human passions; their story grabs and envelops you early on in a heart-rending journey.
Cranko's cohesive story ballet is elegant of line and uncomplicated in narrative. Ensemble dances have the vitality, shape and simple steps of traditional European folk dances, more in the spirit of Mark Morris's Balkan folk inspirations than traditional national dances that are juiced up and spun dry in story ballets such as "The Nutcracker" and "Sleeping Beauty."
The fact that "Onegin"was created by a single choreographer sets it apart from the many story ballets made by serial choreographers for the great Russian companies, and then adapted over many decades by others. "Swan Lake," for one example, was choreographed in 1877 by Julius Reisinger, restaged in 1895 by Marius Petipa and Lev Ivanov, and endlessly revised ever since as the world's ballet companies created their own versions.
From Pushkin's "Eugene Onegin," Cranko took this story line: A privileged, bookish country girl called Tatiana falls in love with Onegin, a sophisticated visitor from St. Petersburg. She confesses her passion for him in a letter, which he spurns, humiliating her by tearing it up.
Onegin then amuses himself by flirting so extravagantly with Tatiana's sister Olga that Olga's fiancé Lensky challenges Onegin to a duel. The men shoot; Onegin kills Lensky, and flees.
Many years later, the grown-up, radiant Tatiana is contentedly married to a prince. Onegin returns to Russia from his aimless travels, sees her and realizes at long last that Tatiana is the one he really wants. Though she still loves Onegin, Tatiana refuses him, stays with her prince, and sends Onegin away. Tears and anguish all around. Finito.
This production shows Boston Ballet's dancers at their best, whether in ensemble dancing or simply as characters reacting to the drama. At Saturday's matinee, Misa Kuranaga was a convincing young Tatiana, with a long braid and a naïve, reticent style. And as the adult Tatiana, she showed gentle elegance and submerged passion.
Eris Nezha gave the character of Onegin just the right air of snobbish bored cad, and in the last act, morphed convincingly into an empty and heartbroken soul.
The overwhelming grief that ends this ballet invites thoughts of what ballet lost when John Cranko died 43 years ago. His promising career in the 1950s as a dancer and choreographer with the Sadler's Wells Theatre Ballet in London was ruined when he was prosecuted for homosexual activity. Driven out of England, he spent the rest of his life in Germany, directing the Stuttgart Ballet. On a transatlantic flight, returning from a successful U.S. tour in 1974, the 45-year-old Cranko suffered an allergic reaction to a sleeping pill and died.
We're fortunate that the Boston Ballet has Cranko's "Onegin" in its repertory. Let's hope that it won't take another 14 years before this stunning tale is danced again.
---
Sharon Basco is a journalist, critic and public radio producer.
Sharon Basco Contributor, The ARTery
Sharon Basco is a a journalist, critic and public radio producer.