From Comedian To Curator, Steve Martin Champions Canadian Painter Lawren Harris At The MFA
06:06
Play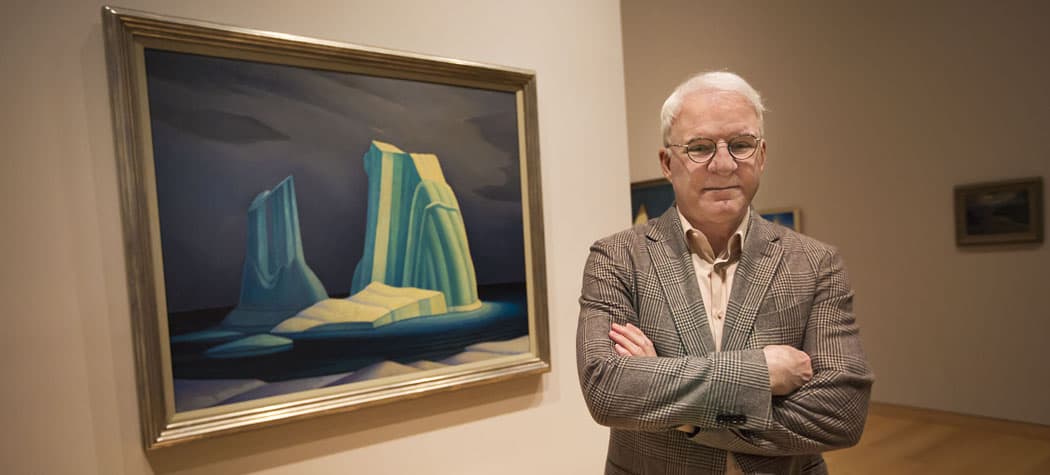 This article is more than 5 years old.
Steve Martin is probably best known for his comedy, but he's worn many different artistic hats during his career, including actor, banjo aficionado, playwright and screenwriter. He even wrote a musical that's currently on Broadway. Now Martin is adding one more chapeau to his professional haberdashery: curator.
"I'm not really a curator," Martin told me early in our conversation, "but I happen to know and love this artist Lawren Harris."
Martin is billed as a curator, though, for a new show about the Canadian modernist painter. Martin admits he surprised himself when the word "yes" came out of his mouth after being invited to organize a first-of-its-kind U.S. exhibition.
"You know, there's a certain claim of dilettantism when you go into an area that you're a newbie at, but I did feel a real affinity with the artist and felt like my name might do some good," Martin said. "Here's an artist who painted in the 1910s, '20s, '30s, on through to the '70s, but is unknown in America."
That's tragic, Martin said, and he's happy to use his "celebrity face" to champion this overlooked artist in the exhibition, titled "The Idea of North: The Paintings of Lawren Harris." It's a touring collaboration between the Hammer Museum in L.A., the Art Gallery of Ontario and the MFA in Boston.
While Martin is modest and grateful for help from his co-curators Cynthia Burlingham and Andrew Hunter, he does have art world cred: 50 years of experience as a collector, scholar and fan.
In his exhibition catalog essay, Martin sheepishly uses one word to describe the effect Harris channels in his crisp paintings of austere Canadian landscapes: awesome.
"I had to apologize for using the word, saying that the word has been so debased that it doesn't have any meaning anymore," Martin explained. "But I was trying to revive it because you feel that Harris was struck with awe at these fantastic mountains — the Rockies, the Arctic, Lake Superior — and he translated that into the paintings."
The exhibition's title — "The Idea of North" — actually comes from another Canadian artist's attempt at capturing the sense of awe and beautiful isolation one can find in remote places. Celebrated pianist Glenn Gould ventured from his main art form into broadcasting with his 1960s experimental audio series by that name.
Martin is drawn to the stark, spiritual moodiness in Harris' work. He connects to the artist's country, too. Many of his fellow comedians are Canadian exports, including Martin Short, Eugene Levy and John Candy.
"I've had a long relationship with Canada through work. And I've been going up there since I was 22," Martin said, recounting how he discovered the painter. "Harris is the sort of founding member of a Canadian group called the 'Group of Seven.' Harris, to me, emerged as one of the finest painters of the group."
Martin said while Harris is lost on Americans, he's beloved in Canada — the way Georgia O'Keeffe and Edward Hopper are here. He and MFA director Matthew Teitelbaum — who's Canadian — want to change that.
"In Canada he's a national figure. He's the kind of artist whose work is reproduced on postage stamps, you know, there are silk screened prints in school classrooms," Teitelbaum said. "He's an icon."
Teitelbaum said Harris' work hasn't crossed the border much, even though the artist lived in the U.S. and had exhibitions here in the 1920s and '30s.
Before coming to the MFA, Teitelbaum was director at the Art Gallery of Ontario. That's where he first got behind Martin's exhibition. Teitelbaum helped Martin connect with other Canadian museums so he could borrow their Harris paintings. (In the exhibition catalog, Martin writes that Teitelbaum has the most powerful Rolodex in Canada).
Teitelbaum is impressed by the first-time curator's decisiveness in creating a very focused exhibition. And he said Martin was determined to see every painting in person rather than rely on reproductions or recommendations.
"Even if it meant that he was going to stop in Saskatoon on a cross-Canada flight in order to stop the plane, go take a look at a painting, and get back on the plane," Teitelbaum recalled. "And he did that over and over again."
Martin said seeing the paintings in person was important to him.
"Size matters. The way they react to light matters. You know, a picture could be very bright in a illustration and be very dark in person. And it may be an asset you just don't know. You just have to see it," he said.
In the end, Martin gathered more than 30 iconic landscapes Harris painted between 1922 and 1935. At the MFA, they're hung with a selection of works from the museum's collection by American painters.
While Teitelbaum knows Martin is known as a funny man, he said that when it comes to art, Martin "is largely very serious."
MFA curatorial research associate Taylor Poulin has been learning that for herself. She helped Martin select the American works.
"Everyone is asking, me, 'Oh, is he funny?' And of course he is, but he's also really intent on presenting Lawren Harris to a new audience in a way that is true to Harris' work," she mused.
But how much did this curatorial associate know about Lawren Harris?
"To be frank, I didn't know as much as I should because I'm actually half Canadian," she replied, laughing. "But I've learned a ton more."
That's what Martin hopes to hear from visitors who come to the exhibition. And while it's clear his mission and dedication to the art of Lawren Harris is serious, you can take comfort in the fact that Martin's writing in the exhibition catalog is laced with his signature dry humor.
"In the early 1920s, since the mountains had yet to come to anybody, Lawren Harris went to the mountains," the essay begins.
But when asked if comedy and curating have anything in common, Martin replied: "Not a thing."
Curating a show about one of his favorite artists, Martin said, has been one of the most rewarding experiences in his life.
Steve Martin's exhibition, "The Idea of North," opens March 12 at the MFA. There's a free program about the exhibition with Martin that night.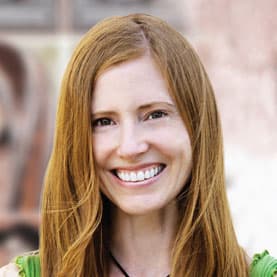 Andrea Shea Senior Arts Reporter
Andrea Shea is WBUR's arts reporter.