Gripping Production At The Paramount Proves Samuel Beckett Isn't Afraid Of The Dark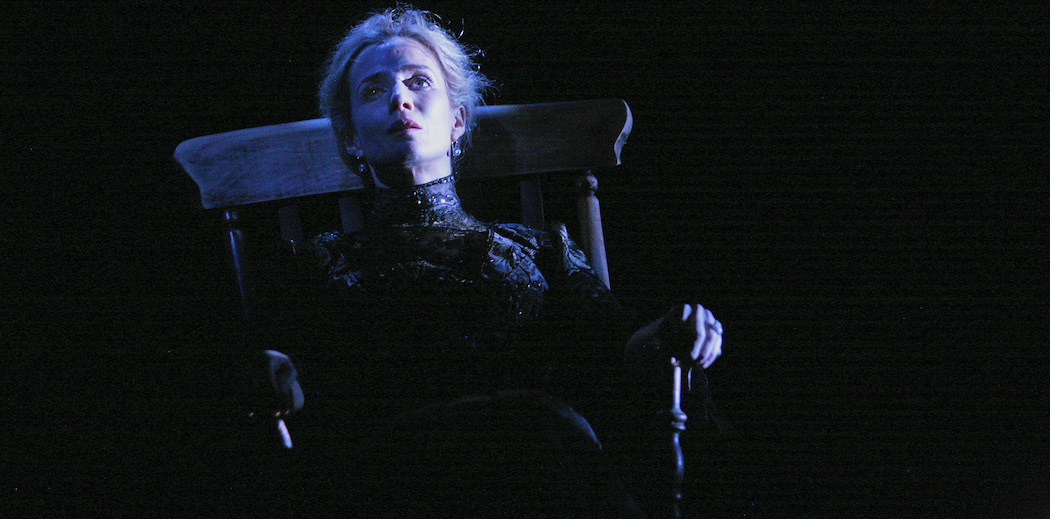 This article is more than 5 years old.
This is one of those theatrical experiences that makes you think about the nature of theater itself — three plays performed in succession by one actress who, over the combined run time of about an hour, demands a lot from the audience but much more from herself.
"Not I," "Footfalls" and "Rockaby" are three intensely enigmatic short plays by Samuel Beckett. Lisa Dwan's program of this trio has been toasted in London and New York, and lands at the Paramount courtesy of ArtsEmerson for just five performances, through March 20. It's not for everyone, by any means. But it brims with a sublime poetry that hits you, if you let it, in a place where words and feelings melt into something that is both and neither. I left feeling like I'd been tapped on the shoulder by a specter.
Some sensory depravation is enforced on the audience — the show is performed in full blackout, with even the exit signs and aisle lighting extinguished. (Ushers, ArtsEmerson co-leader David Dower explains in a curtain speech, are equipped with night-vision goggles to spot uneasy patrons who may raise their hands for assistance.) This had the practical effect of eliciting an uncanny silence from the packed house on the night I attended, including during the between-play interludes featuring the sound of howling wind as conjured by composer Tom Smail and/or sound designer David McSeveney.
This presentation magnified each onstage moment, particularly during "Not I." Much of the press coverage about this remarkable evening of theater has concentrated on the physical demands this piece makes on Dwan. She's blindfolded and strapped to a wooden contraption whose harness keeps her head immobile and also blocks her from hearing anything. (See the BBC interview below for a demonstration.)
The audience sees only her mouth, which appears to float through space. Most of the time it's eight feet above the stage. From that mouth comes a near-incomprehensible torrent of words, presented by Beckett on the page between ellipses. Dwan crashes through this dense text, somehow keeping a furious pace — punctuated by the occasional emphasized word or unsettling laugh — while maintaining the breaks between phrases. It's a masterpiece of breath control and enunciation. Dwan's voice work throughout the evening is phenomenal.
Ironically, Beckett packs this piece so densely with words that they lose meaning. Yes, there's something in there about a woman trying to disassociate from herself in response to a trauma, but good luck keeping up. The effect is of language living independent of human activity, as a free-floating thing with its own physicality. It's as if the scene of Creation evoked in the Gospel of John — "In the beginning was the Word, and the Word was with God, and the Word was God" — had gone manically haywire. One can imagine this monologue having no beginning and no end, chattering indefinitely on some alternate plane. (However, for the theatergoer, about nine minutes is quite enough.)
After that deluge of words comes two pieces in which silence bears a heavy weight. Although Beckett lays out the stage directions with specificity, it's almost a spoiler to describe in detail the staging of "Footfalls" and "Rockaby," and the hauntingly gorgeous stage pictures they present. We'll say that seemingly each ray of light shone onto the stage is carefully chosen, as is every physical gesture and vocal pause.
In "Footfalls," Dwan appears as if a luminous and beautiful ghost, treading perpetually through memories in what could be purgatory or just a tiresomely circular conversation. The play is written as a two-hander, with the voice of the luminous woman's elderly mother heard, though that actor is unseen. ("Not I" also calls for a second actor, albeit one with no lines.) Here, Dwan's recorded voice — lowered into a wizened baritone — serves as the invisible interlocutor.
As with "Not I," the narrative here is a tricky thing to grasp, but the piece reveals itself as if a mournful song, paced by refrains that linger in the mind afterward. (I heard one audience member repeating one of these — "The end. Close of a long day." — on the way out of the theater.) The result is strangely gripping.
"Rockaby" has a similar structure, with Dwan's visible character in conversation with what sounds like another elderly woman. This piece makes the most demands on the audience of the three plays. Again, the actress' every movement is measured, but now there's little to go around; she sits motionless in a rocking chair that nevertheless rocks, uncannily. Most of the text is spoken by the unseen figure (and thus, in this case, pre-recorded).
Each play presents a striking visual vocabulary in its first minutes (or moments), and then varies from it minimally, if at all. Combined with the deliberate pacing and the evasive nature of the narrative, an unsympathetic theatergoer could reasonably describe the evening as plodding. I found the blackout conditions encouraged rather than discouraged my stream of consciousness to leap about, competing for my attention.
But ask your logical processes to take a break, if you will, and receive this performance like Language poetry — with clusters of words, movement and light evoking mood and imagery. Some folks will exit this much-buzzed-about production convinced that the emperor has no clothes.
Yet for all its bleakness, and despite what Beckett may have to say about the human condition, this piece never grasps blindly in the dark.
---
Jeremy D. Goodwin contributes regularly to The Boston Globe, The ARTery (where he is also an editor), American Theatre and many other publications. See more of his work here. Follow him on Twitter here.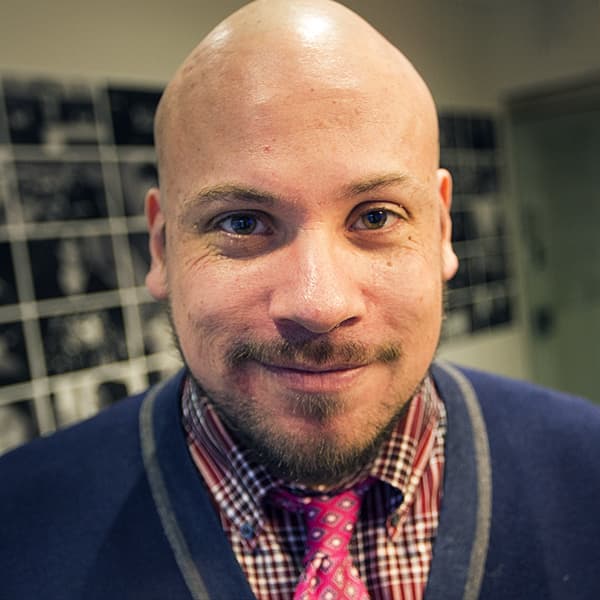 Jeremy D. Goodwin Contributor, The ARTery
Jeremy D. Goodwin was a writer and critic for WBUR's The ARTery.